About the Summer Research Institute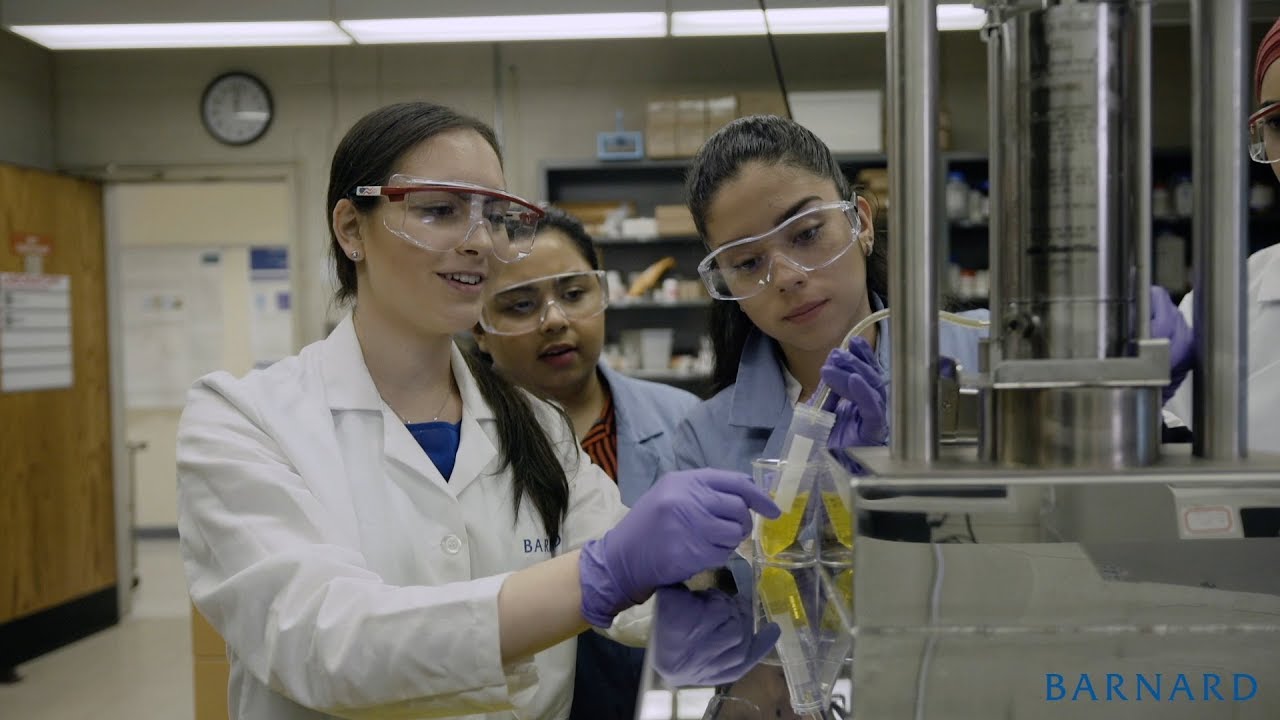 The Summer Research Institute reflects Barnard's commitment to advancing excellence in STEM fields, while fostering close collaborations between faculty and student researchers. In 2019, nearly 200 students received funding and subsidized on-campus housing to conduct faculty-mentored research in laboratories at Barnard College, at Columbia University, at labs around New York City, and in some instances around the country.
In addition to funding and support, SRI provides access to supportive trainings, faculty lectures, and workshops. SRI culminates with a program-wide Poster Session, at which students share the findings of their research with mentors, peers, and other guests of the College. The result is an intensive interdisciplinary community of individuals with a shared commitment to excellence in the sciences, and a summer of pathbreaking research conducted at the highest level. Questions about SRI can be sent to sri@barnard.edu. 
Barnard SRI Departments & Faculty
Biology (Faculty Representative: Professor Jon Snow)
Chemistry (Faculty Representative: Professor Andrew Crowther)
Computer Science (Faculty Representatives: Professor Sarah Morrison-Smith & Professor Rebecca Wright)
Environmental Science (Faculty Representative: Professor Brian Mailloux)
Neuroscience & Behavior (Faculty Representative: Professor Maria Fernandez)
Physics and Astronomy (Faculty Representative: Professor Reshmi Mukherjee)
Psychology (Faculty Representative: Professor Michael Wheaton)
Biology
Bauer, Elizabeth, ebauer@barnard.edu (Neural mechanisms underlying emotional memory)
Callahan, Hilary, hcallahan@barnard.edu (Ecological genetics)
Mansfield, Jennifer, jmansfield@barnard.edu (Developmental genetics, Vertebrate development)
Glendinning, John, jglendin@barnard.edu (Chemical senses, ingestive behavior, food likes and dislikes)
Lopatkin, Allison, alopatki@barnard.edu (The spread of antibiotic resistance in bacterial populations)
Miranda, JJ, jmiranda@barnard.edu (Genome organization of human viruses associated with cancer)
Morton, Brian, bmorton@barnard.edu (Evolution of plastid DNA)
Pischedda, Alison, apischedda@barnard.edu, (Evolutionary Genetics & Animal Behavior)
Snow, Jonathan, jsnow@barnard.edu (The cellular stress responses of the honey bee)
Chemistry
Austin, Rachel, raustin@barnard.edu (Environmental bioinorganic chemistry; C-H and C-O bond activation; Inorganic neurochemistry)
Buzzeo, Marisa, mbuzzeo@barnard.edu (Redox-active biological systems; Determination of fundamental thermodynamic data and development of optimized electrochemical biosensors)
Crowther, Andrew, acrowther@barnard.edu (Raman spectroscopy to study fundamental reactions of the nanomaterial graphene)
Merrer, Dina, dmerrer@barnard.edu (Mechanisms of intermolecular carbene additions to strained cyclic compounds)
Rojas, Christian, crojas@barnard.edu (Organic chemical synthesis of amino sugars)
Vizcarra, Christina, cvizcarra@barnard.edu (Mechanism of actin filament formation, and how proteins called formins initiate and regulate actin filament assembly)
Environmental Science
Bower, Peter, pb119@columbia.edu (Forest ecology, Hudson River environment)
Brenner, Logan, lbrenner@barnard.edu (Corals and Climate Change)
Cook, Elizabeth, ecook@barnard.edu (Sustainability and Urban Ecology)
Maenza-Gmelch, Terryanne, maenzag@barnard.edu (Forest ecology, bird conservation)
Mailloux, Brian, bmailloux@barnard.edu (Arsenic in groundwater, Geomicrobiology)
Rodriguez, Sedelia, srodriguez@barnard.edu (Vulcanology)
Stute, Martin, mstute@barnard.edu (Global change, water, and energy)
Neuroscience & Behavior
Balsam, Peter, pbalsam@barnard.edu (Adapting behavior to changing environments)
Bauer, Elizabeth, ebauer@barnard.edu (Neural mechanisms underlying emotional memory)
Fernandez, Maria, mfernand@barnard.edu (Neural mechanisms underlying aggressive behavior and territoriality and the relation between the circadian clock and social behaviors, using Drosophila melanogaster as a model system)
Glendinning, John, jglendin@barnard.edu (Chemical senses, ingestive behavior, food likes and dislikes)
Romeo, Russell, rromeo@barnard.edu (Effects of pubertal maturation on brain and behavior)
Silver, Rae, rsilver@barnard.edu (Circadian rhythms, role of mast cells in brain)
Physics & Astronomy
Halpin-Healy, Timothy, healy@phys.columbia.edu, (Phase transitions, critical phenomena, and the renormalization group)
Mukherjee, Reshmi, muk@astro.columbia.edu (High-energy astrophysics and astroparticle physics)
Psychology
Balsam, Peter, pbalsam@barnard.edu (Adapting behavior to changing environments)
McCrink, Koleen, kmccrink@barnard.edu, (Development of numerical cognition)
Remez, Robert, remez@columbia.edu (Relationships among perception, cognition and language)
Romeo, Russell, rromeo@barnard.edu (Effects of pubertal maturation on brain and behavior)
Silver, Rae, rsilver@barnard.edu (Circadian rhythms, role of mast cells in brain)