The Inauguration of Sian Leah Beilock as the Eighth President of Barnard College took place on February 9, 2018.

Across the Morningside Heights campus, at the Empire State Building—lit up in Barnard blue—and within the majestic Riverside Church, the community united to celebrate the Inauguration of the eighth president of Barnard College, Sian Leah Beilock, on February 9, 2018. The Inauguration ceremony, an academic tradition dating back centuries, marked the official conferring of the presidency.
A Vision for Barnard
In her inaugural address, President Beilock articulated her vision for the future of Barnard College, emphasizing four key priorities: focusing on science as part of the liberal arts; continuing to extend learning beyond the classroom to all of New York City; strengthening the College's mission to be diverse and inclusive; and enabling students to succeed after they graduate.
First, President Beilock affirmed the importance of the liberal arts, which includes the sciences. Recognizing that Barnard is known for its strength in writing, arts, social sciences, and dance, among other disciplines, President Beilock noted that more Barnard students than ever before are studying the sciences. "While women remain underrepresented in many of the sciences, Barnard is on a rising trend to change that." The Cheryl and Philip Milstein Teaching and Learning Center, which will open in the fall of 2018, will support this work and will be "an epicenter of thinking digitally and empirically."
Second, President Beilock affirmed Barnard's position as a college that is "not just in New York City—it is ofthe city." Students already explore New York City as their extended classroom, particularly in Harlem and Morningside Heights. Over the next few years, as Barnard begins to offer several new, combined bachelor/masters programs with Columbia University, the College will "extend learning further using the city's resources," pushing the boundaries of the classroom in new and creative ways.
Third, Barnard will renew its commitment to educate young women from historically underrepresented groups—"a tradition that the College has upheld since its founding." From growing faculty diversity to ensuring that Barnard is "an inclusive environment free from fear and hate," the College will build on its promises to offer open dialogue, understanding, and support so that every student can learn and perform to their potential.
Fourth, President Beilock announced a new initiative, Beyond Barnard, that will expand and integrate the resources provided to students and alumnae for life beyond the College and help them achieve success in their chosen fields. Jointly directed by Provost Linda Bell and Dean of the College Avis Hinkson, Beyond Barnard will ensure that Barnard students have the tools they need to put their education into practice—whether in academic, industry, government, or nonprofit roles. By more effectively connecting classroom experiences with co-curricular activities such as internships, research, and field placements, Beyond Barnard will create a stronger pathway for students to achieve their goals after college and throughout their lives.
Inaugural Greetings
The ceremony also featured greetings from representatives of the College community and beyond. Tow Family Associate Professor of English and Africana Studies Monica L. Miller situated Barnard as an institution that has long broken down barriers—from 1926, when Barnard's first black student and famous literary alumna Zora Neale Hurston '28 entered Barnard Hall and "jumped at the sun," to 1968, when Barnard women protested along with Columbia students against gentrifying encroachment into Harlem, to today, when transgender students and women "of all colors, creeds, classes, sexualities, abilities, and nations... think with and through each other, to learn from discomfort and create change."
Offering greetings on behalf of Barnard's Seven Sister colleagues, Smith College President Kathleen McCartney spoke of the continued need for women's colleges and leadership. "It is harder for women leaders to get it right," she said. "And yet, we have to." University of Chicago President Robert J. Zimmer spoke about having worked closely with President Beilock. "I know what you will come to know—namely, the extraordinary qualities she brings" to the task of leadership. "She is singularly positioned as the leader of a college committed to success for women not only by her own example but by the nature of her own scientific work," he said. Offering welcoming remarks from Columbia University, President Lee Bollinger observed that "Columbia would not be Columbia without the presence of Barnard's faculty and students, its determined independence, its deep sense of itself, and its world-altering ambitions." 
Celebrating a New Chapter
In addition to speeches, the ceremony featured the musical performances of Professor of Professional Practice Gail Archer and the Barnard-Columbia Chorus. Professor of English Saskia Hamilton recited poetry written by Elizabeth Bishop.
The celebrations that began on February 8 touched every corner of the campus: An open house hosted by the Council on Diversity and Inclusion; tours of the famed Arthur Ross Greenhouse; and a Tunnel Gallery exhibit on the history of Barnard College, curated by Robert McCaughey, Professor of History and Janet H. Robb Chair in the Social Sciences, made the Inauguration a community event to remember.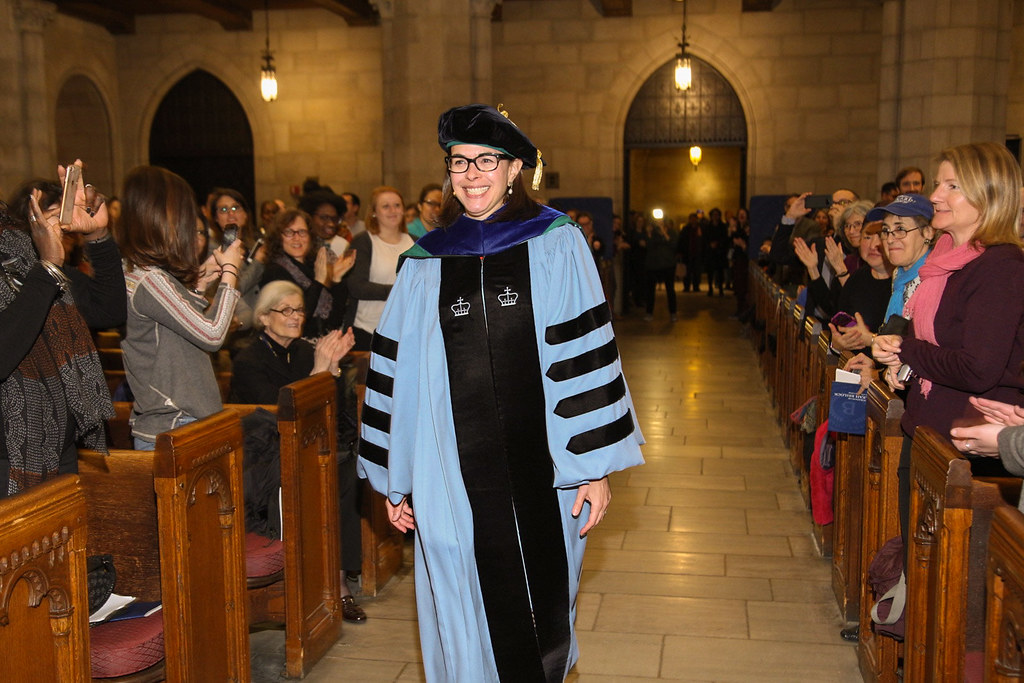 —The Empire State Building image ® is a registered trademark of ESRT Empire State Building, L.L.C. and is used with permission.
Inauguration Program
-Angela Beam '18's Remarks
-Christina Johnson's Remarks
-Jyoti Menon '01's Remarks
-Kathleen McCartney's Remarks
-Lee C. Bollinger's Remarks
-Monica L. Miller's Remarks
-Robert J. Zimmer's Remarks
-Sian Beilock's Remarks