Big Barnard & Columbia Feminist Weekend 2016
- | -
Barnard College & Columbia University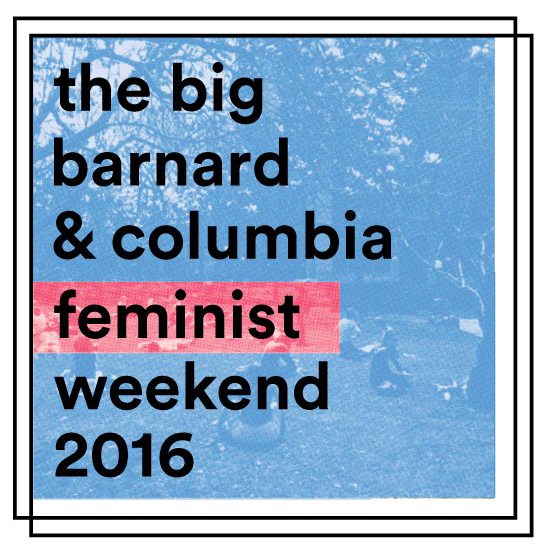 At last! This month you can revel in intersectional feminist bliss with the Big Barnard and Columbia Feminist Weekend. Join us from February 26th to the 28th for a serendipitous three days of programming from Columbia's Institute for Research on Women, Gender, and Sexuality (IRWGS), the Barnard Center for Research on Women, and the NYC Feminist Zine Fest, hosted by the Barnard Library. All events are free and open to the public.
Schedule:
IRWGS "Practicing Utopia: Feminism and Activism in Institutional Contexts"
Friday 2/26/16 9am-5:15pm / Butler Library, Room 523
This IRWGS graduate-organized conference brings together scholars, activists, and artists to discuss the tension between utopian ideals and the daily realities of activist work. Keynote speaker Heather McGhee, president of Demos, with panelists including Anna Quindlen Writer-in-Residence Jennifer Boylan and Zine Librarian Jenna Freedman. 
BCRW Scholar and Feminist Conference #41: Sustainabilities 
Saturday 2/27/16 10am / Diana Center, Event Oval
The 41st year of BCRW's cornerstone conference will discuss the framework of sustainability to ask how we can sustain the material, financial, creative, cultural, spiritual, and communal resources necessary to maintain the vitality of our communities, movements, and critical feminist inquiry. Keynote speaker Reina Gossett.
Hosted by the Barnard Library
Sunday 2/28/16 12-6pm / Barnard Hall, James Room
The NYC Feminist Zine Fest showcases the work of artists and zinesters who idenitfy as feminists, and whose politics are reflected in their work.