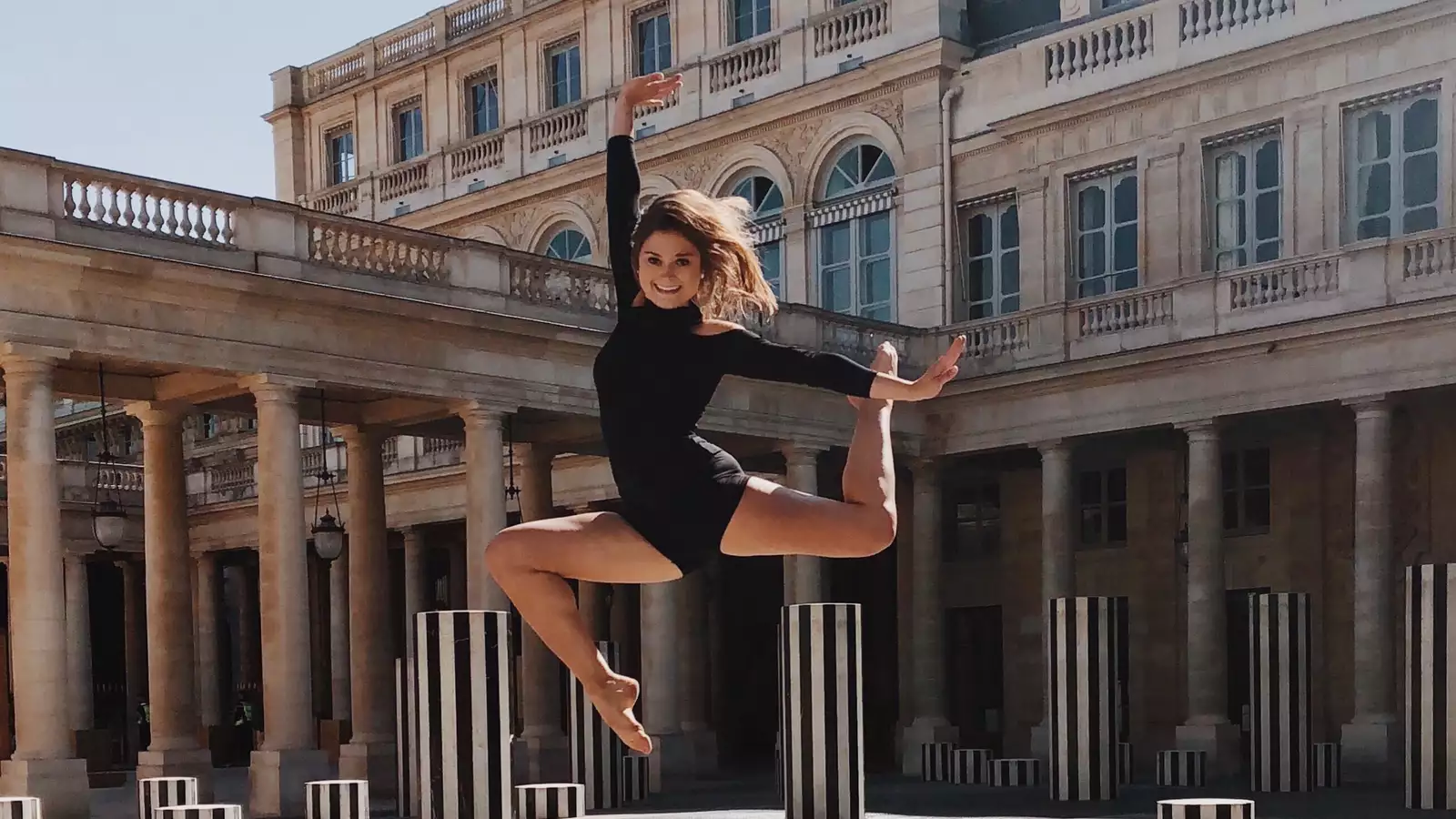 An immersive experience in one of the greatest cities for dance
| | |
| --- | --- |
| Location:Paris, France | Dates: June 1-30, 2023 |
| Faculty Director: Colleen Thomas-Young, Dance Department | Program Length: 4 weeks |
| Language of Instruction: English | Term: Summer |
| Pre-requisites: Dance Composition | Credits: 3 |
| Class standing: Rising Sophomores, Juniors, or Seniors | Application Deadline: December 7, 2022 |
| Enrollment: Limited to 10 students |   |
Program Description
Led by Barnard faculty member Colleen Thomas-Young in conjunction with USF faculty member Michael Foley, this annual four-week intensive course of study in Paris is a unique opportunity for serious dancers and choreographers to live and dance in one of the world's greatest cities. This Program offers a once-in-a-lifetime experience for dance majors to expand their historical, cultural and performance-based knowledge through exposure to the rich tradition of dance in the French capital. The goal of the USF Dance in Paris Summer Program is to enable students to expand upon information they have already gleaned from several courses required of dance majors (technique, choreography and dance history) with the goal toward global artistic citizenry.
Academics
This course is designed as an immersion in Parisian culture from the point of view of the dancer. The course is divided into three major components: technique, composition and history.
Students are exposed to a variety of technique classes each weekday from African to Contemporary and ballet to yoga, as well as classes in physical theatre, improvisation and choreography depending on the summer's particular faculty and course offerings.
The purpose of the afternoon choreographic workshops (le dérive – "the drift") is to foster an understanding between the choreographer and the urban landscape: What kinds of inspirational materials can be used in choreography? What kinds of images can be distilled into gestures or phrase work? How does the urban landscape inspire different movement choices? How does the "history" of a certain location influence one's choreographic choices?
Students visit specific Parisian neighborhoods and explore the architecture, ambience and sub-culture of that area, and transform their observations into a short piece of solo choreography. Among the areas students will be investigating: Père Lechaise Cemetery, Île St. Louis, Montmartre, the Marais, Viaduct des Arts, the Latin Quarter, Les Halles, the Passages, and the Canal St. Martin.
Students are given studio time to work on their choreographic projects, as well as receiving feedback from the faculty.  The purpose of the studio time is to create a 2 – 4 minute piece of choreography based on students' observations, assigned readings, field work, personal journals and sensations. The final pieces are performed in an informal setting to an invited audience.
There is one required book for the course, entitled Paris in Mind, edited by Jennifer Lee. The book is a compilation of stories by American writers and artists (Gertrude Stein, Mark Twain, MFK Fisher, Langston Hughes and David Sedaris, among others) about their romance with Paris, and how they drew upon the Parisian landscape as inspiration for their work.
Grading is based on weekly projects, journals, a final paper assignment, and pro-active engagement in all aspects of the Program.
Application Procedures
The application deadline is December 7, 2022.  Applications must be submitted through the Barnard program portal.  Go to the Dance in Paris program page on Barnard PASSPORT and click on the Apply Now button.
Students will be notified of the results of their application soon after and will be required to pay a tuition deposit at that time to hold their place in the program.
Eligibility and Application Review
The Dance in Paris program is open to Barnard and Columbia students.  
Priority will be given to students with demonstrated high academic/creative/technical strength.
General eligibility requirements for the Barnard Summer Study programs are outlined below:
Individuals who have completed at least one year of college but who are not currently enrolled in school are not eligible to apply.
The completion of at least two full-time semesters of college is required and intending to return to home institution for at least one more full-time semester (students in their last semester of college are ineligible to apply).

Be at least 18 or older prior to beginning of summer term.
Most students who are admitted have earned a G.P.A. of at least 3.0.
Be in good academic standing.
Application Review and Notification:
A review of a student's academic records and personal statement is required to confirm admission to one of the Barnard Summer Study programs. Once an admission decision has been reached, the applicant will be notified of the decision by email. Only completed applications will be reviewed. If an application is missing a required component (i.e. transcript, personal statement) it will not be reviewed until the missing material is received.
Location, Accommodations, and Meals
The housing for the program is at the Résidence Jérôme LEJEUNE, 4 Rue Tessier, 75015 Paris, France.  Meals are not included in the program fee.
Financial Information & Scholarships
| | |
| --- | --- |
| Undergraduate tuition | $6,048 |
| Program & Activities Fee | $900 |
| Administrative fee for visiting students (non-Barnard) | $150 |
PLEASE NOTE: Students will be responsible for their own airfare and for their meals and personal expenses while in France.
Scholarships:                                              
Competitive scholarships are available for Barnard students enrolling in Barnard faculty-led summer programs.  Funding decisions are based on a combination of financial need and academic merit. Barnard students can apply for a scholarship as part of their program application through the portal.
Program Policies
Confirmation of Enrollment-Reservation Deposit:
Admitted students who intend to enroll must confirm their intention to participate by submitting a non-refundable tuition deposit of $500. This fee must be paid within two weeks of acceptance notification and will count toward tuition payment. Enrollment is not guaranteed until this payment is received.
Withdrawal/Cancellation:
After students have been accepted to the program and paid the required tuition deposit, they are considered an enrolled participant in that program. By making such payment they are expressing their intention to participate in the program, and acknowledge that the deposit is non-refundable. Payment in full is due by March 22nd. If a student cancels participation between March 22nd and April 1st, tuition and fees are refundable, minus the $500 deposit. After April 1st, tuition and fees are non-refundable.
Should a program cancellation become necessary prior to the start for reasons such as safety or under-enrollment, Barnard will refund tuition to the participants. Unrecoverable expenses incurred by the participant (e.g., airline deposits) cannot be refunded.
For unrecoverable expenses, you may wish to consider purchasing trip cancellation insurance that can be obtained through many travel agents or insurance companies. Policies vary on what triggers trip cancellation insurance, so you should check with travel insurance providers for more details.
Transfer of Credits:
Students who are not enrolled at Barnard should consult their home college/university to find out if their school will accept the transfer credits. Barnard is accredited by the Middle States Commission on Higher Education, but each institution may have specific policies dictating what classes are transferable from outside institutions. Please consult with the professor for individual course syllabi.
Students with Disabilities:
Students with disabilities who are requesting accommodations during a Barnard Summer Study Program must contact the Barnard Center for Accessibility Resources & Disability Services to discuss reasonable accommodations. Students are encouraged to contact the office prior to applying and should register with the office as soon as they receive notification of their acceptance to a program.
Health and Safety while Traveling Abroad:
All students traveling internationally will be required to register through Barnard/Columbia's ISOS MyTrips Travel Registry.
It is essential that students have adequate medical insurance coverage to participate in one of our Summer Study Programs. If you have the Barnard student health insurance plan, it will cover you domestically and abroad on an out-of-network basis. If you have other insurance, make sure that it will cover you abroad for routine and emergency care, mental health, and pre-existing conditions. Be prepared to pay up-front for care and submit receipts for reimbursement.
Other resources:
Honor Code:
The Honor Code is a vital part of the Barnard community because it helps to shape the character of Barnard College. The "Honor System" refers to the combination of the Honor Code, the Honor Board, and the members of the entire Barnard community who together strive toward building a community of academic integrity. All students on one of Barnard's summer study programs are expected to adhere to our honor code. https://barnard.edu/dos/honorcode
Contact Information
If you have general questions about your application or procedures, email studyabroad@barnard.edu for assistance. Students may also reach out directly to Professor Colleen Thomas-Young at cthomas@barnard.edu with programmatic questions.