The beginning of the academic year 2011-2012 welcomed improvements and changes to the Barnard campus—some more strikingly apparent than others. Here, we review some of the more noteworthy and visually arresting enhancements to the physical plant of this great institution. Not all improvements were photogenic: While extended library hours are a boon to the entire campus community, it's hard to photograph them.
Liz's Place
1st Floor, The Diana Center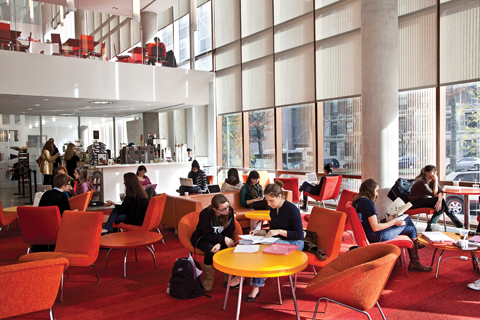 Liz's Place, an informal café generously funded by trustee Ravi Singh and named for his late wife, Elizabeth Yeh Singh '88, is always light-filled and convivial, with a great view of the campus green and, in spring, a beloved flowering magnolia tree. Now, with comfortable, new, and colorful seating, a Starbucks coffee menu, and a large flat-screen television, Liz's Place attracts even more students, staff, and faculty for a quick bite, casual meetings, and study.
Dance studio
3rd Floor, Barnard Hall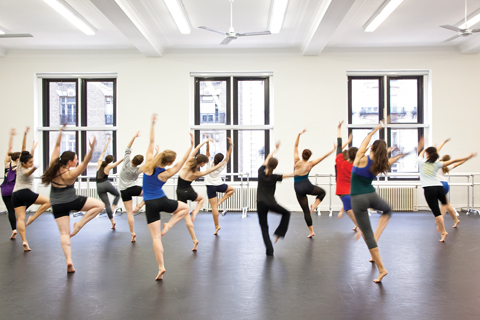 Dancers train hard and practice for many hours. To make this intensive study and creative research more feasible, a new dance studio for Barnard's stellar department has found a home on the third floor of Barnard Hall. What makes the space ideal for technique and choreography is a professional "sprung" floor—designed to have a softer feel, absorb shocks, reduce injuries, and allow the department to accommodate the demand for its classes.
The Jan R. & Marley Blue Lewis Parlor
1st Floor, Brooks Hall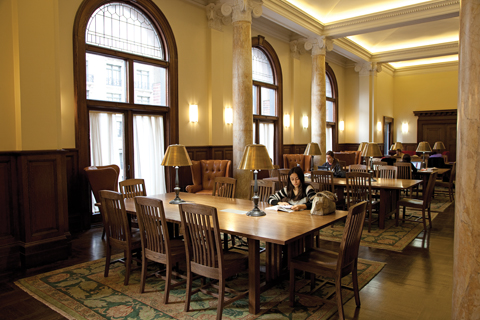 Student requests for more quiet study space brought about a transformation of the signature room of Brooks. The expansive space features Arts-and-Crafts-styled library tables with electrical outlets for laptops and period reading lamps that provide warm illumination. Comfortable wing chairs, neutral colors, and richly patterned carpets complete this latest restoration, which was begun in 2005 with a generous gift from Jan R. Lewis PA05, and continued with her enthusiastic support. The parlor's refurbishment now recalls the original early twentieth-century interior design created by legendary decorator Elsie de Wolfe.
Offices
2nd Floor, Barnard Hall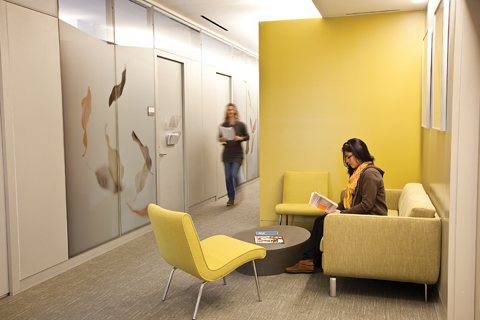 Reconfigured space and contemporary interior design from the firm FXFOWLE give a dramatic, yet soothing, look to the suite of second-floor offices that now house the Consortium for Critical Interdisciplinary Studies, a program that includes Africana studies, American studies, and women's, gender, and sexuality studies. Also at home here: the Writing and Speaking Fellows programs, and the office of the manager of selected academic programs. In addition to the lime upholstery, soft gray wall color, and strié-woven carpeting that picks up the colors of both, a wall of smoky glass panels features appliqués of variegated leaves designed by Gail Solomon that recall those of the much-loved magnolia tree on the campus green.
Chemistry Department
6th Floor, Altschul Hall

A grant from the National Science Foundation combined with College funds led to the renovation of the chemistry department's teaching and research laboratories and office space on the sixth floor of Altschul Hall over the past summer. The modernization comes at a time when expanding enrollment in chemistry over the last decade pressed hard on existing facilities; the update spearheads future enhancements to the science facilities in Altschul.
The Hive
1st Floor, Altschul Hall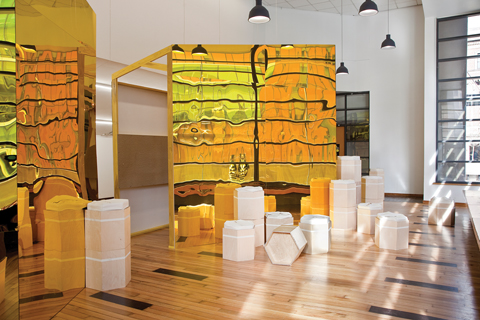 The first floor of Altschul Hall once housed the Altschul Atrium, a coffee shop and informal dining space, which opened during the construction of The Diana Center. The space languished after the opening of the Diana, but responding to students who expressed a desire for "hang-out" spaces, President Spar asked the architecture department for ideas and student input to repurpose the area. Led by two architecture department graduates, Shanshan Qi '06 and Charles Curan CC '06, current architecture students generated ideas and drew out possible designs. Professor Todd Rouhe's architecture firm Common Room turned those designs into a plan for the redo. Zoe Namerow '13 and John Buonocore CC '12 designed the hexagonal seating. The result is "The Hive," a contemporary meeting area for studying and socializing.
—Annette Stramesi Kahn '67