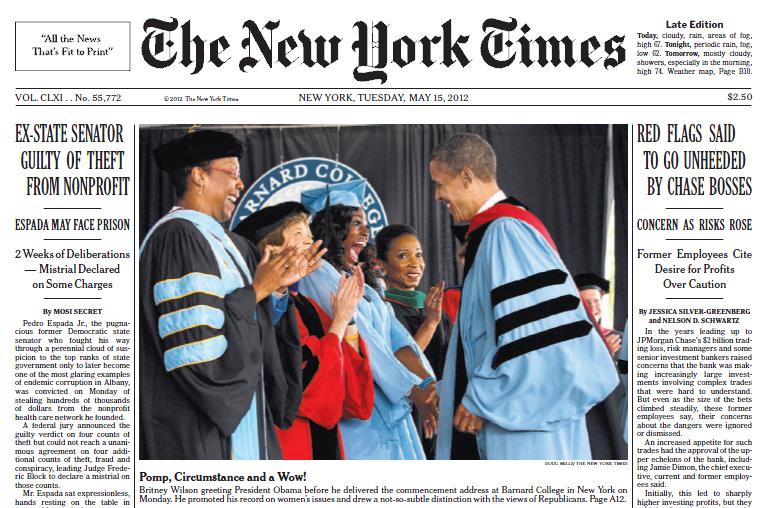 Barnard's 2012 Commencement ceremony and President Obama's speech were covered by news organizations around the world, including a featured photo on the front page of The New York Times. Below is a sampling of coverage.
"His choice to speak at Barnard, while obviously political, illustrates that people are finally recognizing that women can no longer be ignored and that our voice matters, even in the world of politics. And that perhaps, just as Obama's election proved, we are inching ever so slowly closer to a world where underdogs actually stand a chance," writes Alexandra Fields '12 for The Huffington Post. 
Graduates appeared on NY1 talking about the experience of hearing from President Obama at their commencement, and coverage also appeared on MSNBC's "The Daily Rundown." Read more in The Wall Street Journal, The Washington Post,  The Los Angeles Times, The Guardian, The Daily Beast, BloombergBusinessweek, WNYC, The New York Daily News, DNAinfo.com, New York Magazine, The Atlantic, CNN.com, Essence, WNBC, WABC, WCBS, among many others. President Obama's speech was also referenced on The Tonight Show with Jay Leno, and The Forward ran a story about a gift from Barnard's Class of 2012 to Sasha and Malia Obama.
Prior to Commencement, President Spar appeared on MSNBC's "Morning Joe," talking about the significance of President Obama speaking at a women's college.