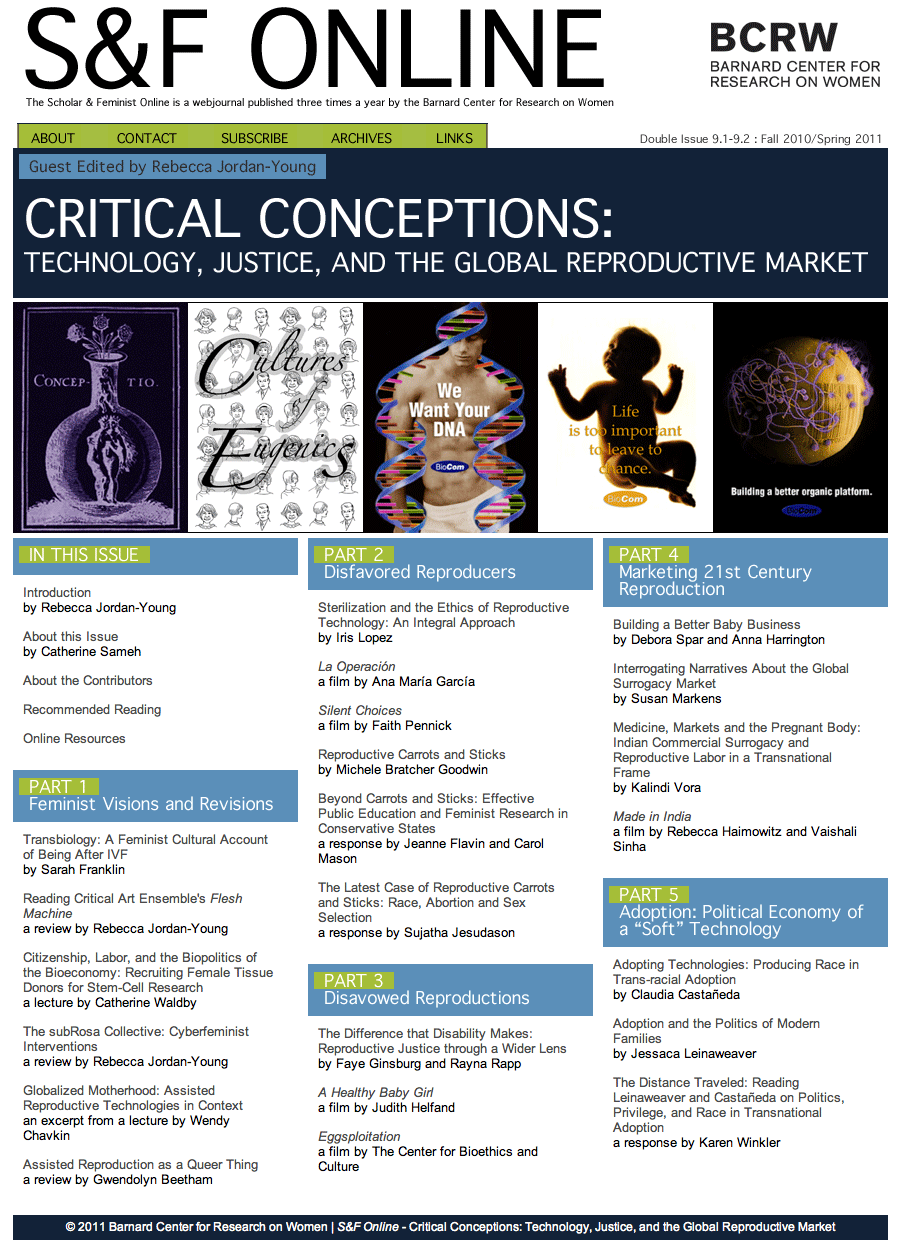 This issue of The Scholar & Feminist Online, "Critical Conceptions: Technologies, Justice, and the Global Reproduction Market," edited by Rebecca Jordan-Young, brings together some of the most esteemed scholars whose works tie analyses of reproductive technologies to frameworks of reproductive justice. Contributors look not only at those kinds of technology that typically go under the umbrella of new reproductive technologies (NRTs) or assisted reproduction technologies (ARTs), but also at what might be called UN-reproductive technologies (birth control and abortion). They examine technologies that are employed by/for those with both high values in the reproductive futures market (e.g., egg donation, sperm donation, IVF) and those whose reproductive futures are feared and despised (e.g., pregnancy surveillance, forced sterilization). And they explore questions of social reproduction—the labor of nannies and babysitters, who are often dropped out from the complex calculation of how many "parents" a modern child can have.
As a whole, this issue considers what kinds of reproductive technologies are deployed by and for whom, and locates individual decisions and choices within a global political economy that aggressively reproduces relations of inequality based on race, class, gender, sexuality and physical ability. It also images how reproductive technologies might be used to portend a different future, where social justice guides biological and social reproduction, caring labors, familial formations and affective bonds. Finally, this important journal issue points to the ethical feminist practices and analyses that can transform reproduction for the good of all.
Contributors include Gwendolyn Beetham, Claudia Castañeda, The Center for Bioethics and Culture, Wendy Chavkin, Jeanne Flavin, Sarah Franklin, Ana María García, Faye Ginsburg, Michele Bratcher Goodwin, Rebecca Haimowitz, Anna Harrington, Judith Helfand, Sujatha Jesudason, Rebecca Jordan-Young, Jessaca Leinaweaver, Iris Lopez, Susan Markens, Carol Mason, Faith Pennick, Rayna Rapp, Catherine Sameh, Vaishali Sinha, Debora Spar, Kalindi Vora, Catherine Waldby, and Karen Winkler.