Renowned Haitian-born writer Edwidge Danticat came to Brooklyn, New York, at age 12. Around the same time, she read her first English-language book, Maya Angelou's I Know Why the Caged Bird Sings, with a dictionary in hand. "I remember thinking that book is so raw and honest, all the things [Angelou] says, and she's still walking around. Coming from a culture where you keep your business to yourself, it was so liberating," says Danticat.
In her latest book, Create Dangerously: The Immigrant Artist at Work, Danticat explores the connection between art and danger, particularly for those artists in exile from countries in peril. With a title that references a 1950s lecture given by Albert Camus about the responsibility of an artist in the time of crisis, the book examines how creativity thrives under difficult circumstances. Danticat discussed her work on an October afternoon in The Diana Center's Event Oval, in the first planned talk of the Distinguished Alumnae Series sponsored by the Africana studies department. The goal of the series is "to honor the work of alumnae who inspire us, who think about race, gender, and ethnicity beyond the university setting," says Tina Campt, director of the department, who opened the event. Artists who make an impact on the world and how we see it can help inspire others to realize their own powerful potential.
Beginning with her first novel, Breath, Eyes, Memory, published in 1994, just four years after her graduation, the prolific Danticat has created a significant body of work. She was a finalist for the National Book Award and winner of a National Book Critics Circle Award for her 2007 memior, Brother, I'm Dying; in 2009 she received a coveted MacArthur Foundation "genius" grant. Introducing Danticat, Professor Kaiama Glover referred to her as a woman who everyone from Oprah Winfrey to The New Yorker would like to claim as their own. The Barnard community happily makes that claim.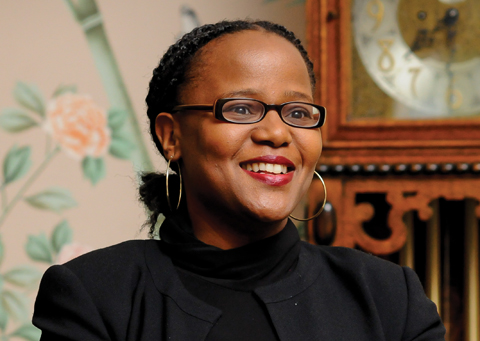 Create Dangerously, published in 2010, is not a handbook on how to create, rather it seeks information by taking "X-rays of artists," according to Danticat. "I'm writing about a particular time in Haitian history, in a period that followed the earthquake, when you saw a flowering of the arts even in a most impossible moment that the country was facing," she said in an interview prior to the event. "People were even more determined to display the new reality for the country." One such example is graffiti artist Jerry Rosembert Moise, whose inspirational and hopeful tags on walls across the city of Port-au-Prince (such as Haiti pap peri or "Haiti will not perish") have resonated nationally. The book is also about reading dangerously. She writes, "This is what I always thought it meant to be a writer. Writing, knowing in part that no matter how trivial your words may seem, someday, somewhere, someone may risk his or her life to read them."
During the event, Danticat read a portion from Create that details a historic moment for Haiti in 1964, when François "Papa Doc" Duvalier called a national day off to allow citizens to witness the execution of two young men, Marcel Numa and Louis Druin. Emigrants from Haiti years earlier, they were writers and intellectuals who had studied, worked, and pursued happy lives in America before deciding to return on an unsuccessful guerrilla mission to end Duvalier's brutal regime. Their deaths became a national spectacle, but also had an unintended effect on the Haitian artistic community that Danticat's parents belonged to at the time. Their response was to mount their own dangerous production of Camus' play Caligula, about a brutal and ridiculous Roman dictator. Staged five years before Danticat herself was born, the event has always resonated and inspired her creatively. In her talk, Danticat declared, "To create dangerously is to create fearlessly … bravely moving forward even when it feels as though we are chasing or being chased by ghosts."
"Since this book has come out people say, 'I live in a peaceful way, there is no war where I am, so it doesn't concern me.' But every act of creation is a kind of risky one, every artist comes face to face with that," she says. "It takes some act of courage to extract things from yourself and put them out there no matter what the environment."
During a Q&A session with the audience, led by Professor Quandra Prettyman, her mentor since her first-year seminar, Danticat talked about how she wanted to always have writing in her life. Her parents preferred she become a nurse or—her father's suggestion—a brain surgeon who writes on the weekends. At Barnard she took any class that allowed her to read more. "I would go to Milbank and look at that box with the writers," she says. "If you're a writer I would recommend it as a visualization exercise. I would look at Ntozake Shange, [Thulani] Davis, [Zora Neale] Hurston. I would just imagine getting in that box." To this day, she writes for the girl she was then, and others like her, who read to know the lives of others.
These days, the most difficult part of creating for Danticat is striking that balance between work and family. In addition to mingling with the likes of Oprah and Toni Morrison, she is active in several charities aimed to rebuild Haiti, including Li Li Li ("Read Read Read") a program that involves young adults reading in Creole to children displaced by the earthquake, and 10x10, a group that encourages the importance of education in the lives of young girls. She is also mother to two children, ages 2 and 6.
Danticat recalls the words of former Barnard president Ellen Futter '71: "You can do everything, but perhaps not all at the same time." Danticat does what she can. She continues to write in the evenings, but it is not the sole pursuit it once was. Still, in life as in art, problems can have a positive side. "I feel like all of the different stages of life add layers and hopefully it makes the work deeper."
—by Melissa Phipps