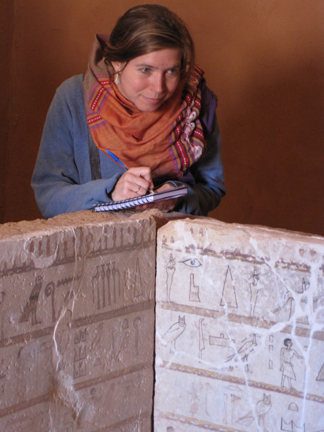 What is your specific area of research? What are you currently working on?
I study ancient Egyptian society using an interdisciplinary approach. Much of my work examines Egypt's relations with its neighbors in the Levant and Nubia from roughly 1550-1000 B.C., but I also write about divine kingship, sexuality and performance, state formation, and human sacrifice, along with life during periods of societal disruption. I'm currently finishing my second book, Ancient Egyptian Imperialism, for Blackwell Publishing.
What are your other research/teaching interests? Any broader projects or initiatives with which you're involved?
For the last few years, as academic director of NYU's archaeology and history in Egypt semester abroad program, I've been involved in excavations at the site of Amheida in Egypt's Dakhleh Oasis as well as teaching students in Egypt. At Barnard, I will continue collaborating with colleagues at Amheida and other Egyptian archaeological sites. I'd also like to facilitate experiences for Barnard students on excavations and as interns in New York City museums. 
What is most exciting to you about joining Barnard's faculty? What are you looking forward to most about being here?
I attended Barnard as an undergraduate and majored in ancient studies. It's a thrill to be returning and to be in a position to guide a different generation of students through their studies. I love Barnard for being a small college that is part of a large university in a very, very large city.
What courses will you be teaching?
This year, in addition to a first-year seminar on dreams and nightmares, I'll be teaching courses on ancient Egyptian society and on Greco-Roman Egypt.  In following years, I hope to teach classes on Egyptian hieroglyphs, imperialism in the ancient near east, the archaeology of ancient Egypt, and urbanism in the ancient Mediterranean world.
Outside of your academic life, any interests, hobbies, accomplishments of note? Something about yourself that would surprise your students or colleagues? 
Last spring, at the urging of my daughter, we adopted a dog: a three-year-old rescue mutt named Zuly. Although I'd always considered myself a cat person, I'm completely smitten and have been having fun learning the basics of dog training. I love exploring the city and attending off-Broadway theater. Outside New York, my other favorite place in the states is a very small town called Dixon in northern New Mexico.