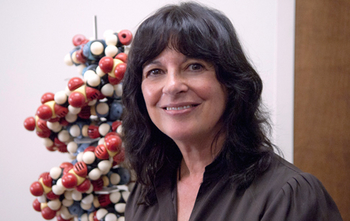 Jacqueline K. Barton '74, a leader in studies of the chemistry of DNA, has been named one of seven recipients of the 2011 National Medal of Science, the highest honor bestowed by the United States government on scientists.  Barton is the Arthur and Marian Hanisch Memorial Professor of Chemistry and chair of the Division of Chemistry and Chemical Engineering at California Institute of Technology.  In 1990, she received the Barnard Medal of Distinction, the College's highest honor.  She served as a Barnard Trustee (1993-2004) and currently sits on the Athena Center Board of Advisors.  An excerpt from Caltech's announcement:
"Barton was cited by the White House for her "discovery of a new property of the DNA helix, long-range electron transfer, and for showing that electron transfer depends upon stacking of the base pairs and DNA dynamics. Her experiments reveal a strategy for how DNA repair proteins locate DNA lesions and demonstrate a biological role for DNA-mediated charge transfer."
"Each of these extraordinary scientists, engineers, and inventors is guided by a passion for innovation, a fearlessness even as they explore the very frontiers of human knowledge, and a desire to make the world a better place," said President Barack Obama when announcing the awards. "Their ingenuity inspires us all to reach higher and try harder, no matter how difficult the challenges we face.""
Read more in The Los Angeles Daily News and The Boston Globe.