While strolling from Barnard Hall toward Lehman Lawn, visitors to campus may notice a new marble bench engraved with provocative statements:
"Stupid people shouldn't breed."
"It's crucial to have an active fantasy life."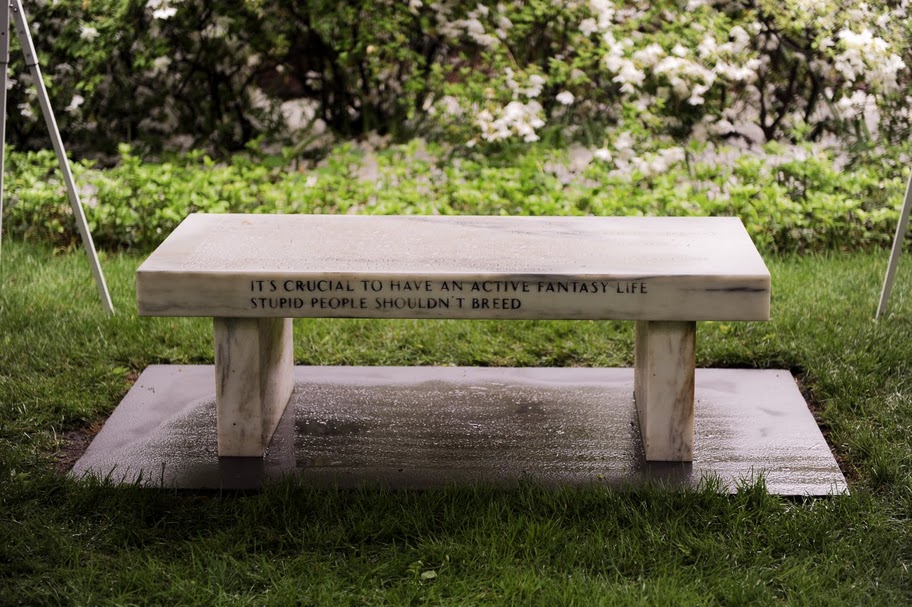 More than an eyebrow-raising resting spot, the bench is the work of Jenny Holzer, the award-winning American conceptual artist who focuses on the use of words and ideas in public spaces.  The bench is entitled, SELECTIONS FROM TRUISMS (Abuse of power comes...).
A noted art collector and patron, Virginia "Jinny" Bloedel Wright '51, who was an art history major at Barnard, has served on the board of the Seattle Art Museum since 1959, and founded its Contemporary Art Council.  She is a former owner of Current Editions Art Gallery in Seattle.  She's supported the College generously for many years, assisting with capital projects and endowing a chair in art history in 2003.  In a wonderful confluence of events, Wright's granddaughter, Ada Potter, graduated with the Class of 2011's art history majors on May 17. Wright attended the Commencement with her daughter Merrill Wright, also a Barnard alumna. At the Commencement, Holzer was honored with the Barnard Medal of Distinction, and afterward the family joined the sculptor, President Debora Spar, trustees, and faculty from the art history department for a special dedication ceremony.  
Wright has often credited Barnard for inspiring her love of art and she has made it a mission to share that passion. At Barnard, the Virginia B. Wright Art History Prize is handed out to promising seniors who major in art history, and the Virginia Bloedel Wright '51 Professorship of Art History,presently held by Alexander Alberro, was established by her husband Bagley in honor of their 50th wedding anniversary.
Holzer created the bench in 1978, as part of her "Truisms…" series, which compiled statements and aphorisms ("truisms") and put them forward in a variety of materials. Holzer's recent use of text ranges from silk-screened paintings of declassified government memoranda detailing prisoner abuse, to poetry and prose in a 65-foot-wide wall of light in the lobby of 7 World Trade Center. Since 1996, Holzer has organized public light projections in cities worldwide.  Her work has been exhibited at major museums including the Neue Nationalgalerie, Berlin in 2001; Contemporary Arts Museum, Houston in 1997; Dia Art Foundation, New York in 1989; the Solomon R. Guggenheim Museum in 1989; and the Whitney Museum in 2009.
Read more about Wright's gift in The Wall Street Journal and The New York Observer.
Barnard President Debora Spar, left, pictured with artist Jenny Holzer and her husband Mike Glier, Jinny Wright, and Prof. Alexander Alberro. 
Artist Jenny Holzer pictured with Ava Potter '11 and Jinny Wright '51.
Photo Credits: Asiya Khaki/Barnard College