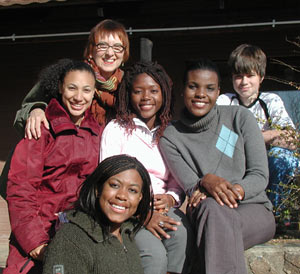 In July 2003, a Barnard delegation comprising four students, two faculty members, and one alumna traveled to Johannesburg, South Africa to take part in a research trip on the physiological and social effects of vanadium poisoning in a small mining town.

Vanadium, a metal element that is extracted from ore, has been making headlines as the cause of death and illness for South African mine workers since the early 1990s. Barnard alumna Marsha Coleman-Adebayo '74, who was the force behind the trip, helped draw attention to the situation in Brits, South Africa while serving as the U.S. Executive Secretary for the EPA's Gore-Mbeki Commission. She eventually lost that position after pursuing the politically unpopular issue of vanadium poisoning at a plant operated by an American company. She later took successful legal action against the EPA, helping to inspire the No Fear Act, which protects whistleblowers and was the first civil rights legislation signed into law in the twenty-first century.

It was Associate Dean of Studies Vivian Taylor who put together the support that made this "once in a lifetime adventure" possible for four Barnard students. Once Coleman-Adebayo suggested a trip that would include Barnard students, Taylor was on a mission to turn the idea into reality. She praised Coleman-Adebayo for bringing the issues to her attention and for coordinating the details of the trip. Before speaking to the Barnard alumna, Taylor did not know about vanadium and its toxic effects. "She really made me aware of this [problem]. It is an issue close to her heart," Taylor said.

Each of the students, three of whom were sponsored by the Mellon Mays Undergraduate Fellowship (MMUF) Program and one by the General Electric (GE) Scholars Program, participated in the conference and examined the issue from her own major's discipline. Hayley Holness '05 represented foreign studies, Alexandria Wright '05 applied a philosophical perspective, Kendra Tappin '05 examined historical context and Alexandra Severino '05 focused on the chemistry involved. "This is the way environmental issues should be addressed – from a multi-disciplinary perspective," said Coleman-Adebayo.

The students were also accompanied by Barnard Physics Professor Timothy Halpin-Healy and Environmental Science Professor Dianne Dittrick. A screenwriter representing actor Danny Glover (who is producing a film on Coleman-Adebayo's life) and a South African film crew also took part, documenting the mission.

To prepare for the trip, which they described as "life-changing," students conducted preliminary research on vanadium and composed independent research proposals. The students also needed an introduction to South African culture and climate. At the end of July, it was winter in the region, so they had to pack accordingly – including mittens and malaria pills. The College provided each student with a "Survival Kit" before her departure, which included items such as energy bars, a laminated map of the region and a guide to its three-star sights.

While in South Africa, the group attended a multi-disciplinary conference entitled, "Capacity Building Workshop on Occupational Health and Elimination of Toxic Chemicals Within our Communities: Vanadium," conducted field research, met with families of vanadium victims, and recorded their observations. In addition, students visited Kruger National Park, the Apartheid Museum and the Hector Pieterson Museum, taking full advantage of their time abroad.

Alexandria Wright, the philosophy student, became interested in how the miner's wives had been affected. "Much of the literature excluded the women's role in this situation when their husbands were fired or injured. At the conference I listened out for areas where the women's voices were missing," she said. "In terms of philosophy, whose knowledge was considered valid was the most interesting aspect… I'd like to create a theoretical understanding of that and bring in the women, showing how different voices have been eliminated from the picture."

Following their return, students presented their findings during a campus symposium from August 18 – 22. The group is planning a conference this spring to present their findings, photographs, and film footage to the broader community.

Of all the memorable parts of the trip, students were most influenced by the meetings with victims' families, inspiring them to bring greater attention to the problem and to respond in concrete ways. In fact, two of the student delegates are interested in starting a fund that will send one miner's daughter to college, a cost of approximately $400.