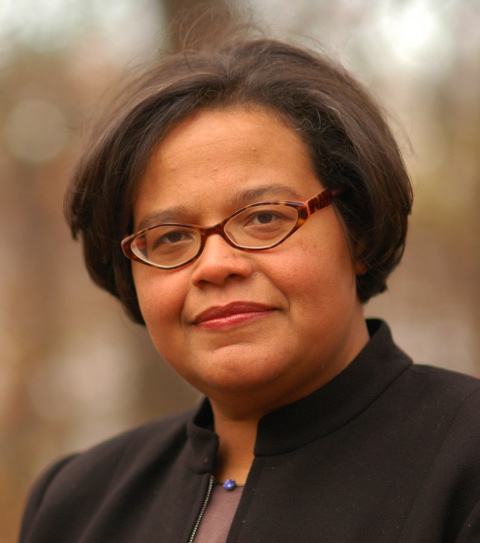 "I am very pleased that the department and the College has seen fit to put me in Lucyle Hook's shoes, as it were, because she had a formidable presence while she was at Barnard," says Kim Hall, professor of English. Hall recently assumed the newly endowed Lucyle Hook Chair in honor of this beloved English faculty member, a scholar of seventeenth-century literature and drama who passed away in 2003 at the age of 102. "I feel a kind of kinship [with her]," says Hall, citing Hook's scholarly interests as well as her love of international travel and dedication to women's issues.
Hall, who attended Hood College as an undergraduate and received her PhD from the University of Pennsylvania, specializes in Renaissance studies. Her publications include countless articles and two books: Things of Darkness: Economies of Race and Gender in Early Modern England, and  Othello: Texts and Contexts. Hall notes that it's the "weird and wonderful" things, as she describes them, that one finds in Renaissance drama that excite her. "I like teaching and reading things by people who just think very differently than we do. I'm not looking at a reflection of myself 400 years ago, I'm looking at a different culture with which I happen to share a language."
Within minutes of talking to her, it is evident why students have nothing but glowing remarks about Hall: She is warm, friendly, and so clearly passionate about the subjects she teaches. Hall's research also includes a focus on the West Indies, the sugar trade, and the various imaginative associations of that trade. These topics, as well as an examination of the rhetoric about Caribbean culture that is prevalent to this day, are examined in Hall's course, "The West Indies and English Imagination." And a book-in-progress, tentatively titled Sweet Taste of Empire, will explore the sugar economy's beginnings in seventeenth-century England.
In addition to her work as a faculty member in the department of English, Hall serves as director of the College's Africana studies program, which marked its 15th anniversary in 2007. One important aspect of Africana studies, according to Hall, is its global outlook and the different perspectives it requires its students to take on. As such, Africana studies majors, says Hall, are "well equipped to make alliances that are culturally nuanced and that have a deep understanding of the history and the extremes that inform our interactions with people across the globe." Those who choose to study in the program and take it on as a major desire just such a global outlook and knowingly embark on a course of study that requires them to rethink the "state of knowledge" in other fields. Hall hopes to expand the program in ways that will better accommodate students, such as establishing special sessions for students to practice their African language skills, and creating a minor course of study. And she will focus on generating a core group of faculty with official responsibilities for Africana studies and its students.