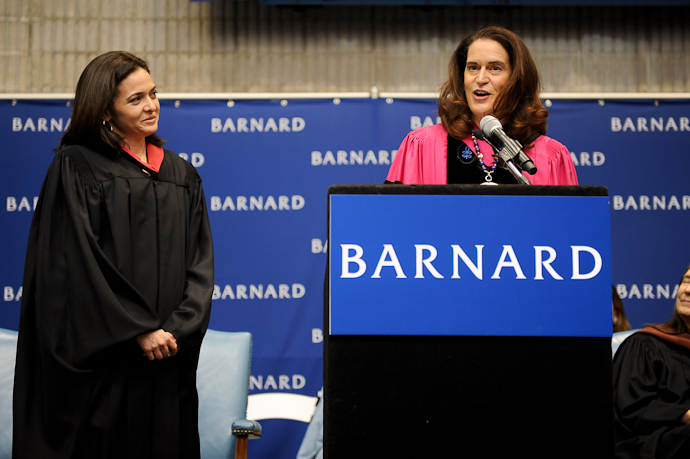 Photo by Barnard College/Asiya Khaki.
Barnard's 2011 commencement speaker Facebook Chief Operating Officer Sheryl Sandberg was profiled by The New Yorker's Ken Auletta, author of eleven books, including Googled:  The End of The World As We Know It.. 
An excerpt from The New Yorker piece "A Woman's Place.  Can Sheryl Sandberg upend Silicon Valley's male-dominated culture?" : 
"In May, Sandberg was most concerned with the futures of the graduating class at Barnard College. She had agreed to be the commencement speaker, following Hillary Clinton in 2009, and Meryl Streep in 2010. The seniors who made up this audience for her post-feminist message were very different from the professional women who heard her TED speech. 'This probably meant more to me than any speech I've ever given, because it's the beginning of their lives,' Sandberg told me on graduation day." 
"It was really striking to me how they connected to her on a personal level," [President Debora] Spar said afterward.
Watch Sheryl Sandberg's commencement address and read the full transcript here.