This week James Basker, Barnard's Richard Gilder Professor of Literary History, accepted the 2011 National Arts and Humanities Youth Program Award from First Lady Michelle Obama on behalf of the The Gilder Lehrman Institute of American History.  Prof. Basker is president of the Gilder Lehrman Institute, which received the award in recognition of its Saturday Academies program.
The Gilder Lehrman Saturday Academies provides free elective courses for high school and middle school students on Saturday mornings. The program has helped more than ten thousand students gain a deeper knowledge of the humanities through American history, literature and arts classes. GLSA was among 12 after-school and out-of-school programs across the country to receive the award, which recognizes community based arts and humanities programs and is the highest honor such programs can receive in the United States.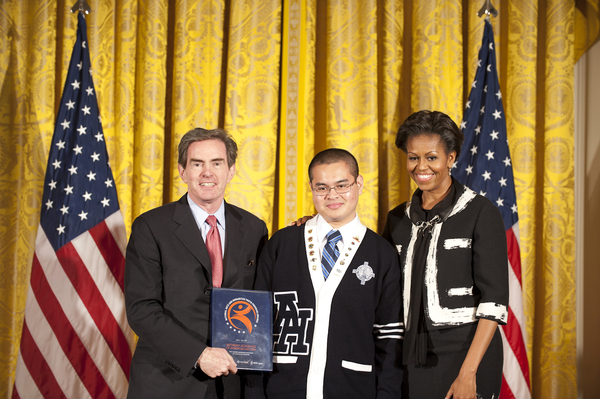 History professor James Basker with GLSA student representative Robert Sandoval and First Lady Michelle Obama.