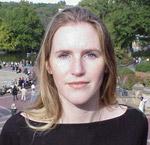 In an opinion piece in The New York Times, political science professor Séverine Autesserre urges support of local grassroots efforts to establish peace in Congo. An excerpt:
"Addressing the consequences of sexual violence and these other abuses is important, of course, but donors should do more to address their underlying causes. Most important, they should approach the resolution of conflicts in Congo from the bottom up. They should assist local groups — official authorities, NGOs and civil-society representatives — with the funding, logistical means and technical capacity necessary to implement narrowly tailored programs."
Read the full piece in The New York Times. 
Prof. Autesserre is the author of The Trouble with the Congo: Local Violence and the Failure of International Peacebuilding, which won the 2012 Grawemeyer Award for Ideas Improving World Order.