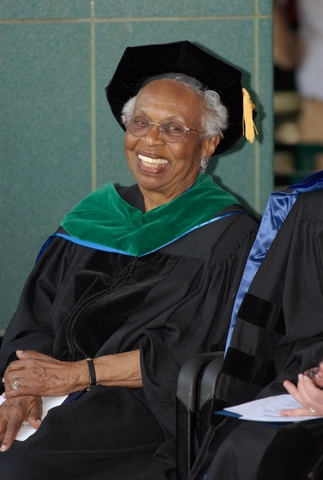 The Barnard College community is deeply saddened by the recent death of Dr. Muriel Petioni, a renowned Harlem physician and recipient of the Barnard Medal of Distinction, the College's highest honor. 

"Dr. Petioni, who died on Tuesday in Manhattan at 97, was prominent in Harlem the way doctors once were prominent in every small town in the country. She was the family physician to Harlem's political elite — the Rangels and the Percy Suttons, among them — but treated so many thousands of others, too, that she identified many public health issues before they hit the epidemiologists' radar," wrote The New York Times on the occasion of her death.

Read about Dr. Petioni's legacy in the following citation that was presented at Barnard's 2007 Commencement ceremony.

Muriel Petioni Citation
Barnard College Commencement
May 15, 2007

Doctor Muriel Petioni. Physician. Educator. Harlem icon. Mentor to countless young women. For seventy-five years, your contribution to the medical profession has exemplified only the highest ideals.

Trinidad born, you grew up in Harlem and became the sole female graduate in the 1937 class of the Howard University College of Medicine.  A two-year internship at Harlem Hospital followed, as did service as a college physician at several universities. In 1950, after a brief time away from the profession to start a family, you returned to medicine, to Harlem, and to the office in which your own father had established his practice many years before. For the next four decades you made an indelible mark by ensuring that every man, woman, and child received equal access to proper healthcare.

You have never veered from your commitment to providing opportunities for young black women interested in pursuing medicine. In 1974, you founded the Dr. Susan Smith McKinney Steward Medical Society – a professional association for black women physicians named after the first African-American woman licensed to practice medicine in the state of New York. Two years later, you organized and led the Medical Women of the National Medical Association. Since the early 1980's you have worked closely and diligently with the Coalition of 100 Black Women to develop a mentoring program aimed at young women whose interests lie in medicine and the sciences.

In 1987, you founded the Friends of Harlem Hospital Center.  The Center named its boardroom after you. The National Medical Association named its annual Women in Medicine Luncheon after you. And plans are currently in the works to create a charter school in Harlem in your honor.  

Today, we gather to pay tribute to your remarkable passion and dedication on behalf of the underserved.  We marvel at the trail you have blazed and the countless contributions you have made to the field of medicine. We join with our neighbors in the Harlem community in praise of your extraordinary life's work.