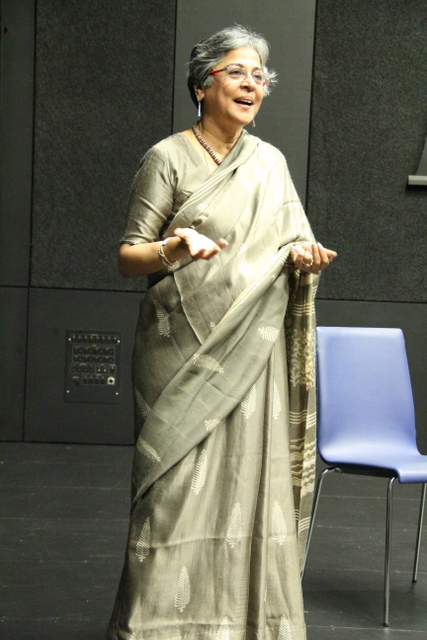 On October 24, celebrated Indian architect Brinda Somaya met with a group of architecture and urban studies students and spoke about the context of architecture and urban planning in India through the lens of her own career.     
 "I believe every architect in India must be a conservationist," she told the students. "We have to go beyond buildings, and think of ourselves as guardians of the built as well as the un-built spaces."
This philosophy was evident throughout her presentation, which showcased various projects by Somaya & Kalappa, the firm she has headed for the last thirty years.  She spoke about eco-friendly designs implemented before LEED standards, and efforts to design inclusively and with a sense of social justice in areas where slums and middle-class communities intersect.  She also described the abundance of high-rise buildings "coming up like lipsticks" and the issues posed by the arrival of gated communities in Indian cities.
"The most appropriate solutions are brought about by the least authoritarian approach, where the public becomes the catalyst in the development process," she said.
In November, many of the students who attended Somaya's talk will be traveling with Professor David Smiley to Chandigarh, one of India's first planned cities, where they will study the work of modern architecture pioneer Le Corbusier and observe urban planning issues associated with "new towns."
In March, Somaya will participate in Barnard's Fourth Annual Global Symposium, "Women Changing India," taking place in Mumbai.
For information on Barnard's alumnae travel program to India, please click here.