On September 18, a group of Barnard's faculty, staff and students helped fight breast cancer by participating in the Susan G. Komen Race for the Cure and raising $12,154.  It's not too late to help out: donations are still welcome through the end of October. 
Read about Team Barnard: Remember Jayma in the August edition of the Komen Greater NYC Newsletter.  An excerpt:
"Team Barnard:  Remembering Jayma was created in 2006, a couple of months before the death Jayma Abdoo, who worked in the Dean's Office of the college.  Abdoo had a recurrence of breast cancer after being in remission for five years.  She died before the Race, but 30 colleagues walked in her honor that year.  The team continues to race — remembering her and others who have suffered from the disease."
To read the full article, click here.  Check out Team Jayma's website or visit the team's fundraising page to help make a difference!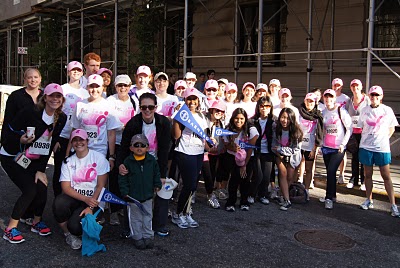 Team Barnard: Remember Jayma walks in memory of Jayma Abdoo.
Susan G. Komen for the Cure is the global leader of the breast cancer movement, having invested more than $1.9 billion since inception in 1982. Chief Executive Officer Dara Richardson-Heron, MD, is a Barnard alumna, Class of 1985.