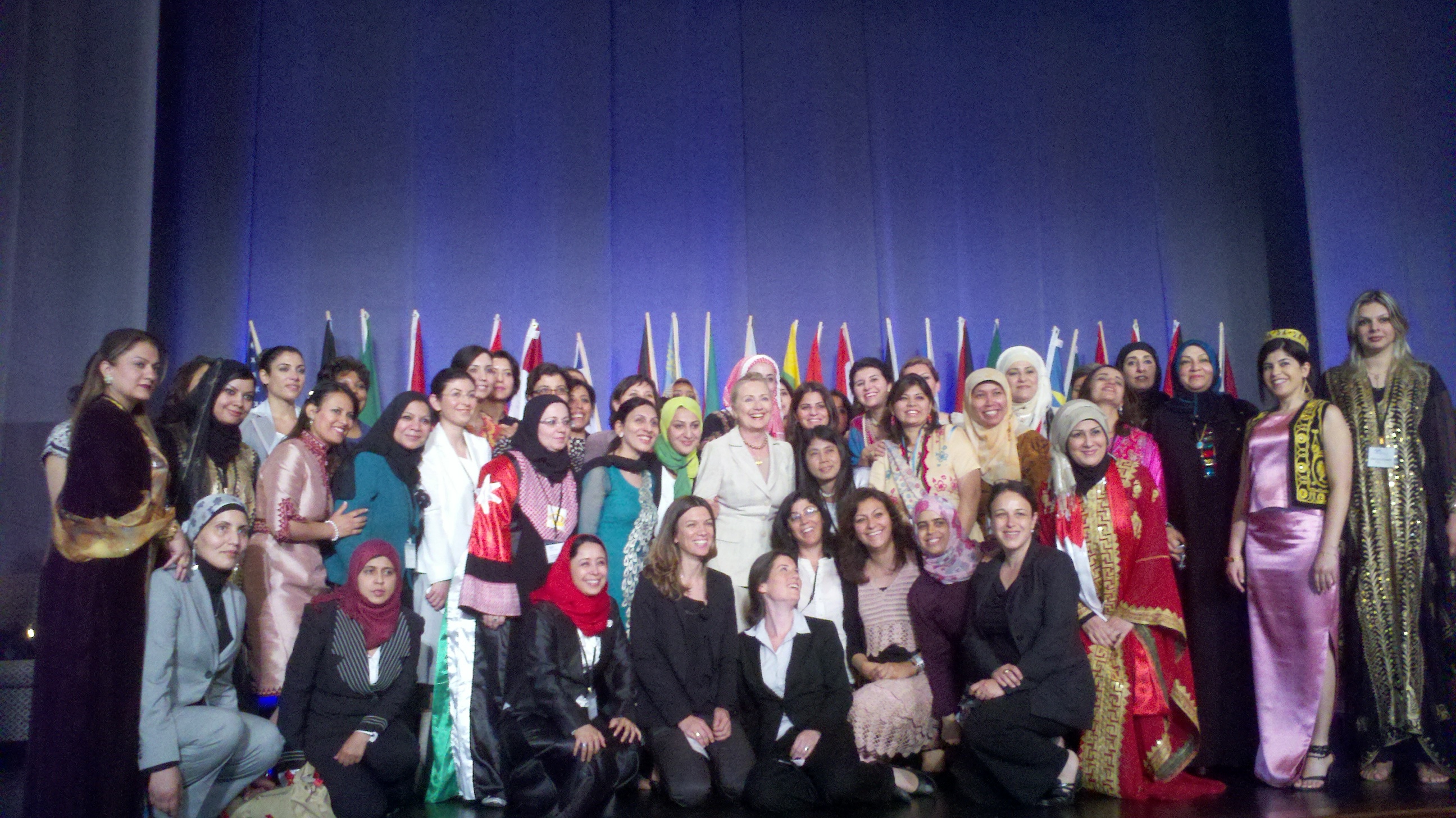 On June 11, the inaugural Institute of the Women in Public Service Project launched at Wellesley College. The Institute brought together 49 emerging women leaders from across the globe. These delegates from 21 countries in the process of political and social transformation represent diverse fields of public service and/or political or elected office. Speakers included U.S. Secretary of State Hillary Clinton; former U.S. Secretary of State Madeleine Albright; and Nancy Gertner '67, Professor of Practice at Harvard Law School and Former Judge of the U.S. District Court for the District of Massachusetts. Prof. Kathryn Kolbert, the Constance Hess Williams '66 Director of the Athena Center for Leadership Studies at Barnard will also conduct a session during the two-week Institute.
Photo credit: Soe Lin Post/Wellesley College
An excerpt from Clinton's address:
"Now we are looking to you for your leadership to turn the promise of change into real and lasting progress that moves each of your countries toward democracy, human rights, and opportunity.  And no matter where you're from, we're all here today because we believe in your potential, and we are committed to your futures. We're here because we feel the call to public service, to work together, to solve problems, to improve lives, and because we are convinced that the women of the world have so much to contribute....History shows that all too often, the victors of revolutions can become their victims and that new autocrats can derail progress toward democracy. So it is up to every citizen, men and women alike, to resist the call of demagogues, to build coalitions, to keep faith in the future of the system you are building even when your candidates lose in the elections. And as women, you have a special stake in the outcome, because we have seen that women's rights and opportunities can hang in the balance. And we know from experience that women's contributions are vital to building successful democracies and thriving societies."
Read the full speech and watch the video here.
The unique Institute provides a forum for shared learning and dialogue; exchange of experiences and expertise; peer-to-peer mentoring and networking; and builds an important platform for cross-fertilization of knowledge and innovative leadership skills. The Institute is a key component of the Women in Public Service Project's global initiative to raise world leadership from 17.5% female to 50 percent by 2050. Delegates for the inaugural program were selected through a vigorous application process and many are from the Middle East or North Africa (MENA) region and were part of the Arab Spring. These delegates are primarily under the age of 40 and have already begun promising careers in public service. They include a 27-year old activist who is the youngest member of Afganistan's parliament.
Photo credit: Soe Lin Post/Wellesley College
Albright remarked, "The delegates are among the best and brightest rising political talents from countries in which women's voices are desperately needed in seats of power. The Women in Public Service Institute will give these women the tools they need to amplify their voices build networks, and bring about positive change—not only for women, but for the world.
In 2011, the Sister Colleges—Barnard, Bryn Mawr, Mount Holyoke, Smith and Wellesley—and the U.S. Department of State founded the Women in Public Service Project, which provides vital momentum to the next generation of women leaders who will invest in their countries and communities, provide leadership for their governments and societies, and help change the way global solutions are developed.