American Monument Culture is a one-point, discussion-based mini-course taught by Art History professor Elizabeth Hutchinson with support from BLAIS staff members IMATS Associate Director Melanie Hibbert and Art & Architecture Librarian Meredith Wisner. 
Melanie will help students create an audio tour and Meredith's focus is research on tombstones and monuments, using historic newspapers and digital collections throughout the city.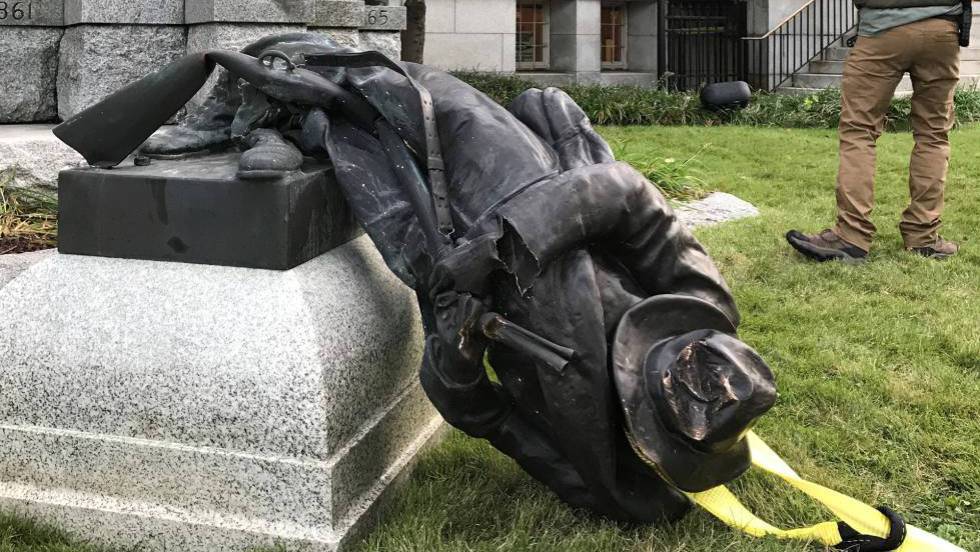 Reuters photo
Course Description:
The nation is currently caught up in a vital debate about how historical figures and events should be recorded in the public square. Cities, institutions and impassioned individuals are pulling down and removing statues of Confederate leaders and other individuals implicated in the history of slavery even as objections are raised to these actions from both the left and the right.
Why are Monuments so important? How have they been used historically to assert political and social power? This one-point course introduces the history of monument culture in the United States, focusing on the period between the Civil War and the 1920s and asks if and how monuments erected in the past function in the present. Readings draw on scholarly works, reports of public commissions on the issue of monument removal, and editorials produced in the spring and summer of 2017 in response to actions taken in New Orleans, Charlottesville, Baltimore and Durham. Through a walking tour and student research projects we will consider the origins and function of several public monuments in Morningside Heights, ranging from John Hemenway Duncan's Ulysses S. Grant Memorial to Alison Saar's Harriet Tubman Memorial. The class will meet five times and will take one field trip.