The Barnard Library has established an award recognizing professors who develop collaborative projects with BLAIS staff. This year's Faculty Partner of the Year is...
KIM F. HALL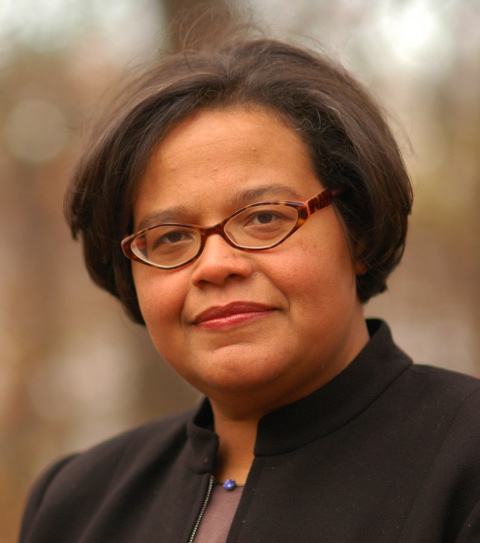 Professor Kim Hall, Lucyle Hook Chair, Professor of English and Africana Studies was nominated by Humanities and Global Studies Librarian Vani Natarajan, but the collobaration also involved other BLAIS professional staff in the Archives and IMATS, as well as the library.
The award-winning collaboration centered on students adding content to Wikipedia (project course page), allowing them to practice the composition of what we might call tertiary, or reference sources. Vani, along with Performing Arts Librarian Megan Wacha, led a series of workshops that guided students through the processes of reading Wikipedia critically (looking for gaps, tracing citations, thinking about how knowledge is structured); picking up the tactical skills of Wikipedia editing; and generating amendments to existing content and new articles.
Archivist Shannon O'Neill, accompanied her colleagues for the second of these sessions to show students items from Barnard alumna '70 Ntozake Shange's personal papers. Shannon, Megan and Vani also joined the seminar for a lunch with Ms. Shange to discuss her work and her Barnard experiences. 
In addition to the critical engagement component, students gained technological competencies. They learned basic markup language and about participation in an online community (for example, by joining WikiProject African Diaspora). Students were able to engage as active producers on the web, rather than just as consumers. The project originally emerged from a conversation between Kim and Associate Dean of BLAIS, Alexis Seeley.
Professor Hall will be celebrated at a reception in the library in the fall and the collaboration project with a library exhibit featuring materials related to Ntozake Shange's work.
Honorable Mentions
BLAIS staff nominated many worthy candidates for the award. We want to recognize
Jacob Alexander, for his work with Heather Van Volkinburg on developing Excel training for the General Chemistry Lab. The collaboration also led to chemistry majors increasing their use of library resources.
Chana Etengoff, whose collaboration, also with Heather, has invigorated psychology lab courses and improved students' empirical skills.
Wendy Schor-Haim, who as coordinator of the First Year English Workshop program, and in collaboration with Lois Coleman and Vani Natarajan, fostered an initiative where librarians were embedded in each of the workshops.