Architecture professor and department chair Karen Fairbanks's firm, Marble Fairbanks, has received World-Architect's "Building of the Year 2013" award for its work on the Glen Oaks Branch Library in Queens. The project won the Public Choice award after receiving about one-fifth of all votes cast; it also won the Editor's Choice award for bringing thoughtful design to a civic amenity in eastern Queens.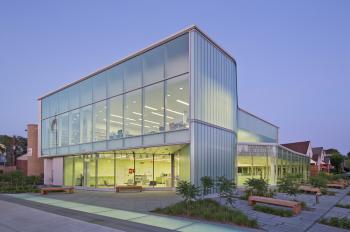 Image Source: American-Architects

The Glen Oaks Library was featured as part of American-Architects' Building of the Week series last year, in which one building from each of the 50 states was highlighted.

Learn more about the Glen Oaks Library and the Building of the Year award.

Prof. Fairbanks joined Barnard's faculty in 1996. She is the Ann Whitney Olin Professor of Professional Practice in Architecture and Chair of the Department of Architecture, where she teaches design studios and seminars on architecture and technology. In addition to her teaching duties for the Department of Architecture, she is affiliated with Barnard's Urban Studies program.