Poets Claudia Rankine (Columbia School of the Arts '93) and Dionne Brand discussed the power and necessity of poetry in confronting white supremacy at a Barnard Center for Research on Women (BCRW) event, "Poetics of Justice," moderated by BCRW Associate Director Tami Navarro on April 25. Nearly 300 people attended the standing-room-only event held in the James Room of Barnard Hall.
The BCRW is at the forefront of feminist action and scholarship, and this event furthered its mission by giving voice to the intersection of poetry and social justice activism. Poetry has become more publicly visible since the presidential election, with writers responding to the current political moment with works that address environmental protection, immigration and refugees, trans issues, and racism. Some poets, such as Claudia Rankine and Dionne Brand, have long confronted institutional and personal racial discrimination, investigating the limits of language and community through innovative forms.
Rankine began the BCRW event by screening her short film Situation 8, created with John Lucas, depicting video clips of police brutality against people of color with a voiceover questioning the public contract of relying on other people to behave with decency. After the screening, she implicitly asked the audience, by sharing a letter from a member of a previous audience, whether or not re-opening trauma by watching these video clips is valuable or gratuitous. Brand then read aloud an excerpt from her poetry collection Ossuaries—a sharp, unflinching work about violence, incarceration, and a linguistic condition she calls "verblessness."
In response to Navarro's questions, the two poets offered different but perhaps complementary approaches to their craft. "My job is not to comfort," said Brand. "It is to open up meaning." She added that "all black people should be writing poetry because of the effects of narrative on our lives. Poetry asks the reader who you are. It allows for unknowability in a world that thinks it knows us."
Rankine stressed the need for conversation. "We are our possibility," she said. "If we are able to hold our differences inside our relation, there is movement there… It has to be me up against you, as proximate as I can get… with the understanding that I am outside the power structure, that power is working against us—and by us, I mean all of us … We are talking about what we can learn from each other to move forward."
Claudia Rankine, the Frederick Iseman Professor of Poetry at Yale University, is one of the most prominent poets of our time. She is a chancellor of the Academy of American Poets, recipient of the 2016 MacArthur Fellowship, and winner of the National Book Critics Circle Award in Poetry, among numerous other awards and honors. Rankine is a blockbuster intellectual who crosses genres with great effect. She is the author of five collections of poetry and two plays, the editor of several anthologies, a video co-producer, and founder of the Racial Imaginary Institute. Her bestselling and award-winning book Citizen: An American Lyric explores in an extended prose poem, much of it written in the second-person, what it means to be an American experiencing racist micro-aggressions.
Dionne Brand is a Canadian poet who was Toronto's third Poet Laureate from 2009-2012. Like Rankine, Brand traverses genres—poetry, essays, novels, and film—and makes poetry public and relevant. She has won numerous awards and prizes, including Canada's Governor General's Literary Award and the Griffin Poetry Prize. Her works focus on Caribbean national and cultural identity, sexuality and black female bodies, and the status of diasporic black people in Canada, among other themes of marginalization and the mechanisms of power. Brand is also founder of Our Lives, Canada's first black women's newspaper. She is a professor in the School of English and Theatre Studies at the University of Guelph in Ontario, Canada.
"Poetics of Justice" was the fourth event in the BCRW literary series "Caribbean Feminisms on the Page," which features authors thinking through their engagements with the Caribbean and its diaspora and their experiences as women writing in and about the region. Previous events included conversation between Jamaica Kincaid and Tiphanie Yanique, Edwidge Danticat and Victoria Brown, and Gloria Joseph and Naomi Jackson.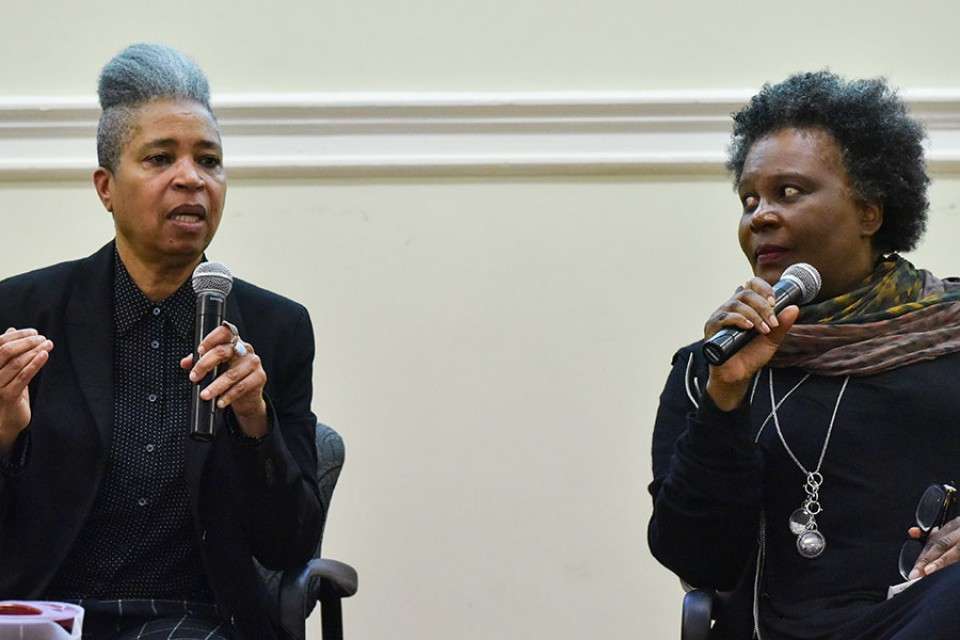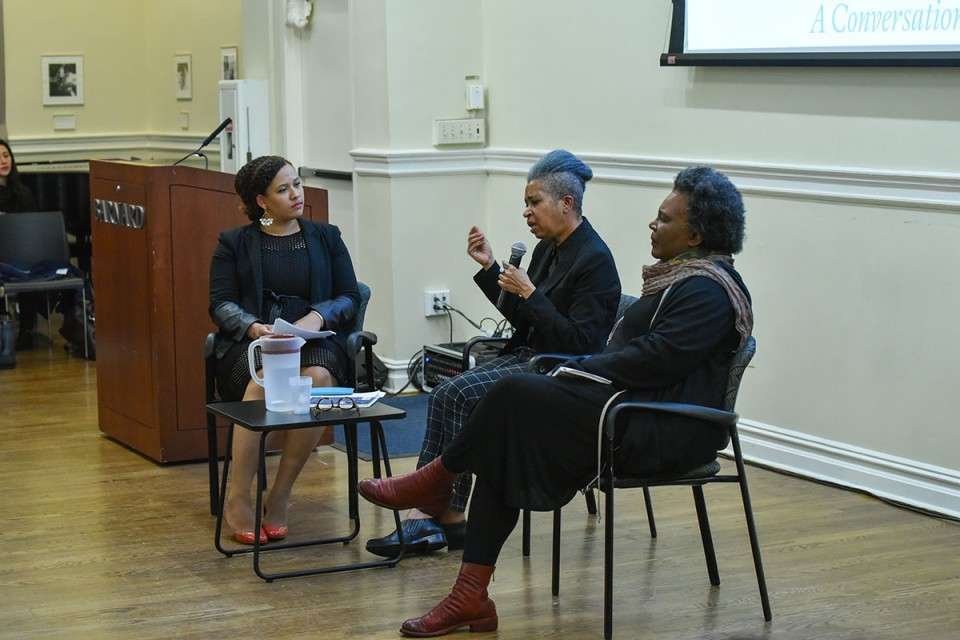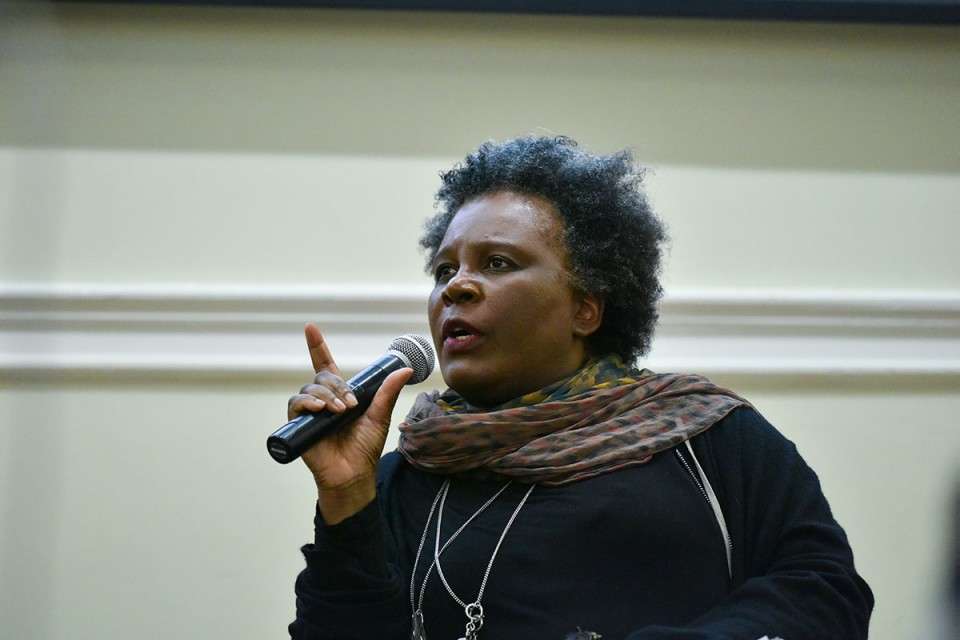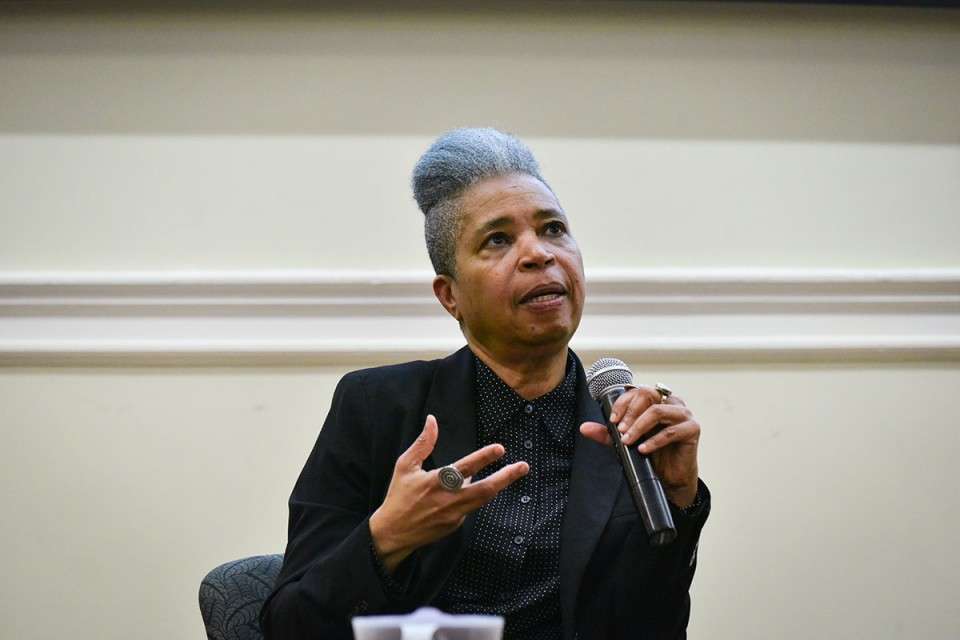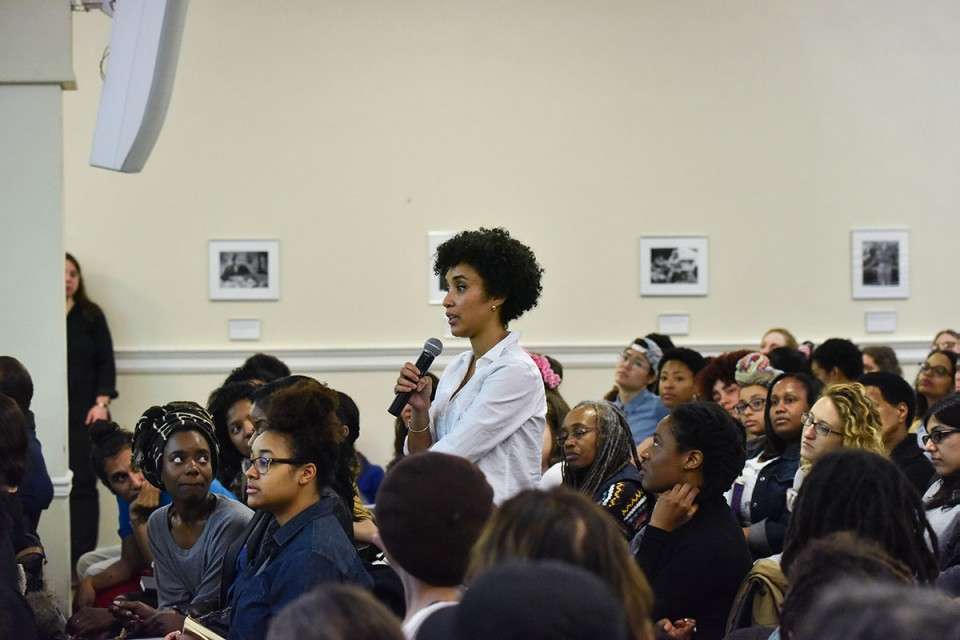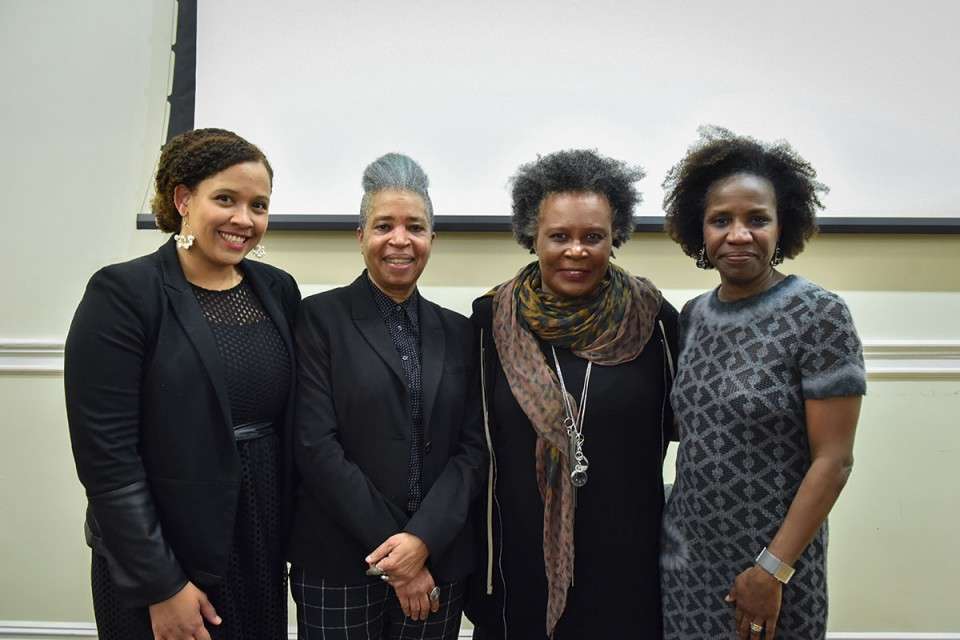 Dionne Brand (left) and Claudia Rankine. All photographs by Matt Harvey.
From left to right: BCRW Associate Director Tami Navarro, Dionne Brand, Claudia Rankine
Nearly 300 people attended "Poetics of Justice" on April 25, 2017.
From left to right: BCRW Associate Director Tami Navarro, Dionne Brand, Claudia Rankine, BCRW Director Tina Campt