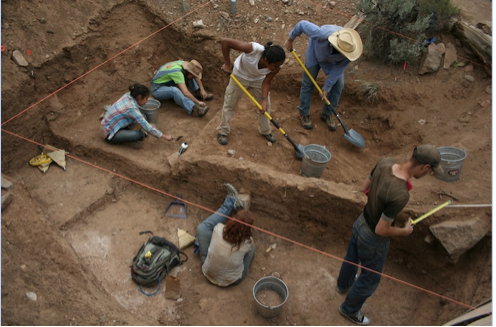 Since 2007, Severin Fowles, assistant professor of archaeology, has directed the Gorge Project, a multi-site study of the Rio Grande gorge, a rift valley in the Taos Plateau in northern New Mexico. Prof. Fowles coordinates archaeological surveys, excavations, and oral historical research there every summer, providing students with a unique, immersive experience. They stay in a home owned by Fowles that doubles as the project's field station, as well as an archival and collections facility for field notes and artifacts.
Fowles and his team of Barnard students have investigated sites spanning millennia, from 3,000-year-old hunter-gatherer camps, to 18th-century Spanish colonial villages. In 2010, they even undertook the first ever excavations of the remains of a hippie commune, digging up the beads and decaying moccasins of the 1960s counterculture in New Mexico. Their key discoveries thus far include the one of the largest early Pueblo villages in the northern Rio Grande region, a major new rock-art site documenting the emergence of Comanche raiding in the 18th century, and an elaborate folk tradition of 19th-century Catholic rock art created by the Penitente brotherhood in the course of their painful reenactments of Christ's Passion.
Students who participate in these projects work closely with the professor and his Columbia graduate students. They are often collaborators on papers at professional conferences, and many undertake their own original research projects, building databases that serve as the basis for senior theses. Several of Fowles's students have gone on to pursue graduate research in archaeology in the nation's top PhD programs.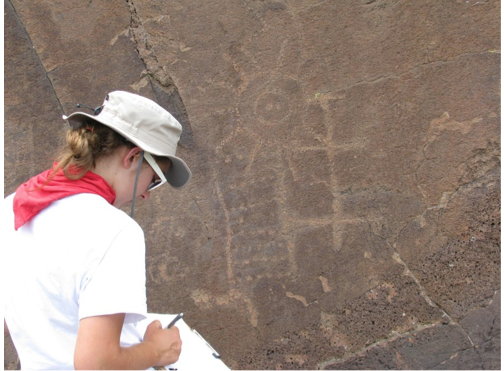 Among them is Annie Danis '10, who will start an archaeology PhD program at the University of California, Berkeley, in the fall. "I took 'The Origins of Human Society' my first semester of freshman year and was immediately hooked. I had planned on being an English or creative writing major but was sucked in by the fascinating philosophical problems archaeology brings to bear on human experience," she explains. Danis worked on the Gorge Project for five summers, presenting a paper about trash from the 1960s commune at a meeting of the Theoretical Archaeology Group, and posters at both the Society for American Archaeology and the New Mexico Archaeological Council meetings.
According to Prof. Fowles, Danis's thesis on rock-art panels, "Hide and Stone: Exploring Plains Tradition Images and Landscapes at the Pictured Tipi Site," was groundbreaking:  "Through extensive historical research … Ms. Danis developed a compelling interpretation of these panels as the product of early 18th century Comanche imperialism in the northern Rio Grande. This research promises to change, at a basic level, the way future scholarship will discuss the Spanish colonial period in the area."
Caroline Frosch '14 co-authored a poster with Fowles, creating a large display explaining their research on "The Archaeology of Uncertainty in Colonial New Mexico" and presenting it at the Society for American Archaeology in Memphis last spring. She says: "While Prof. Fowles gives my peers and me all the help we need, his own excitement about his work rubs off on us, and our anxiety about participating on such an important project is easily overcome by our eagerness. Due to his confidence in us, we have many opportunities to play crucial roles in furthering the Gorge Project. Not only have I learned an incredible amount, but I also have become passionate about what I do. The rigor of the project has taught me that I am capable of far more than I thought."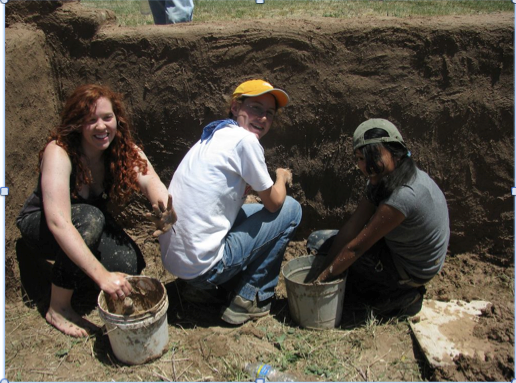 Maud Reavill '14 joined Fowles in the field to direct her own research on New Mexican descansos, or roadside shrines, and bring the Gorge Project's study of Catholic iconography from the early rock-art tradition into the present. "Taking part in the Gorge project has given me the opportunity to explore the New Mexican archaeological landscape through a contemporary lens," she says. "For my senior thesis I am researching descansos, roadside memorials that are erected where fatal automobile accidents have occurred. This project has allowed me to combine the archaeology of the present with ethnographic research, and to approach the subject of roadside shrines from a completely new angle. Through the Gorge Project I have had the opportunity to work with other Barnard students who are researching their thesis topics. I have been collaborating with Maura Schlagel, for example, conducting interviews and looking through archives, in order to further both her research on New Mexican land-grant issues as well as my own on roadside memorials."
Emily Hayflick '15 says: "I did fieldwork last summer and am continuing my work in New Mexico this summer to gather data for my thesis on the significance of springs and river confluences within indigenous thought. Last summer, I needed to apply for grants, something that I had never done before. This is a necessary skill to possess if I continue in the field, and I found the experience of learning how to apply for and write grants very helpful. I am glad that I was able to learn about the process while I am still an undergraduate."
Read more stories about student research opportunities at Barnard.