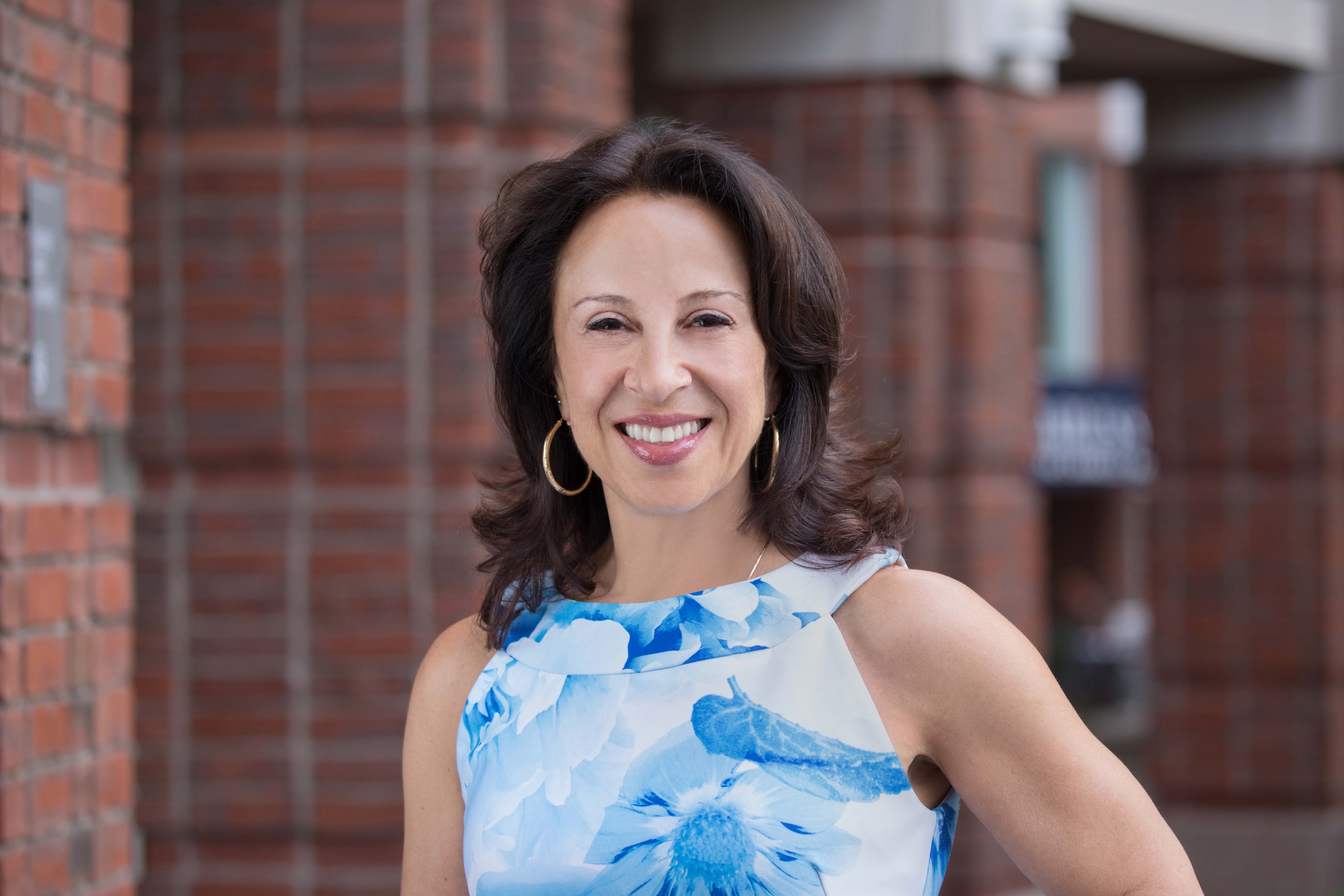 NEW YORK, August 28, 2019 — As part of its mission to empower and educate exceptional young women, Barnard College announced that award-winning journalist Maria Hinojosa '84 has been named its inaugural Journalist-in-Residence. Hinojosa, the founding anchor and now executive producer of NPR's Latino USA, will begin her three-year residency in the fall, teaching a creative writing course about processing trauma and a journalism course about covering incarceration and immigration issues from a Latinx perspective. Future classes will similarly probe the intersections of nonfiction, personal memoir, immigration, and journalism.
"I am thrilled to welcome Maria back to Barnard for this new residency," said President Sian Leah Beilock. "As we continue to expand our academic offerings and adapt to the diverse interests of our students and the career paths they will pursue after graduation, I can think of no better journalist to develop this residency program and mentor students who share her passion."
Hinojosa is internationally recognized for her work on topics affecting women, children, and immigrants. In her keynote address at Barnard's 2018 Convocation ceremony, Hinojosa told students that their voices and perspectives have power and urged them to use their privilege to change existing narratives that harm or misrepresent those with less power and privilege.
"I am honored to be Barnard's first Journalist-in-Residence at this pivotal moment in history," said Hinojosa. "As Barnard and other forward-thinking institutions confront today's societal dynamics, this new position sends a powerful message that even in troubling times where many feel targeted, we will rise to meet the challenge. I am proud to be a leader in my community of West Harlem, where I raised my children, and I look forward to returning to Barnard to nurture a new generation of students as they become phenomenal writers, thinkers, journalists, and feminists."
Hinojosa was born in Mexico City and raised on the South Side of Chicago. Her passion for journalism was ignited at Barnard, where, during her sophomore year, she landed a slot at Columbia's radio station, WKCR, playing Latin American protest music and interviewing grassroots activists in Spanish. After graduating magna cum laude with a degree in Latin American studies and minors in political science and women's studies, Hinojosa began her career with NPR as a producer. She briefly left the station to work with Walter Cronkite and others at CBS and returned to NPR a few years later as a correspondent and anchor, where she covered a diverse swath of stories, including the 1995 trial of 10 conspirators in the first World Trade Center attacks, issues affecting people with AIDS in Cuba, Nelson Mandela's release from prison, and more. She has also worked with WNYC, WNBC, and PBS, where she became the first Latina to anchor a Frontline report and anchored the programs Maria Hinojosa: One-on-One and Need to Know. Hinojosa has most recently become a contributor to CBS Sunday Morning and is a frequent guest on MSNBC. 
In 2010, she started the Futuro Media Group, a nonprofit based in New York City's Harlem that works with NPR's Latino USA — where she is the executive producer and anchor — to produce radio and TV shows as well as web content that capture stories many media outlets don't cover. She is the anchor of the award-winning political podcast In the Thick. Hinojosa has won numerous awards over the course of her nearly 30-year career, including four Emmys, the 2012 John Chancellor Award for Excellence in Journalism, the Robert F. Kennedy Award for Reporting on the Disadvantaged, and the Edward R. Murrow Award from the Overseas Press Club for best documentary for Child Brides: Stolen Lives. She has authored two books, Crews: Gang Members Talk with Maria Hinojosa (1995) and her memoir, Raising Raul: Adventures Raising Myself and My Son (1999). From 2013 to 2018, she served as the Sor Juana Inés de la Cruz chair of Latin American and Latino Studies at DePaul University, her son's alma mater. She received Barnard's Distinguished Alumna Award in 2009.
About Barnard College
Barnard provides a singular educational experience, as a world-renowned college focused on excellence across the arts and sciences, with all the academic resources of Columbia University and the City of New York as an extended classroom. Founded in 1889, Barnard was one of the few colleges in the nation where women could receive the same rigorous and challenging education available to men. Today, Barnard is one of the most selective academic institutions in the country and remains devoted to empowering extraordinary women to become even more exceptional. For more information on Barnard College, contact Barnard Media Relations at 212-854-2037 or mediarelations@barnard.edu. To learn more, follow Barnard on Instagram, Twitter, and Facebook.
Media Contact: 
Kathryn Gerlach
mediarelations@barnard.edu 
212-854-2037