Media Contact:
Alli Cooke, Media Relations Manager
212-854-8022 / acooke@barnard.edu

FOR IMMEDIATE RELEASE
BARNARD COLLEGE ACQUIRES COLLECTION, CELEBRATES NEW MEMOIR OF FEMINIST ARTIST AND ACTIVIST SABRA MOORE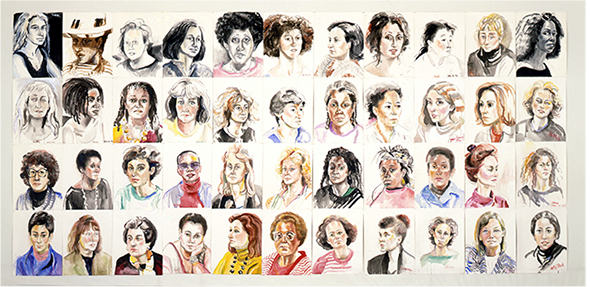 NEW YORK, October 28, 2016 —
Artist Sabra Moore
, a key figure in the feminist movement since the 1960s, will read from her newly released memoir
Openings: A Memoir from the Women's Art Movement, New York City 1970-1992
(New Village Press) Nov. 1 at 12 p.m. in 302 Barnard Hall, as a part of the Barnard Center for Research on Women's Lunchtime Lecture Series.  The reading, which is being hosted in celebration of the College's acquisition of her artistic and political collection, will feature highlights of Moore's time as a counselor at the first legal abortion clinic in New York.  
Shannon O'Neill, Associate Director of Archives & Special Collections, is thrilled to have acquired Moore's collection and to have discuss her work with the women's artist movements of the 1970s and 1980s, which led to museums like the MoMA broadening their collection of works by female artists.
"Sabra Moore's collection beautifully documents the inner workings of grassroots feminist art and activist organizing such as her work with the Women's Caucus for Art and Women Artists in Revolution," said O'Neill. "We are so grateful to Ms. Moore for recognizing the intersections of her collection with the College's mission."
The Sabra Moore NYC Women's Art Movement Collection includes organizational records from the feminist political artist group Heresies Collective, documentation of Moore's work as a counselor at the first legal abortion clinic in New York, memorabilia from the 1984 demonstration against MoMA, and 20 original artworks from Moore's contemporaries.
The Sabra Moore NYC Women's Movement Collection is processed and open for research.  A guide for the collection (PDF) may be found online at the Barnard Archives website.  Her work can be found in several museum collections including the Brooklyn Museum and MoMA. Her work is also showcased in the film The Heretics (2011).
Founded in 1889, Barnard was the only college in New York City, and one of the few in the nation, where women could receive the same rigorous and challenging education available to men.  Today, as the world-renowned liberal arts college for women at Columbia University, Barnard College remains devoted to empowering extraordinary women to become even more exceptional.  For more information about Barnard College, The Sabra Moore NYC Women's Movement Collection, or the BCRW lunchtime lecture, contact Media Relations at mediarelations@barnard.edu or 212-854-2037.