NEW YORK, NY, September 25, 2018 – Barnard College will hold the official grand opening for The Cheryl and Philip Milstein Center for Teaching and Learning on Wednesday, Oct. 3. The new building, which opened in early September, serves as the hub of academic and intellectual life at Barnard and reinforces the institution's commitment to sustainability and climate action.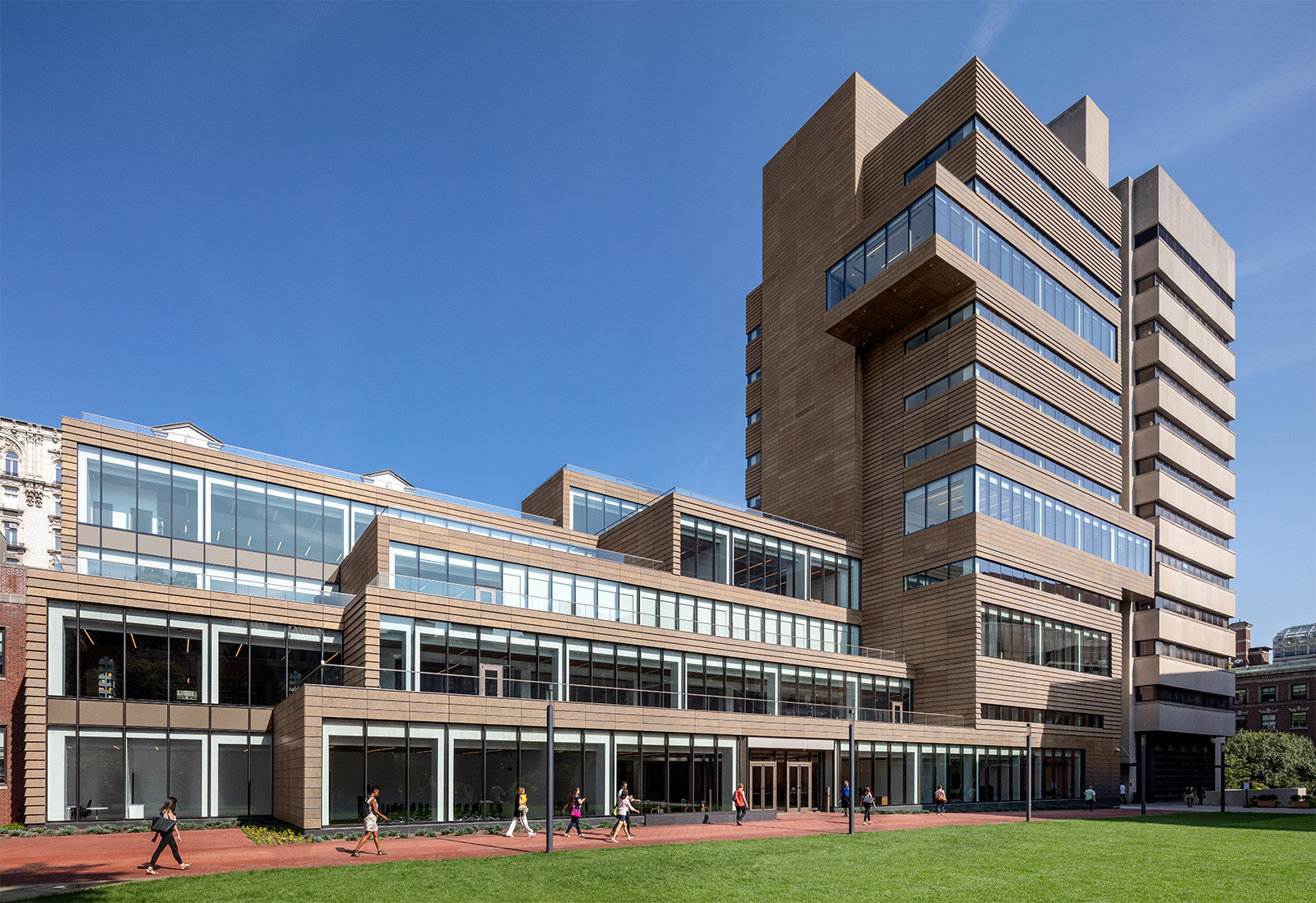 The 128,000-square-foot building, designed by award-winning architecture firm Skidmore, Owings & Merrill LLP (SOM), is a distinctive place that facilitates dialogue and collaboration between students and faculty. It includes a new kind of library, one that brings together current technologies and learning spaces in flexible, interactive settings. Furthermore, it is a dynamic academic campus hub, linking departments and disciplines both physically and philosophically.
 
"The opening of The Milstein Center marks an important milestone for Barnard," said Sian Leah Beilock, President of Barnard College. "Its completion supports the creation of new pathways for learning that build on our foundation of academic excellence and inquiry across disciplines. We are tremendously thankful for the Milsteins' support of this beautiful building, and for SOM's innovative design that will inspire students, faculty, staff, alumnae, and friends of the College for years to come."
 
The Center is named in honor of Cheryl Glicker Milstein '82 P'14, the newly-elected chair of Barnard's Board of Trustees, and her husband Philip Milstein CC'71 P'14, who donated $25 million for the project. The Milsteins have long been supporters of Barnard; Cheryl was elected to the board in 1999, serving on several prominent committees, and has chaired or co-chaired seven of the last eighteen Barnard galas, the College's most significant annual fundraiser for scholarships. The Milsteins were also major donors to the construction of The Diana Center, which was completed in 2010.
 
"We are so pleased to share in this moment with the Barnard community," said Cheryl Milstein. "We believe that every element of the new building will enhance the learning experience of each student who arrives on Barnard's campus, and provide our stellar faculty with innovative tools and spaces they need to teach and collaborate with the next generation of women leaders."
About the Building
The $137 million building is expected to achieve a LEED Silver rating, featuring approximately 12,000 square feet of green roofs and outdoor terraces that reduce the heat island effect and provide inviting spaces for study, contemplation, and connection to nature within the urban campus. The facade is made of patinated zinc shingles that harmonize with the surrounding brick, stone and concrete buildings. The building's design features support Barnard's commitment to climate action, both through its curriculum and the College community's sustainability initiatives.
 
"SOM's design for The Milstein Center is the result of a close collaboration with Barnard College," said Roger Duffy, SOM Senior Consulting Design Partner. "Through countless conversations with faculty and students, we've been able to envision a building that not only serves Barnard's needs today but positions this important New York City institution at the forefront of new technologies and approaches to learning. The building is centrally located, overlooking the Barnard Lawn and the broader Columbia University campus, and is oriented to bring sunlight and additional vibrancy to one of the College's central gathering places."
 
SOM designed The Milstein Center in response to its prominent location overlooking Barnard's lawn, its signature outdoor space. A five-story base rises in a series of terraces, maximizing the amount of sunlight that reaches campus throughout the day. On the west side of the building, a narrow, eleven-story tower physically connects to science classrooms and labs in the neighboring Altschul Hall.
 
Large windows and careful lighting design add to picturesque indoor spaces while contributing to energy savings. A double height ceiling and an exposed wood staircase lend drama to the 40,000-square-foot library, which features a core collection of books, journals, zines, and special collections, and enhanced storage for the Barnard archives. The building will also host various academic departments including economics, political science, and urban studies, in addition to several of Barnard's internationally-acclaimed programs including the Athena Center for Leadership Studies and the Barnard Center for Research on Women (BCRW).
 
Several educational centers are housed inside The Milstein Center: The Vagelos Computational Science Center, affirming Barnard's commitment to preparing women for successes in STEM fields; The Center for Engaged Pedagogy, to offer new methodologies in teaching innovation and student learning; The Digital Humanities Center, to enhance digital literacy and leverage advances in humanistic inquiry with cutting-edge technology; The Design Center, a maker space that will encourage thinking across disciplines; The Empirical Reasoning Center, to support students as they engage with data in meaningful, responsible ways; The Elsie K. Sloate Media Center, featuring labs where students will build valuable knowledge and confidence in emerging skills and technologies used by 21st-century digital producers and creators; and The Movement Lab, for hands-on, innovative movement research, exploration and production, and to promote the exchange of ideas and cross-fertilization of movement with other disciplines.
 
Visit this resource page on The Milstein Center for further information.
 
About Barnard College
Barnard provides a singular educational experience, as a world-renowned college focused on excellence across the arts and sciences, with all the academic resources of Columbia University and the City of New York as an extended classroom. Founded in 1889, Barnard was one of the few colleges in the nation where women could receive the same rigorous and challenging education available to men. For more information on Barnard College, contact Barnard Media Relations at 212-854-2037 or mediarelations@barnard.edu. To learn more, follow Barnard on social media on Instagram, Twitter and Facebook.
 
About Skidmore, Owings & Merrill LLP
Skidmore, Owings & Merrill LLP (SOM) is one of the largest and most influential architecture, interior design, engineering, and urban planning firms in the world. Founded in 1936, SOM has completed more than 10,000 projects in over 50 countries and is renowned for their iconic buildings and commitment to design excellence, innovation, and sustainability.
###