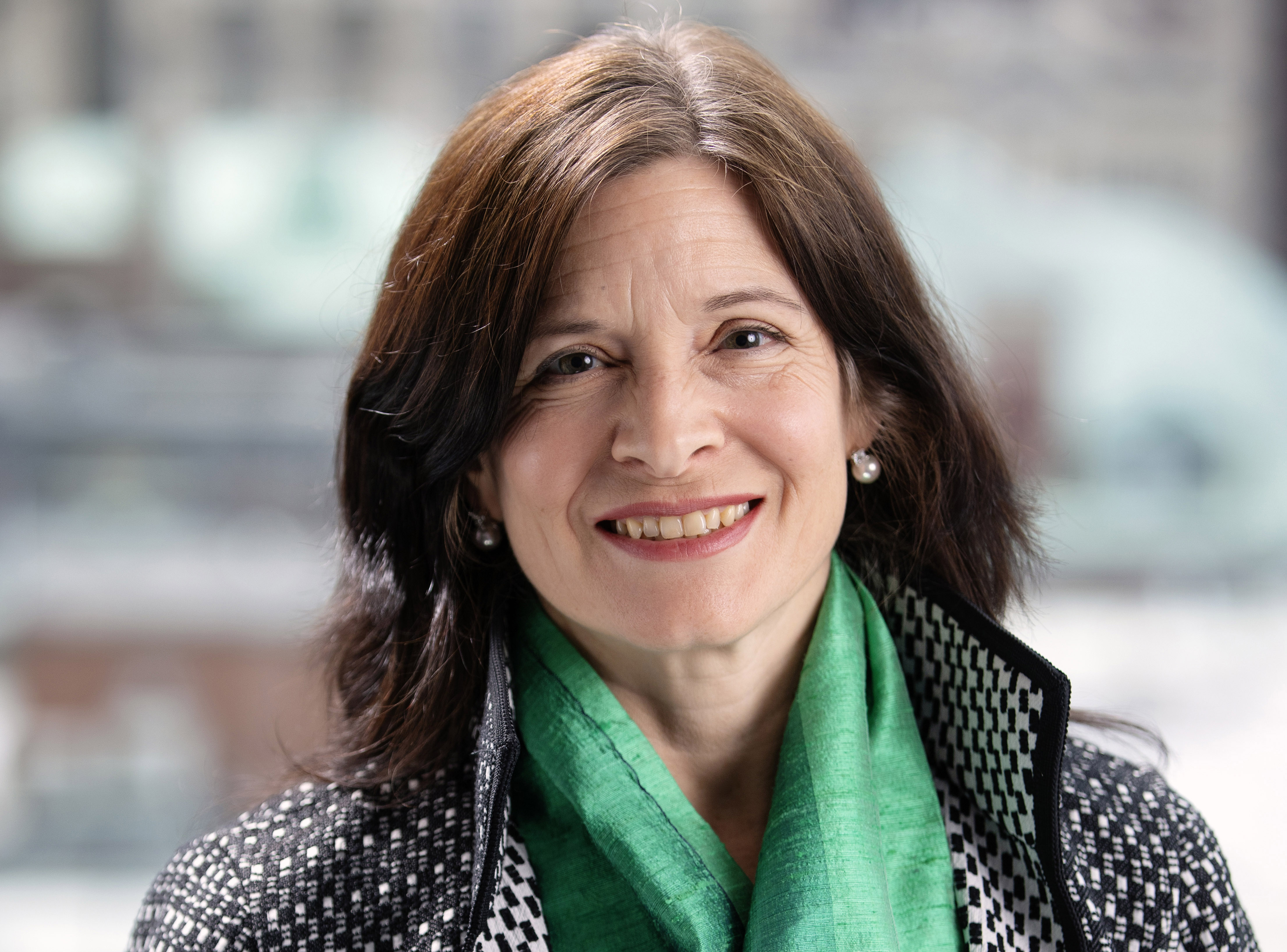 NEW YORK, April 26, 2019 — Barnard College's Druckenmiller Professor of Computer Science Rebecca Wright has been named by the Association for Computing Machinery Special Interest Group on Algorithms and Computation Theory (ACM SIGACT) as the recipient of its 2019 Distinguished Service Award. The award recognizes Wright's extraordinary service to the theoretical computer science community and beyond.
A prominent researcher in privacy and security, Wright joined Barnard in January 2019 as its inaugural director of the new Diana T. and P. Roy Vagelos Computational Science Center and the director of its new program in Computer Science. The program and center seek to enhance the experience for computer science majors at Barnard, as well as educate students from all disciplines to better understand, use, and create computational tools and methods in computer science. This goal is part of the College's unique Foundations curriculum, which requires one course such as computational sciences and coding, digital arts and humanities, geographic information systems, or digital design, so that graduates can think technologically and digitally. The number of computer science majors at Barnard has grown dramatically in recent years, and is still rising.
"I am honored to receive this award and have greatly enjoyed catalyzing advances in computing by supporting the computing research community," said Wright. "The experience of bringing computing to a broad population has been particularly rewarding, and I look forward to continuing that work in different ways at Barnard College."
"We are thrilled that Professor Wright has been honored for her contributions to the field of computer science," said Barnard College Provost Linda A. Bell. "She has been instrumental in the creation of our new Computer Science program and in the development of additional pathways for students interested in computational methods, and we are grateful for her leadership as an increasing number of our students explore this essential field of study."
Prior to joining Barnard, Wright served as the director of the Center for Discrete Mathematics and Theoretical Computer Science (DIMACS) at Rutgers University in New Jersey. The ACM SIGACT award recognizes her 11-year leadership of DIMACS, particularly in continuing and expanding its research and educational missions. It also recognizes her contributions in promoting diversity in computer science and using her expertise in privacy and security to help shape public policy on a national level.
At DIMACS, Wright established two new education programs to engage more women in computer science. The Douglass-SAS-DIMACS Computer Science Living-Learning Community for Women encourages first-year undergraduates at Rutgers who are interested in computer science to learn in an immersive education environment, including a shared living space and academic experiences. The second program Wright launched is the Douglass-DIMACS Computing Corps, now led by Rutgers undergraduate women; its members facilitate computing activities with local middle schools and Girl Scout troops. Wright also expanded DIMACS programs that work with K-12 educators in the region.
Wright advocates for the public good through her extensive work in applying theoretical computer science tools to help solve privacy and security issues in voter registration databases, through the National Research Council's Committee on State Voter Registration Databases, the ACM's US Public Policy Council, and the Privacy and Technology Advisory Board of the Electronic Registration Information Center.
Wright serves on the Computing Research Association's Committee on the Status of Women in Computing Research (CRA-W) and the Simons Foundation Mathematical and Physical Sciences Advisory Board. She briefed the U.S. Senate's Diversity in Tech Caucus in 2016 as a representative of CRA-W and leads CRA-W's efforts in cosponsoring the SWSIS Scholarships for Women Studying Information Security program.
# # #
About ACM SIGACT
ACM SIGACT is an international organization that fosters and promotes the discovery and dissemination of high-quality research in theoretical computer science (TCS), the formal analysis of efficient computation and computational processes. SIGACT, through its awards program, recognizes individuals who have made significant contributions to the field in research and service.
About Barnard College
Barnard provides a singular educational experience, as a world-renowned college focused on excellence across the arts and sciences, with all the academic resources of Columbia University and the City of New York as an extended classroom. Founded in 1889, Barnard was one of the few colleges in the nation where women could receive the same rigorous and challenging education available to men. Today, Barnard is one of the most selective academic institutions in the country and remains devoted to empowering extraordinary women to become even more exceptional. For more information on Barnard College, contact Barnard Media Relations at 212-854-2037 or mediarelations@barnard.edu. To learn more, follow Barnard on Instagram, Twitter and Facebook.