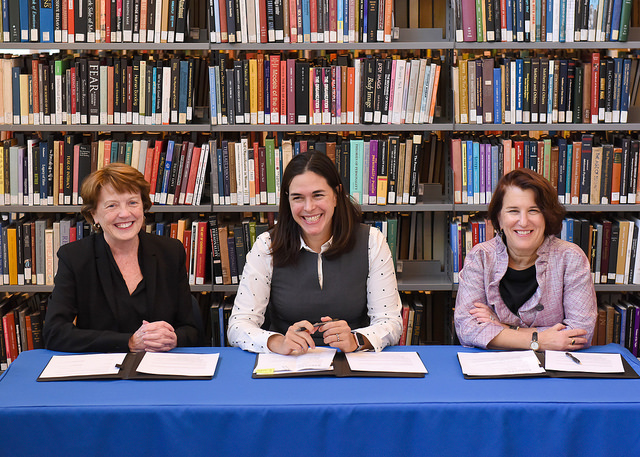 Barnard announced a new opportunity for students whose interests lie in engineering to complete both a Bachelor of Arts from Barnard and Master of Science degree from Columbia University's Fu Foundation School of Engineering and Applied Science (Columbia Engineering)—making Barnard one of the the first colleges for women to offer a program of this kind. 
Barnard and Columbia Engineering developed several pathways that enable students to complete the Bachelor and the Master of Science in five years. This is a welcome addition to several existing 4 + 1 programs that Barnard students have been engaged in—with Columbia's School of International and Public Affairs, Columbia's Graduate School of Arts and Sciences Quantitative Methods in the Social Sciences, and Columbia's Harriman Institute Program. 
Now, in partnership with Columbia Engineering, Barnard is able to provide an accelerated option for students who wish to pursue graduate study in engineering and applied sciences by taking foundational undergraduate engineering courses as well as master's level courses while they are still undergraduates. 
"This new program provides several different pathways for Barnard students interested in engineering," said Barnard President Sian Leah Beilock. "We have seen a tremendous increase in the percentage of Barnard students pursuing STEM fields, with over one third of our recent graduates majoring in math and science. With this exceptional new opportunity, Barnard students can work towards realizing their future goals with the support of world-class faculty at both the undergraduate and graduate levels."
"We are excited to partner with Barnard College on this new initiative that will allow the talented Barnard women to combine their bachelor's degree with the opportunity to pursue studies for a master's degree in an engineering discipline," Mary C. Boyce, Dean of Columbia Engineering, said. "We hope that this accelerated pathway to biomedical engineering, chemical engineering, operations research, management science & engineering, business analytics, financial engineering, or industrial engineering will attract women from a variety of backgrounds who might not have considered engineering careers." 
Barnard-Columbia Engineering 4 + 1 students will be fully engaged in the Barnard curriculum during their undergraduate years while simultaneously working towards one of the Master of Science programs in chemical engineering, biomedical engineering, and industrial engineering & operations research. Each pathway is supported by designated Barnard and Columbia University faculty, and Barnard is working on several additional engineering and applied science pathways that the College expects to be available to students by next academic year.
"This partnership allows students the opportunity to pursue undergraduate majors in multiple disciplines that are purposefully aligned to specific graduate school pathways to the master's degree in engineering," said Provost and Dean of the Faculty Linda Bell. "It represents a unique opportunity for our students to broaden their disciplinary exposure and obtain skills that align well with the varied job opportunities we see emerging in labor markets. Barnard graduates from this program will be uniquely positioned—possessing the critical thinking skills innate to a Barnard education and the analytical and technical skills germane to an engineering degree in their area of specialty."
"We welcome the opportunity to increase the diversity of our graduate programs with highly qualified students from a variety of backgrounds," said Soulaymane Kachani, Vice Provost of Columbia University and Senior Vice Dean of Columbia Engineering. "We look forward to expanding these pathways to all of our Master of Science programs in engineering and applied science disciplines."
This new partnership was celebrated with a formal ceremony on October 18. Dean Boyce joined President Beilock and Provost Bell to sign a memo of understanding and mark this important moment. 
As with the other 4 + 1 programs, the Columbia Engineering option is structured to support applications from juniors to begin to shape their undergraduate curriculum in a tailored way that supports matriculation in the graduate program in their fifth year. Beyond Barnard supports students throughout the application process and as cohorts during their graduate studies. Students who are interested in applying to the Barnard-Columbia 4 + 1 should meet with their academic advisor and schedule an appointment with Beyond Barnard. This is an express admissions process, requiring a GPA of 3.5 or greater and two academic references, and waiving the GRE requirement.