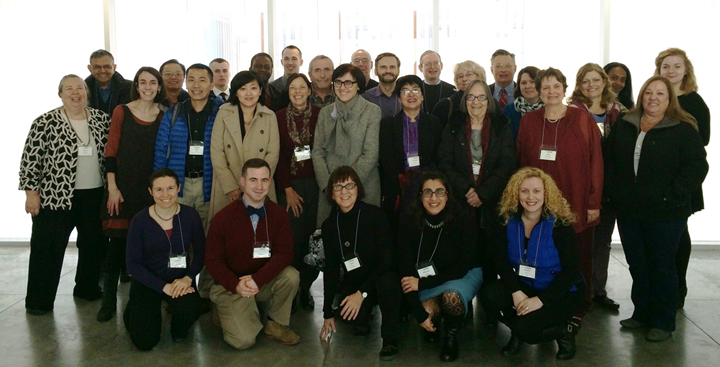 In November, Barnard hosted SENCER and Teaching with Technology MidAtlantic Regional Conference, the biannual meeting of Science Education for New Civic Engagements and Responsibilities (SENCER). Hosted on behalf of the College by Prof. Peter Bower, senior lecturer in environmental science, the two-day event gathered faculty from colleges and universities nationwide to hear about the latest developments in STEM, the changing landscape of teaching these disciplines, and how to leverage technology to engage students through timely civic questions.

The conference featured a broad spectrum of STEM-based projects, including Brownfield Action, an innovative course that Prof. Bower developed in collaboration with SENCER in 2003. The course, which addresses the circumstances and issues of over half a million brownfield sites in the United States, Brownfield Action provides Barnard students with complex environmental situations, giving them opportunities for unscripted problem-solving, critical thinking, and leadership development. It has also been reproduced for CUNY students as a hybrid online course. In addition to an update about this initiative led by Prof. Bower, many discussions and demonstrations on SENCER initiatives took place throughout the conference, including:
Prof. Anindita Ghosh of Suffolk Community College described her "Better with Buttons" strategies using online simulations to assist student in understanding the critical elements in physics, developing and carrying out a plan for solving problems, and reflecting on the feasibility.
Prof. Eugene Galperin of East Stroudsburg University explained his use of Pearson's MyMathLab for structuring online homework, quizzes and homework assignments that apply math principles to meaningful questions.
Prof. Esther Wilder and Frank Wang, both of CUNY, described their "Numeracy Infusion Course for Higher Education" project, an online resource that connects instructors with teaching materials, as well as teacher training for summer courses.
College of Staten Island Prof. Herb Schanker presented an introduction to his recent project, "TechEP – An Emerging Model of Curricular Integration," which provides resources to make technology ubiquitous, engaging and relevant in the classroom.
Prof. Donatello Delfino and Prof. Godfrey Roberts of NYU discussed the challenges and opportunities afforded by teaching online courses, which can effectively reinforce content throughout the week when face-to-face meetings are less frequent.
US Military Academy students Frank Wattenberg and Ben Minden presented their plan to provide middle school students with tools to make and fly their own drones.
Eugene Lang School Prof. Katayoun Chamany discussed his work with information designers to create a graphic to represent stem cells, their origins, and their development.
Barnard Prof. Joseph Liddicoat also discussed applications of graphics, specifically his fully online course version of "Brownfield Action" as well as his "Planets, Stars and Life" online course, both of which promote problem solving and generate critical thinking and cognitive skills.
NYU Prof. Trace Jordan reviewed the SENCER Student Assessment of Learning Gains tool, which he has found is very helpful in identifying improvements to his own courses and research on his teaching.
The MidAtlantic Regional SENCER Center for Innovation's biannual conferences allow seasoned SENCER practioners and newly interested faculty come together to hear nationally renowned teacher-scholars and to share their own ideas and experiences in teaching STEM discipline courses through timely civic questions. Topics presented and discussed include the reform of undergraduate STEM education, assessment of teaching and learning, opportunities for community college articulation, efforts to coordinate a Consortium for Assessment of Student Achievement, and informal science education arenas, as well as pre-kindergarten through 12th grade STEM education with programs for pre-service teachers. Learn more about SENCER.