This summer, Barnard welcomed Rebecca Grabiner into the role of first-year class dean. She joins Barnard after serving as associate dean of List College at the Jewish Theological Seminary. Below, Rebecca answers several questions about her new job and her interests outside of work.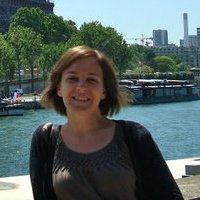 What appealed to you about working at Barnard?
I love the sense of common purpose that I feel at Barnard. In my previous job as associate dean of List College at the Jewish Theological Seminary, I had the opportunity to work closely with not just Barnard students enrolled in the JTS/Barnard double degree program, but also many Barnard administrators, faculty, and staff. It was such a pleasure working with all of these people! The Barnard students impressed me with their combination of intellectual curiosity, energy, openness to new ideas and experiences, and drive to use what they were learning in the classroom to make the world a better place. I have long admired Barnard from "across the street," and as I've been getting to know even more Barnard colleagues and students in my new role, I continue to feel inspired by this sense of shared goals. I am delighted to be part of a college that is vibrant, diverse, welcoming, rigorous, and dedicated to the advancement of women.

What are you most looking forward to this year as First-Year Class Dean?
Getting to know the first-year class! I'm so excited to finally meet everyone in person after spending the summer looking at names on lists and responding to hundreds of questions from incoming students. I have enjoyed working with college students of all ages in my 14 years working on college campuses, but there is something special about the first-year experience. It is exciting and a little scary, full of new opportunities and challenges. It's important for students to have resources and support in this transitional time, to help with everything they will experience this year – whether expected or not. Students and I often discuss how important it is for them to take responsibility for decision-making and problem-solving, but I emphasize that being responsible doesn't mean not asking for information or assistance. In fact, the most responsible thing a student can do is to ask for help and advice when she thinks she might need it. I look forward to getting the message out to everyone—especially first-years—that Barnard has a multitude of great people, offices, and services available and dedicated to helping them be healthy, safe, happy, and intellectually stimulated. Since it's my first year at Barnard too, I feel a special kinship with this entering class—we'll be finding our places in the Barnard community at the same time. I look forward to embarking on this journey together!

What should First Years know about your role at Barnard? Are there any new initiatives or opportunities this year that you would like to share with our incoming students?
As the first-year dean, I am a resource for first-year students for information about curriculum and policies, for general advising, for support or assistance if they experience a personal, family, or health emergency, or just someone they can ask if they aren't sure where to go with a question. Along with their academic advisers, I'm here to help ensure a smooth transition into college life.

This fall we will be introducing new academic support and peer-to-peer learning programs that will benefit not only our incoming class, but all Barnard students. The Dean of Studies Office will, for the first time, be offering no-cost peer tutoring this year. Stay tuned for further information about this—students from all years can apply to take advantage of this free tutoring, and returning students who want to support their peers can apply to be tutors. In addition to this tutoring program, in the coming months, we will be rolling out a comprehensive website that will help students navigate all possible resources for academic support. We're hoping this site will ensure that Barnard students can easily figure out where to go for assistance or guidance if they are having trouble in a class. Available resources include everything from professors' office hours, problem sessions, and online resources, to student-facilitated "help rooms" on a variety of subjects and one-on-one peer tutoring. Much of this is not new, of course, but it can be difficult to pick out the most appropriate resource from the many possible avenues for assistance, and the intention of the site is to make that information as clear and accessible as possible.

Outside of your administrative duties, any interests, hobbies, or accomplishments we should know about?
Two of my hobbies are reading mystery novels and riding my bike around New York City.  Biking is one of my favorite ways to explore NYC—Barnard's other campus! I do have one accomplishment to share: last September, I rode in the New York City Century Bike Tour, a 100-mile ride that took me to some of the best parks, greenways, waterfront paths, and neighborhood bike lanes in the city. It was such a fun way of seeing parts of the city I knew and discovering places I had never been. Don't be surprised if you see me rolling past the next time you're in Riverside Park!