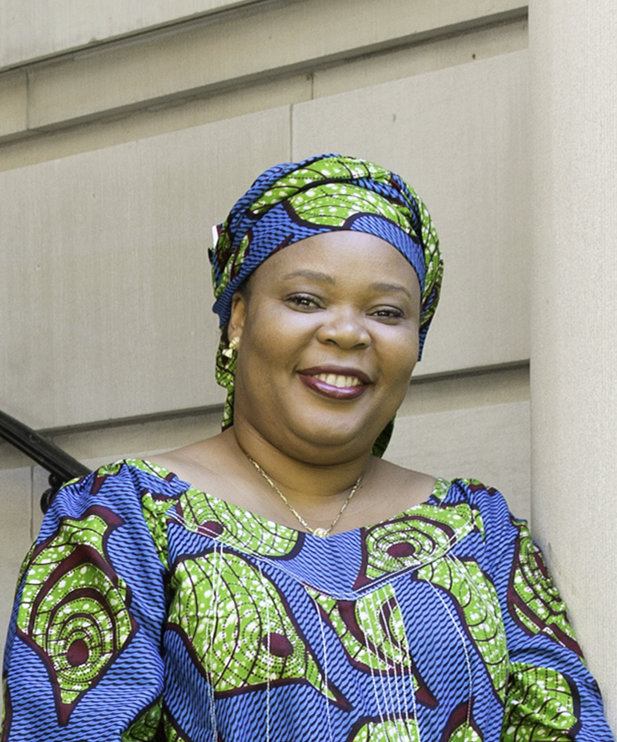 Barnard College is pleased to announce Nobel Laureate and Liberian peace activist Leymah Gbowee as its inaugural Distinguished Fellow in Social Justice. During the upcoming year, Gbowee, who spoke at Barnard's 2013 Commencement ceremony in May, will also serve as a Barnard Center for Research on Women Transnational Fellow, a Fellow in Residence at the Athena Center for Leadership Studies, and will be teaching and guest-lecturing in Barnard's Africana studies program.
"Ms. Gbowee's presence on campus is a distinct honor, given her lifetime commitment to social justice and human rights," said Provost Linda Bell. "This is a tremendous opportunity for our campus community to learn from one of the most respected and visionary leaders our time."
Throughout the fall semester, Gbowee will be meeting with students and faculty, and guest lecturing in a number of courses across disciplines, including a women's studies course on activism and the Athena Center's leadership colloquium, among others.
In the spring, she will co-teach a women's studies Colloquium in Feminist Theory with Prof. Tina Campt, professor of women's, gender and sexuality studies and director of the Africana studies program. "Bodies and Power: Mobilizing the Black Body" will explore how African activists like Gbowee have transformed black women's bodies into vehicles of social and political transformation. The course will tap into Gbowee's extensive community of activists, some of whom will participate in virtual collaborative teaching sessions with Campt and Gbowee. The recordings of these conversations, which will address violence, sexuality, empowerment, and activism, will serve as primary texts for the course.
"The challenge of teaching feminist theory is helping students understand the application of abstract ideas, but in this course, the real-life experiences of Gbowee and her colleagues will provide clear evidence of these ideas in action," said Prof. Campt. 
A screening of Pray the Devil Back to Hell, an award-winning film about Gbowee and other Liberian women who banded together to end the country's civil war, followed by a discussion with Gbowee, will take place during the Athena Film Festival in February. And in March, BCRW, Africana studies, and the Athena Center will sponsor a day-long symposium in honor of International Women's Day, bringing together an important group of Gbowee's colleagues for conversations on the global women's movement. Participants will consider a range of questions about how strides are being made toward—or away from—parity, economic empowerment, and justice in cases of heinous crimes against women, and the roles that men are playing in the social justice movement.
Leymah Gbowee's Bio
2011 Nobel Peace Laureate Leymah Gbowee is a Liberian peace activist, trained social worker, and women's rights advocate. She is founder and president of the Gbowee Peace Foundation Africa, founder of the Liberia Reconciliation Initiative, and co-founder and former executive director of Women Peace and Security Network Africa (WIPSEN-A). She is also a founding member and former Liberia coordinator of Women in Peacebuilding Network/West Africa Network for Peacebuilding (WIPNET/WANEP). Gbowee's leadership of the Women of Liberia Mass Action for Peace, which brought together Christian and Muslim women in a nonviolent movement that played a pivotal role in ending Liberia's civil war in 2003, is chronicled in her memoir, Mighty Be Our Powers, and in the documentary, Pray the Devil Back to Hell. In addition, Gbowee is the Newsweek Daily Beast's Africa columnist. She serves on the boards of the Nobel Women's Initiative, Gbowee Peace Foundation and the PeaceJam Foundation, and she is a member of the African Women Leaders Network for Reproductive Health and Family Planning. She holds a master of arts degree in conflict transformation from Eastern Mennonite University (Harrisonburg, VA), and a doctor of laws (LLD) honoris causa from Rhodes University in South Africa and University of Alberta in Canada. Gbowee was honored as a flag-bearer for the opening ceremony of the 2012 Olympic Games in London. She is based in Monrovia, Liberia, and has six children.