[Photo: Devon Bernsley '20 (center) with her crew]
Barnard's motto, Hepomene toi logismoi, or "Following the Way of Reason," extends to sports, as athletes constantly weigh how to score the most points while being mindful of their own physical abilities. Barnard student-athletes follow the way of reason to compete at the highest level through the Columbia-Barnard Athletic Consortium, making Barnard the only women's college — and one of only a few liberal arts colleges — to offer NCAA Division I athletics.
Devon Bernsley '20, a member of the women's crew, rowed and coxed at Choate Rosemary Hall in Wallingford, Connecticut, before joining the Columbia Women's Rowing team in 2016. The physiology and organismal biology major, who is on the pre-med track, reflects on how her success as a coxswain has shaped her determination in life — from her fieldwork researching climate change to how she embodies "Feel Well, Do Well." Learn more about Bernsley, below, in this "Barnard's Got Game" Q&A.
What's your "origin story" behind becoming a rower?
I went to boarding school my sophomore year of high school; before then, I had never met anyone who rowed. I walked onto the team in the fall and fell in love with the sport, but struggled with a lingering knee injury, so over time I had to sit out during practice. The summer before my senior year, a local masters rowing club needed a coxswain and invited me to try it. Through their patience and encouragement, I learned to steer and make calls, and eventually learned to motivate a crew and run the workouts with confidence. I was able to cox my senior year in high school, then continue coxing for the Barnard-Columbia rowing team.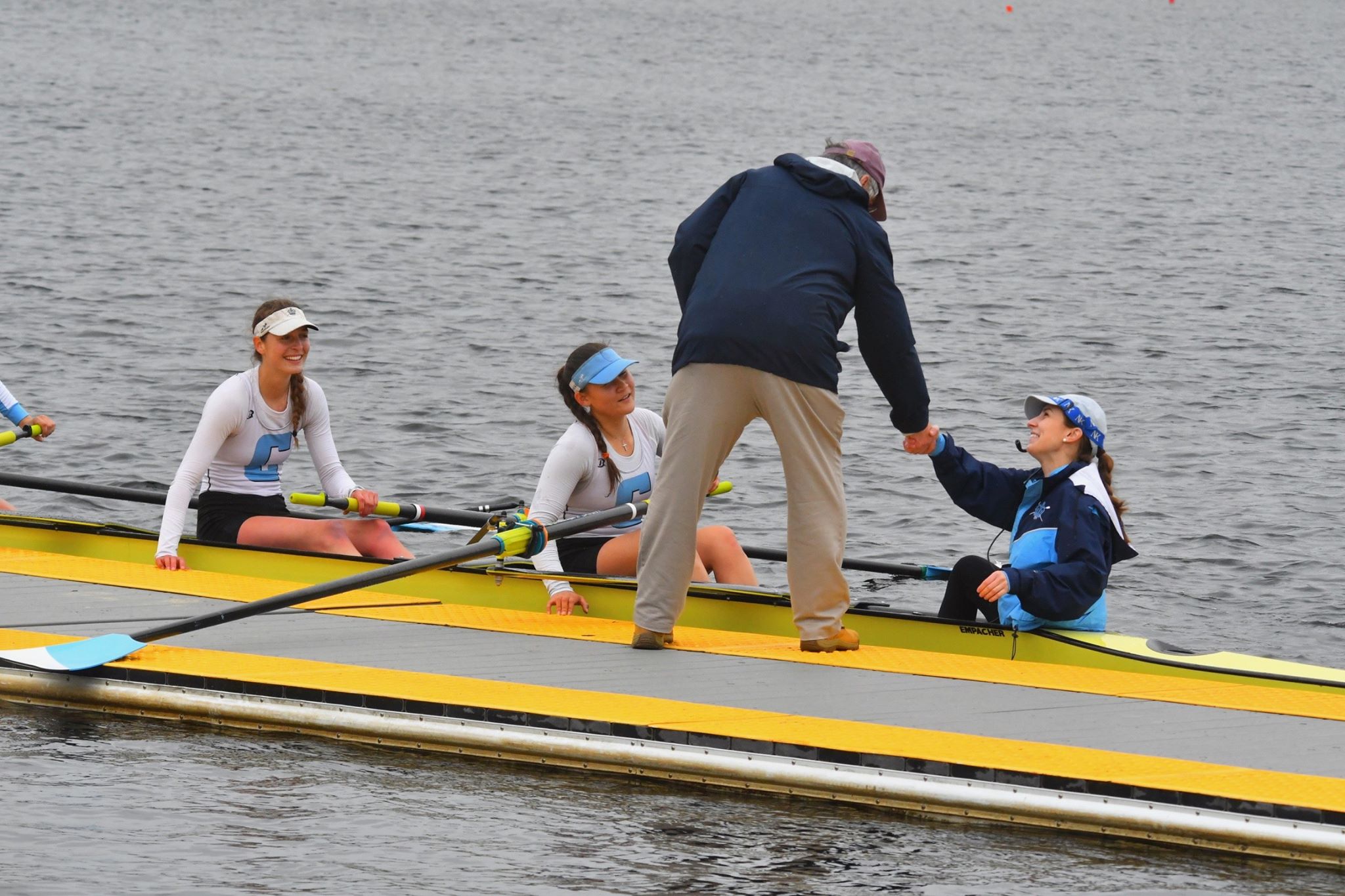 How does being an athlete inform your college experience?
Being a coxswain has influenced how I see motivation and commitment. Rowing is all about going that extra inch, and part of the coxswain's job is to figure out the best time to make your big move. This has taught me to never back down if I am behind and to keep giving it my all, no matter how tired I am. After years as a scholar-athlete, when someone tells me I can't do something, my initial thought is, "Actually, I can." 
How do you balance academics and athletics?
Throughout my time at Barnard, I have worked hard to manage my responsibilities. In addition to rowing and schoolwork, I have been a Resident Assistant (RA) since sophomore year, working in the Quad for two years with first-years and now in Residence Hall 620, which is mostly seniors. I have guided many students to the offices and resources that are available for academic, emotional, and physical support. By helping others find their path at Barnard, I have learned [how] to follow my passions and maintain a healthy balance.  
What is your major and why?
I am a physiology and organismal biology major and pre-med. Before college, I dreamed of becoming a pediatrician, but my Barnard classes and summer internships have opened my eyes to the issue of climate change. Currently, I'm writing my thesis on the thermal ecology of box turtles, under the guidance of professors in Columbia's E3B Department and the American Museum of Natural History. I began working on my thesis this past summer during my research internship at Black Rock Forest [a field research station located about an hour north of the city in the Hudson Highlands]. 
What is your greatest athletic accomplishment?
Coxing the Second Varsity 8 against Penn [University of Pennsylvania] at the Ivy Invite last spring. In the morning we had beaten Cornell, but our afternoon race against Penn was even tougher. Part of the coxswain's job is to come up with a race plan, and part of that plan is knowing just how hard each rower can go in each part of the race, so I knew that we had to make our move on the other boats in the first 1,000 meters of the race. I wrote up our race plan, assuming that Penn might be up on us at the start, the first 30 strokes of the race. 
After the start, we were dead even with Penn. It was a matter of who was willing to fight [the hardest]. For the next 400 meters, we stayed about even with Penn, continuing to switch up who was in the lead every couple of strokes. We had planned to do a move [that] is customary of most crews, but during the race I realized we had to move [sooner, which we did], gaining about 4 seats on Penn. We were able to hold the lead for the rest of the race and beat Penn by 4.2 seconds. 
—SARAH PATAFIO '20