As Researcher-in-Residence for the Barnard Center for Research on Women (BCRW), attorney and community organizer Andrea J. Ritchie researches and has developed a framework for the philanthropic community to support new models of activism for the intersections of race, gender, sexuality, and criminal justice. She is also part of the first cohort of Barnard's Social Justice Institute, which launched last year. Ritchie's expertise on police violence, highlighted in her latest book Invisible No More: Police Violence Against Black Women and Women of Color (Beacon Press, 2017), has been featured in several articles and op-eds. Her research will also be the central focus of the BCRW Invisible No More conference November 3-4, 2017 in the Barnard College Diana Center, Event Oval.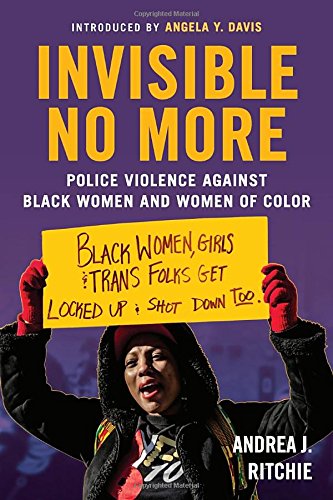 Ritchie—a 2014 Soros Justice Fellow—started the public conversation with a New York Times op-ed (which was later cited by Glamour), pointing out the disproportionate impact that the enforcement of anti-marijuana laws—a recent source of renewed focus by the U.S. Department of Justice—has had on women of color. She recounts the stories of several women subjected to humiliating public searches, protected in even the most shocking cases by warrants, as well as sexual assaults and fatalities.
She writes:
"These encounters do not reduce violence; they contribute to it. Critics of police violence and mass incarceration have rightfully shed light on the pain of families separated by long prison terms, of women torn from partners and children. But women's suffering isn't restricted to heartbreak: They have been raped, choked and killed, all in the service of public safety. Sadly, the recommendations of D.O.J.'s task force are likely to be a recipe for more of the same."
In The Washington Post's popular newsletter The Lily, Ritchie examines an additional factor affecting women of color caught up in drug enforcement: immigration. She writes that the "dangerous intersection of highly subjective and discriminatory 'gang policing,' increased presence of police in schools, and growing collaboration between local police and immigration authorities" places women at risk of "collateral arrests—individuals who came to the attention of immigration officials targeting others." She cites the case of a 16-year-old girl arrested and held in detention for a month after a casual conversation with a friend suspected of belonging to the MS-13 gang, and notes that immigrant women are also at increased risk of abuse by law enforcement agents. Ritchie later praises the efforts made by municipalities, such as Los Angeles, to decriminalize nonviolent offenses or eliminate policies that affect undocumented populations and other immigrants.
In an interview with Rewire, Ritchie shares her personal experiences as an immigrant woman of color who was harassed and assaulted by police officers. She explains that including these stories in the book isn't typical—"women who lead movements against police violence, and Black women or women of color researchers and scholars who write on police violence tend to focus on the experiences of Black men and men of color"—but that her book and her story will shed light on these underrepresented groups. She also discusses the complicated process of writing a scholarly work that honors the victims instead of exploiting their stories, as well as the difficulties and challenges she faced in obtaining the information she needed for the book. In an interview with Splinter, she speaks about the origins of her involvement with the issue and how she hopes her book and accompanying materials will aid in affecting change. She was also recently interviewed by NPR about key takeaways from her book.
Excerpts from Ritchie's book have run in HuffPost, The Advocate, and Colorlines. Her recommendations for inspirational books written by black feminists were published in Bustle.  
Watch a video interview with Ritchie and Pacifica Network journalist Sonali Kolhatkar: