Recently, the College announced that it has received the three largest gifts in its 126-year history. This unprecedented support, which totals $70 million, comes from three prominent New York families who are longtime Barnard supporters: Cheryl Glicker Milstein '82 and Philip Milstein; the Tow Foundation on behalf of Leonard Tow and daughter Emily Tow Jackson '88; and Diana T. Vagelos '55 and P. Roy Vagelos. The gifts will aid in the creation of a 128,000 square-foot teaching and learning center, to open in 2018, that will transform the campus and the entire Barnard community. Offering the latest technologies and interactive learning spaces, the center is also a key component in Barnard becoming one of the first liberal arts colleges among its peers to institute a distinct technology requirement, beginning with the class of 2020.
Below, read profiles of the donors, as featured in the Winter 2016 issue of Barnard Magazine. Also below, watch video interviews with the donors on why they support Barnard.
Read the original announcement of the transformative gift to Barnard and the new teaching and learning center.
Read the Wall Street Journal's coverage of the gift. (subscription required)
Read the other media coverage of the unprecedented gift.
Cheryl Glicker Milstein '82 & Philip Milstein P '14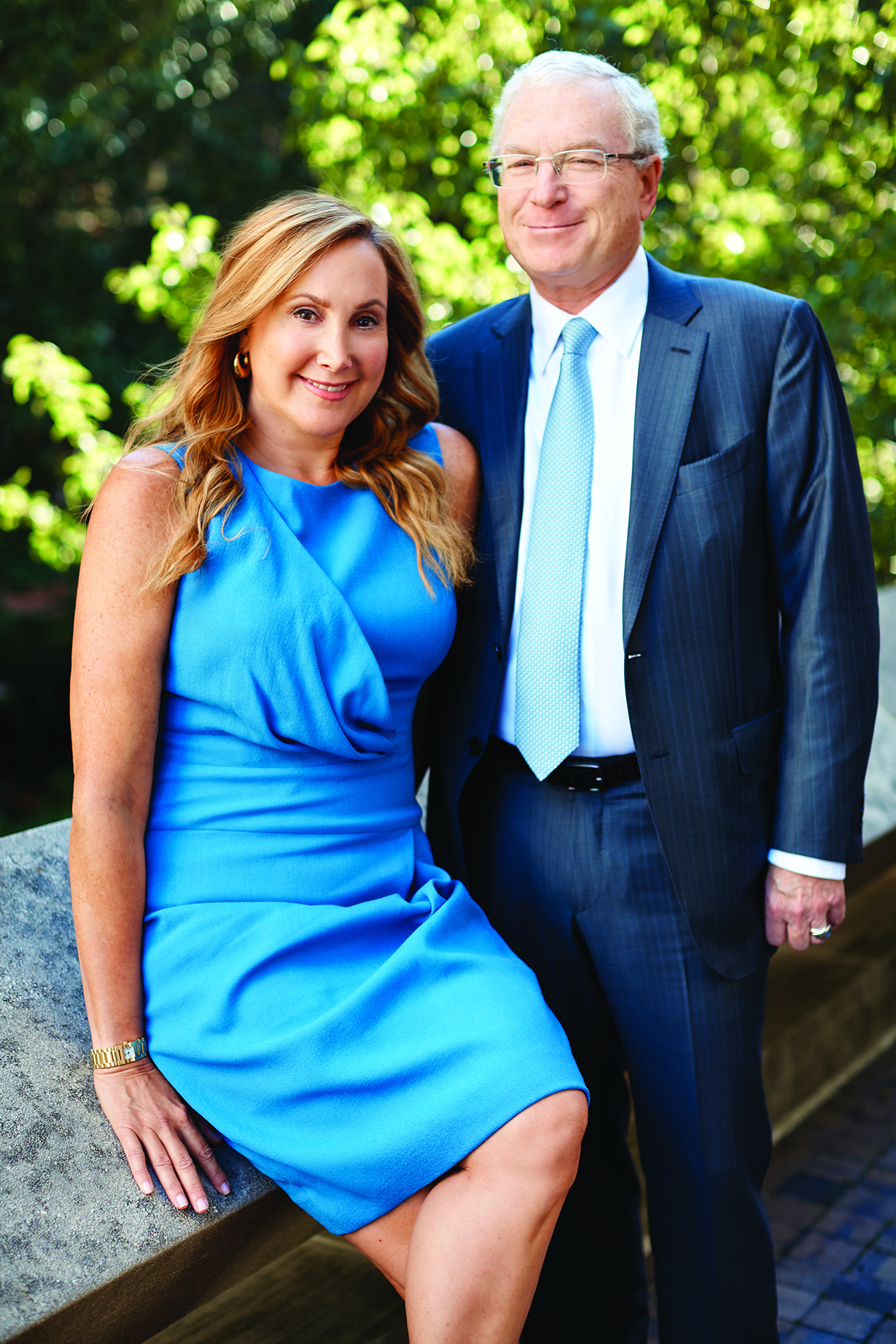 Both Cheryl Glicker Milstein and Philip Milstein—a surname virtually synonymous with New York real estate—agree that technology has changed the way students learn. Says Cheryl Milstein, "The way students study [today] is different, access to materials is different, what they study is different. At the same time, Barnard's mission to attract and provide an outstanding liberal arts education to its students has not changed."
This shift in learning explains in large part the couple's generous $25 million gift toward the construction of the new teaching and learning center. Cheryl continues, "We're here to not only level the playing field...the [center] is important because it will prepare our students to be knowledgeable in both the liberal arts and sciences." Both Milsteins feel that this is the time for Barnard's physical facilities to match the College's intellectual rigor. And both seek through their philanthropy, to make an impact on an institution's mission and goals for the future.
The Milsteins are a quintessential Barnard/Columbia couple: Philip Milstein graduated from Columbia College in 1971; of their four children, daughter Toby is a member of the Barnard Class of '14. They have long supported the College through scholarships and recently gave their name to the Glicker-Milstein Theatre in The Diana Center. In addition to education, the couple has also supported medical and arts institutions—following a tradition of philanthropy in the family that began with paternal grandfather Morris Milstein, a supporter of Albert Einstein College of Medicine. As the family's real estate holdings grew, Vivian and Seymour Milstein, Philip's parents, established a legacy of giving to the NewYork-Presbyterian Hospital/Columbia University Medical Center, with Seymour Milstein serving as chair of the board of NewYork-Presbyterian from 1989 to 1996. Philip currently serves as a trustee and is also a member of the board of Lincoln Center and is a past president and chair of the board of the 92nd St.Y. Both Cheryl and Philip are also active supporters of the Public Broadcasting System, with Cheryl serving on the board of WNET. She has been a trustee of Barnard for the past 16 years, and is currently the vice chair of the board and cochair of the development committee. Her husband is a member of the real estate committee, and is involved with the construction of the teaching and learning center.
Cheryl believes that more women are taking on the role of philanthropist. In the case of the Milsteins, both husband and wife see themselves as partners with a meshing of interests that enhances their involvement with the organizations and institutions they support. As a member of the Barnard board, Cheryl also sees an increasing participation among the parents of Barnard undergraduates. "Parents are coming through to an extraordinary degree; [they] are increasingly generous." She notes that students have become more supportive. "They see the importance of paying it forward." Their willingness is an encouraging sign for the future, as Barnard seeks to grow its endowment, one of the smallest of the elite Ivy schools. Cheryl is adamant about planting "a seed of loyalty" in current students. "It's important for all members of the Barnard family to know that each one of us has to help," she affirms.To carry on the Milstein family's legacy of giving, the couple have established a foundation for each of their four children:Toby, Meredith (CC '09, BUS '17), Joshua (CC '10), and Laurence, (Yale '17).Whatever their interests, says Cheryl, they know they have to give their "time, talent, and treasure" to those institutions they plan to support.
Leonard Tow &
Emily Tow Jackson '88
When she arrived on campus as a first-year, Emily Tow Jackson '88 certainly didn't expect that she would form a lifelong bond with Barnard. "I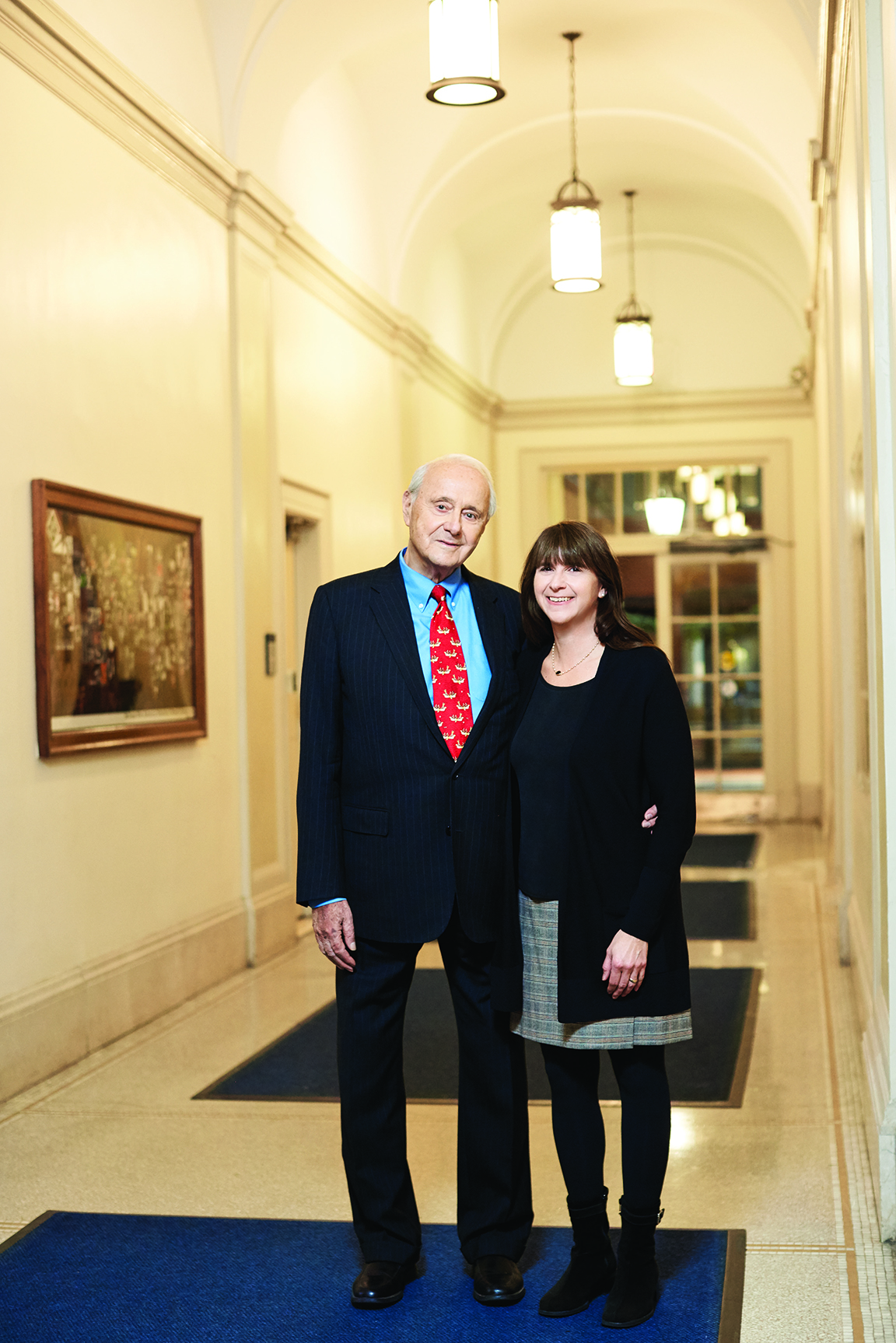 didn't really know that I was going to love it. I came here feeling proud that I had been accepted, and not 100 percent sure that this was where I wanted to be," she says. "But then, by the time my first semester was over, I had fallen in love with the school, friends, and my classes."
It wasn't until she began serving as executive director of her family's foundation that the full impact of her Barnard education came fully into focus. "It was significantly later in my life that I started to appreciate what my education and experience at Barnard had meant to me—primarily the opportunity to be in a small, caring, female-focused environment within this larger dynamic and diverse university in NewYork City," says Jackson. A scholarship for Barnard was among the first gifts she made in her role at The Tow Foundation.
Now, more than 20 years later, she and her father, Leonard Tow, have pledged $25 million from the foundation to fund the new teaching and learning center. It is a gift they hope will inspire others to support the construction, which they say signals a new future for the College. "Despite being the most selective women's college in the country, Barnard hasn't necessarily been as bold in asking for financial support," says Jackson. "This is Barnard's moment to dream big, to say 'What if?' and think beyond the way it's always been."
Leonard Tow himself dreamed big when he was starting out. From a family of modest means, he attended Brooklyn College. He received a master's degree in 1952 and a PhD in 1960, both from Columbia's Graduate School of Arts and Sciences. He taught at Columbia Business School from 1958–60. An entrepreneur in the early days of cable television and cellular networks, he founded Century Communications Corporation in 1973, growing it and launching wireless business Centennial Cellular. By 1999, Century was the country's fifth-largest cable company, and he sold it along with Centennial. He and his late wife, Claire, shared the belief that one should, he says, "go for the adventure." Throughout their busy lives together, they traveled the world.
This love of travel led The Tow Foundation to fund the Tow Travel Study Fellowship. The foundation also funds the Tow Award for Innovative and Outstanding Pedagogy; the Tow Professorships for Distinguished Scholars and Practitioners; and the Tow Public Service Internships. With Jackson a graduate, as is Tow's granddaughter, Molly Tow '14, Leonard Tow explains, "We feel, as a family, intimately tied to the school."
Now a Barnard trustee, Jackson enjoys the chance to be even more involved with the College. "I have had the opportunity to interact with students, and they completely blow me away. I feel like many of the future leaders of this world are converging here."
In supporting the new teaching and learning center, Jackson says the foundation's goal is to make a transformational gift to a project that will in turn transform the lives of countless students. Tow adds that the building comes at the right moment. "I think the 21st century is a woman's century," he says. "And Barnard can take a very important leadership role in expanding the opportunities for women, because women are really going to govern the direction of the 21st century."
Diana Touliatou Vagelos '55 & P. Roy Vagelos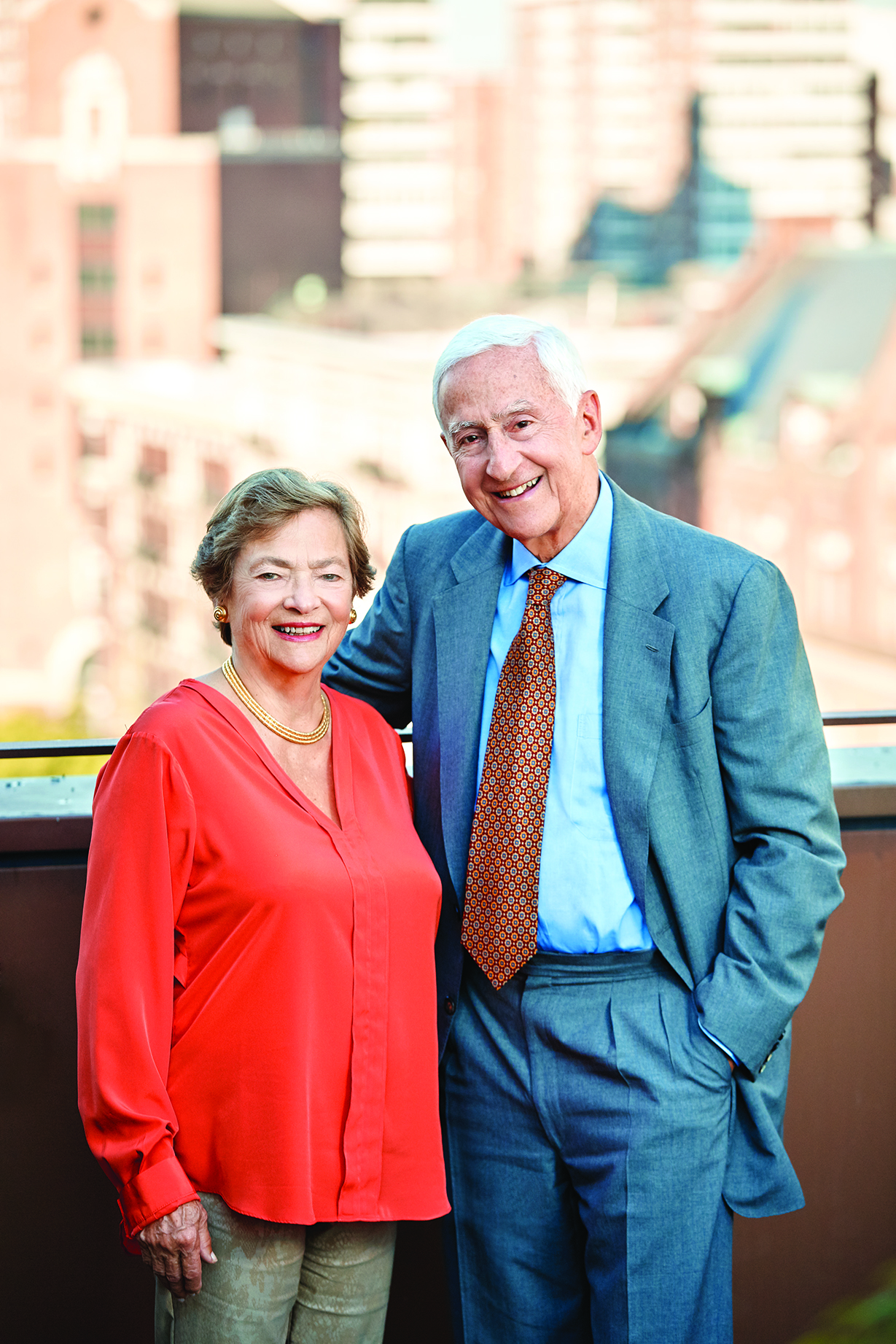 She doesn't mince words: Diana Touliatou Vagelos '55 says simply, "We should support the schools that support us." For this alumna and her husband, P. Roy Vagelos, a biochemist and former chairman of pharmaceutical giant Merck, the word "support" encompasses a broad range of philanthropic efforts on behalf of Barnard, which includes their most recent gift of $20 million in support of the teaching and learning center and a new computational science center with an endowed director position for this center as well as an endowed chair in chemistry.
An economics major, Diana Touliatou met Roy Vagelos when he was a second-year medical student at Columbia's College of Physicians and Surgeons. As undergraduates (he at the University of Pennsylvania), both were scholarship students. And both have since generously funded scholarships to students at both institutions. But, over the course of a 60-year marriage that included raising four children, the couple has expanded their interests to teaching and research, and for Diana, to alumnae relations. From The Diana Center, Diana's namesake, to the Vagelos Alumnae Center, the couple's generosity is evident throughout the campus.
That support attracts top faculty as well as outstanding students and contributes to Barnard's reputation for excellence. Roy Vagelos explains, "Any institution of education is dependent on the quality of the faculty [and] the interest of the faculty in doing teaching as well as research." As a biochemist who, early in his career, pursued research and taught at the graduate level, he has a special interest in enhancing quantitative learning and applying technology to solve some of the critical issues facing the future, such climate change and development of new medical therapies to treat disease.
Support for the new center jibes with this duo's philosophy: both agree that the new structure, which will house a 21st-century library and bring technology and interactive learning processes to the campus, will enhance the educational experience for students— now and well into the future. As Diana Vagelos emphasizes, "Barnard College should be cutting edge in all aspects of higher learning." In addition to financial support, she is actively engaged as a volunteer, serving as a trustee and alumnae committee member--attending reunions, and serving as the sparkplug behind Conversations in Contemporary Art, a program for those interested in learning more about the subject, be they collectors or aficionados.
In discussing the role of women in philanthropy, Vagelos points not only to her work at Barnard, but also to her involvement with the New Jersey Performing Arts Center; she was a founding member, and is a past president and trustee emerita of its women's association.While her initial group of volunteers spearheaded support for the enterprise, she says that a younger generation of women, with similar interests in promoting the arts and a capacity to give, is now taking the reins. "[More] women are playing prominent roles in philanthropy because they have higher-paying jobs than they did in the past," she says. She also believes more couples are participating in what she describes as "joint ventures," where both share interests and work collaboratively.
The couple's four children continue to encourage their parents to participate as fully as possible with the institutions they support. "They say to have fun with it," she laughs. It's an idea that Diana and Roy Vagelos enthusiastically support. They both agree on the importance of knowing the fine points about where their support is going and the impact that it will have.