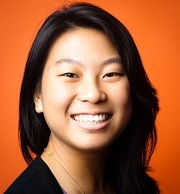 Barnard today named Carmen Ren '14 as the inaugural recipient of the Axinn Foundation/Anna Quindlen Award for Creative Writing. Thanks to the generosity of the Joan F. and Donald E. Axinn Foundation and in honor of Pulitzer Prize-winning author and Barnard alumna Anna Quindlen '74, this new prize will be awarded annually to a graduating Barnard senior, who will receive $25,000 to support her creative writing. With the Prize, the Axinn Foundation recognizes Quindlen's outstanding contribution to American life and letters, and her sustained support for the education and development of creative young people.
"Donald Axinn was a modern version of what is often called a Renaissance man," said Axinn trustee Leo A. Guthart. "He was a very close friend of mine and I am certain that nothing would have made him happier than to learn that the Foundation he started is establishing prizes to encourage and assist young talented writers."
For Carmen Ren, a double major in sociology and English with a concentration in creative writing, this award will enable her to pursue a career in writing after she graduates from Barnard on May 18th. Ren is the daughter of Chinese immigrant parents and the first in her family to attend college. 
"I came to Barnard because I wanted to write, and now I'm graduating and they're giving me money to write," said Ren, who grew up in the San Francisco Bay area. "I thought I had already found everything I wanted in a writing community at Barnard, and this is just one step beyond what I ever could have hoped for."
A committee of Barnard English faculty, including Profs. Yvette Christiansë, Mary Gordon, Timea Szell, and Saskia Hamilton, unanimously selected Carmen as the Axinn Prize's inaugural recipient based on her exemplary work produced during her time at Barnard.  "Carmen, who is as kind and as funny as she is talented, writes fiction that sheds new light on the Chinese-American immigrant experience, mother-daughter conflicts, and the problems of cultural adjustment.  It is full of her trademark humor and tenderness," said Prof. Peter Platt, Chair of Barnard's English department.
"It's always been difficult for young writers to balance working at their craft and paying the rent," said Barnard Trustee Anna Quindlen '74. "The Axinn Foundation has made that task easier for one graduating Barnard senior, and I'm so grateful. I'm almost as excited about that check as Carmen is!"
The inaugural Axinn Foundation/Anna Quindlen Award for Creative Writing will be presented to Carmen Ren by Barnard President Debora Spar, together with Anna Quindlen and members of Barnard's English faculty, at a reception on Barnard's campus this evening.
About Donald E. Axinn
Donald E. Axinn was a modern version of a Renaissance man—a writer and businessman who had a lifelong commitment to public service. He was a highly successful developer of office buildings, but always with the goal of integrating function and aesthetics. Over his 55-year career, his projects won many awards for their effectiveness and visual appeal.
He also loved the life of a creative writer. Almost every day, he awoke at 5:00 a.m. to write with great enthusiasm and discipline. He was the author of twelve volumes of poetry that were published and well-received, and three novels.  His first novel, Spin, was produced as a full-length feature film.
At the same time he was a philanthropist who worked to help others. He was a Founder of the Interfaith Nutrition Network, now the largest shelter for the homeless on Long Island. He and his wife Joan endowed the Axinn Library at Hofstra University where he served as Associate Dean overseeing the Liberal Arts Program.
Mr. Axinn loved nature and was an avid pilot and outdoorsman. For many years, he served with great passion on the Board of The Nature Conservancy. In his later years, he became interested in biotechnology and what it could do for mankind. He then joined the Board of Trustees of Cold Spring Harbor Laboratory, a world famous center for research in cancer and neuroscience.