After six years of traveling around the world—with events in China (twice), India, South Africa, Brazil, and Dubai— Barnard's distinctive Global Symposium returned home to NewYork this year, bringing dozens of notable women leaders to campus to address the most pressing questions facing women around the world. Among the key speakers at Barnard's seventh annual Global Symposium, Women Changing the World, were Queen Noor of Jordan and Nobel Peace Prize winner Leymah Gbowee. The series was launched in 2009 to develop a network of women leaders around the world. Those women, in turn, would inspire young women to become leaders, and offer a forum to discuss women's issues in regions where those opportunities were scarce or nonexistent.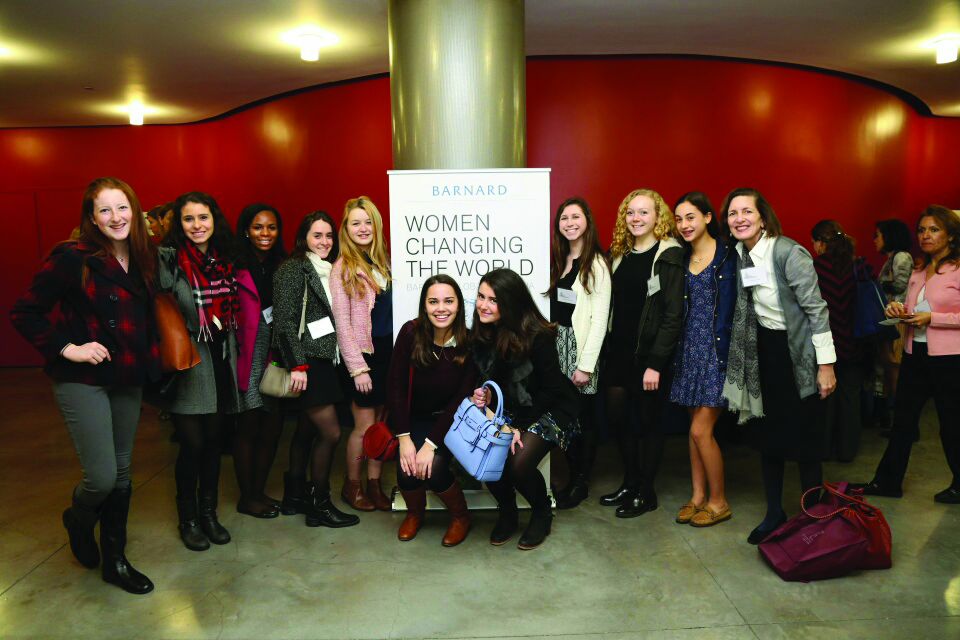 High school students from Long Island's Friends Academy Leadership group (from left): Olivia Fine, Jessica Friedman, Sydney Banks, Chelsea Crane, Emily Horne, Eva Valcic and Gabrielle FitzGerald (both crouching), Morgan Bauer, Helena Ware, and Laura Greene: all accompanied by Dr. Polly Duke
The symposium "is a bit of a dream come true," said President Debora Spar in her opening remarks at the March event, explaining that when she first came to Barnard she wanted to find a way to "best expand the College's mission beyond the United States, and make this mission truly more global. The world is dominated by cross-border exchanges, and I wanted to be sure we were exposing our students to cross-border flows, good and bad."

With the global symposia, added Spar, Barnard wants to ensure that "our students are ready to tackle the world, and change the world." As part of the symposium experience, a group of Student Fellows, selected through a competitive application process, prepares a leadership curriculum for local high school girls. This year, the fellows, accompanied by Barnard Faculty Fellows, split into groups and offered the workshops in Paris, Mumbai, and Rio de Janeiro during the spring break.

"There's a very strong network of outstanding women leaders," said Board of Trustees Chair Jolyne Caruso-FitzGerald '81, adding that this symposium held special meaning, since this year marks the College's 125th anniversary. Some local alumnae attended, and the event was streamed live so anyone could watch online. "How exciting to be in my hometown of New York City and be up close and personal," said Victoria Londin '79. "The takeaway was that we all share common concerns and bonds. The similarities are more striking than the differences."
The symposium featured four panels covering a range of topics, including creating change through global initiatives; chronicling change in the economy and media; leading change through activism and social entrepreneurship; and affecting change through the arts.
---
1. Generating Change Through Global Initiatives
Queen Noor of Jordan; Helene Gayle '76, inaugural CEO of the McKinsey Social Initiative; and Dina Powell, president of the Goldman Sachs Foundation and founder of 10,000 Women, focused on how social programs and initiatives can change women's lives around the world. A key element for success, said the panelists, is ensuring that women and girls are given the right tools—educational opportunities, economic projects to facilitate financial independence, and protection from violence, abuse, and child marriages. "Women as recipients of charity are not recognized as economic actors in the family or community, or on a national level," said Queen Noor, whose foundation has focused on bringing best practices to programs in the Arab world on a local and regional level. "Women are hard-wired to have the best interests of the next generation."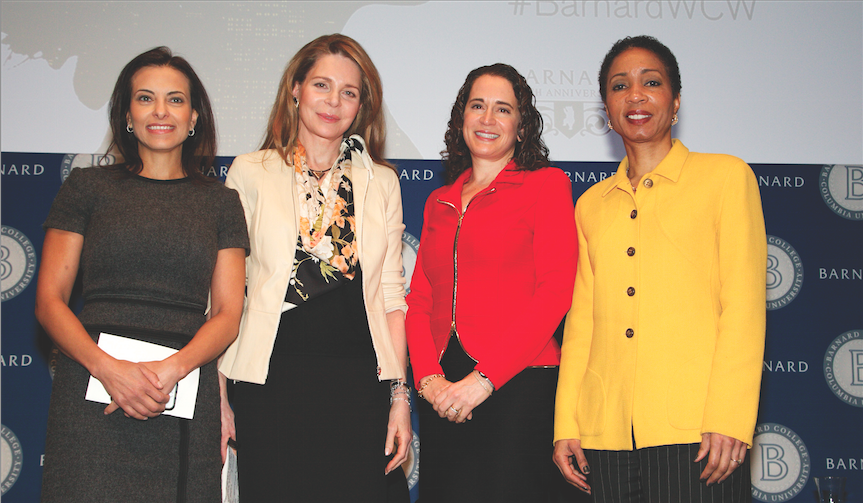 Session 1 panelists (from left): Dina Powell, Queen Noor, President Spar, who moderated, and Helene Gayle
Creating educational opportunities for women sometimes involves subterfuge. Gayle cited an example of how the humanitarian organization CARE, where she was formerly president and CEO, established schools to educate young women in Afghanistan, calling them "sewing schools" to work around the Taliban decree that girls' education is illegal. Gayle noted, as did other panelists throughout the day, notably activist and former World Bank managing director Mamphela Ramphele of South Africa, that it's also critical to change men's attitudes toward women and girls.
Through the 10,000 Women initiative, said Powell, would-be women entrepreneurs around the world are offered business and management education; a second program, 10,000 Small Businesses, also can provide access to capital. Not only do these women create jobs in their communities, but they also mentor other women. "It's all about local," said Powell. "It's much more sustainable when it's locally done."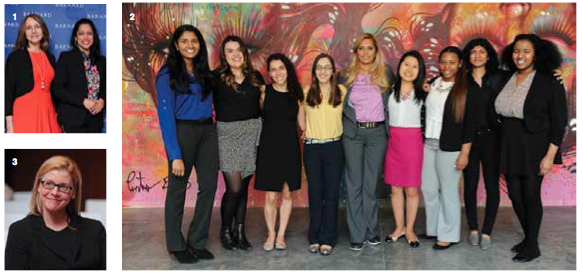 1 Opening speakers Jolyne Caruso-FitzGerald (left) and Penny Abeywardena 2 Student Fellows, who conducted leadership workshops with high school students in Rio de Janeiro, Paris, and Mumbai, flank Brazilian artist Panmela Castro: (from left) Nikila Kakarla '15, Karina Lambert '17, Tess Solomon '15, Daniella Philipson '17, Castro, 3 Hye-Jin Yun '15, Amiah Sheppard '17, Amrita Singh '15, and Naomi Tewodros '17 3 Dean for International and Global Strategy Lisa Hollibaugh
---
2. Chronicling Change in the Economy and Media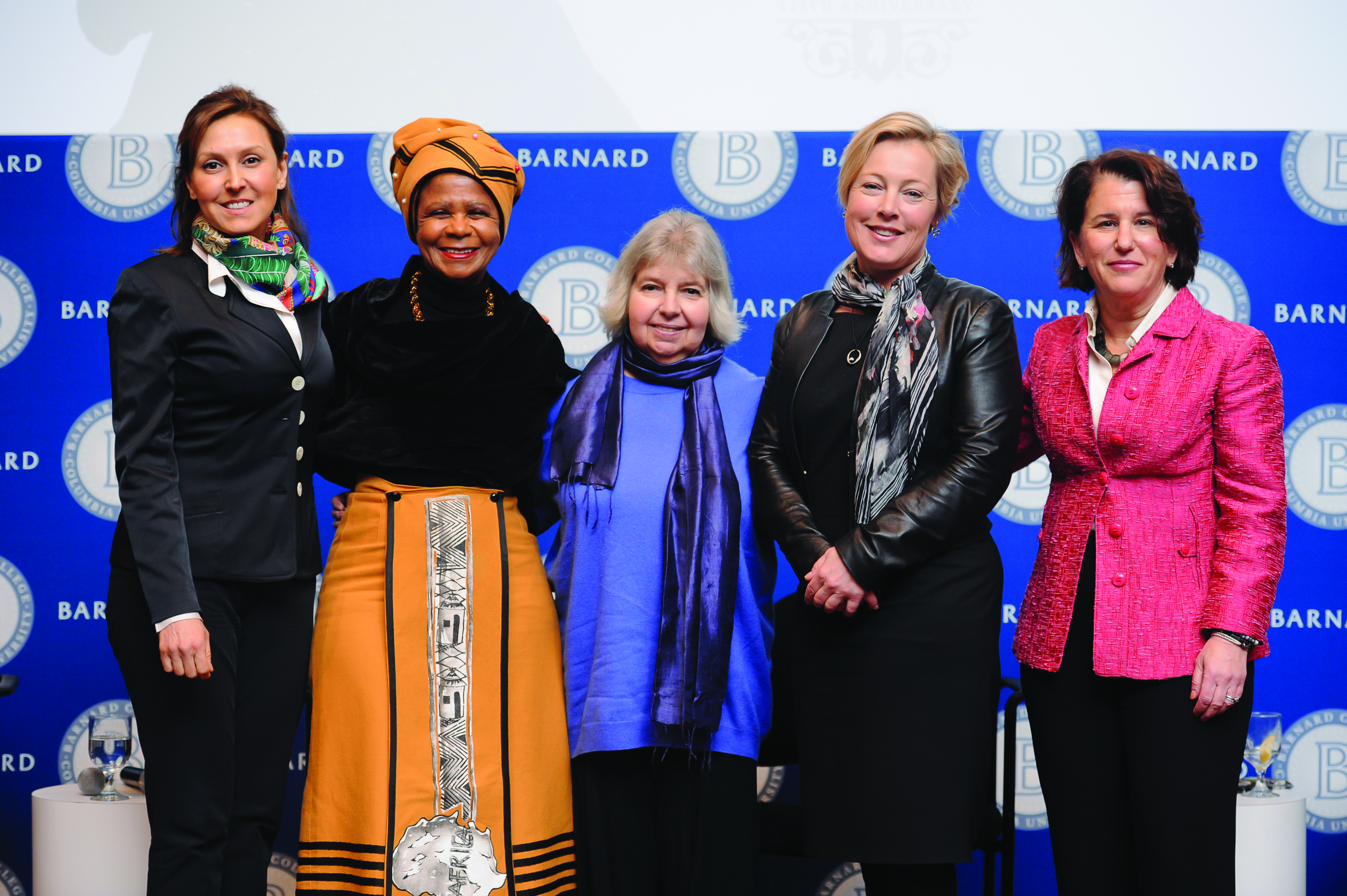 Session 2 panelists (from left): Maria Cristina Frias, Mamphela Ramphele, Robin Morgan, Gillian Tett, and Provost Linda Bell, who served as moderator
To women engaged in the economy and media—Maria Cristina Frias, a columnist in Sao Paolo; Robin Morgan, cofounder of the Women's Media Center; Mamphela Ramphele, a former World Bank managing director; and Gillian Tett, U.S. managing editor of the Financial Times—a critical mass of women in leadership roles helps determine the conversation and the coverage of different issues.
Although initially planning a career in anthropology, journalist Tett found herself in finance. She said that her interest in journalism wasn't just about politics. "Where the money goes is important, too," she affirmed, adding, "I try to get photos and quotes of women [in finance and business] in the paper." Tett continued, "Money is not a male thing."
In speaking of the media, Morgan, whose organization helps provide training to women activists, insisted, "control of information is the control of power." About the importance of sustaining the vision of feminism, she urged students in the audience to continue the struggle, asking them to remember, "You owe us nothing.You owe yourselves, and each other, everything."
---
3. Leading Change Through Activism and Social Entrepreneurship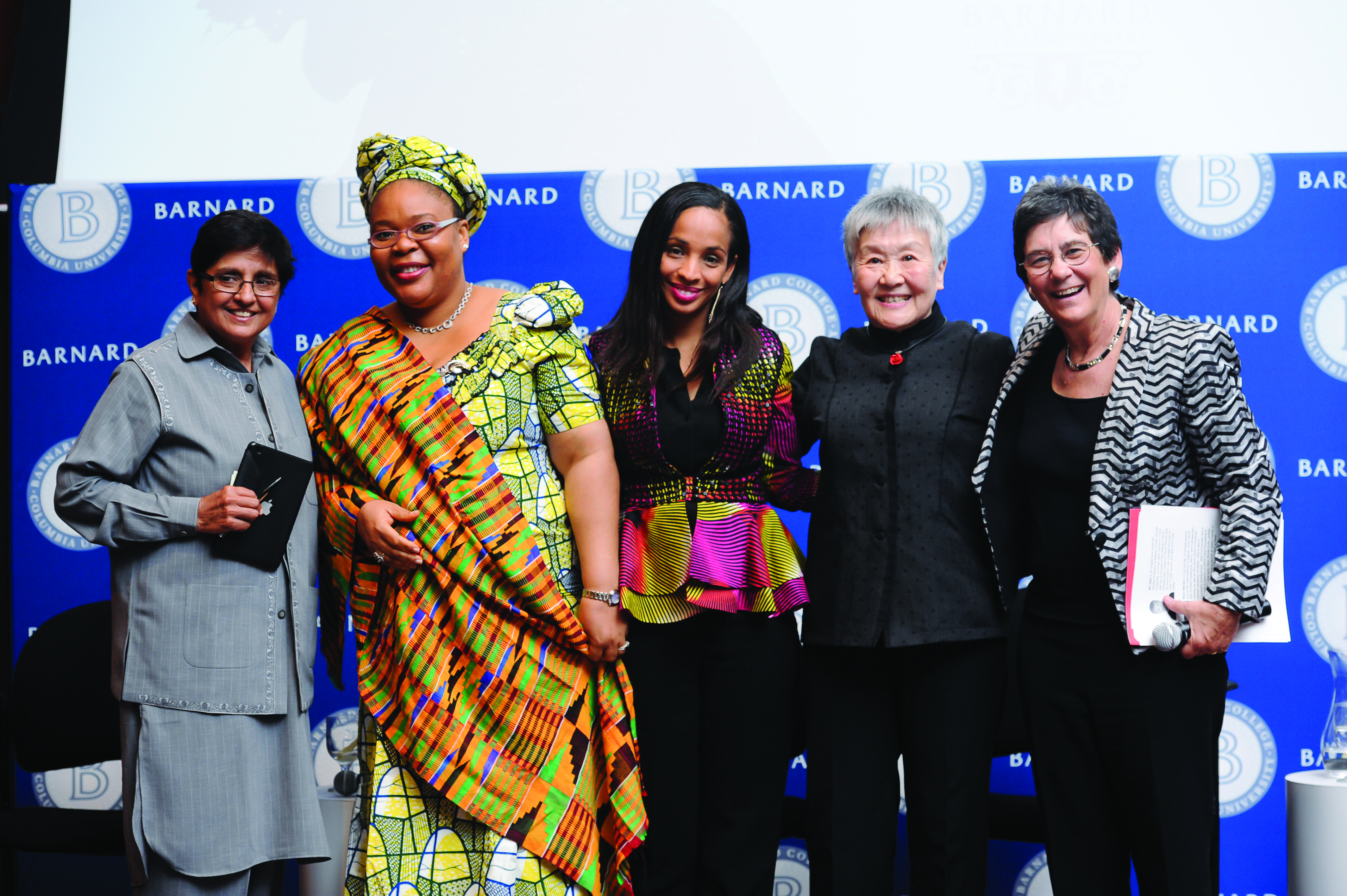 This panel included Kiran Bedi, founder of Navjyoti India Foundation, and Ndidi Nwuneli, founder of LEAP Africa and cofounder of AACE Foods. Both said that struggle, early lessons in responsibility, and a strong desire to change their communities led to their life's work. "Courage comes when you understand you represent a group of people," said Leymah Gbowee, a recipient of the Nobel Peace Prize. For Wu Qing, an activist and professor who was attending her third Global Symposium, "Courage and failure are two sides of the same coin. How you look at failure is very important. Education is not just for a career, but to try to open the eyes, minds, and hearts of people."
Session 3 panelists (from left): Kiran Bedi, Leymah Gbowee, Ndidi Nwuneli, Wu Qing, and moderator Kathryn Kolbert, Constance Hess Williams Director of the Athena Center for Leadership Studies
---
4. Creating Change Through the Arts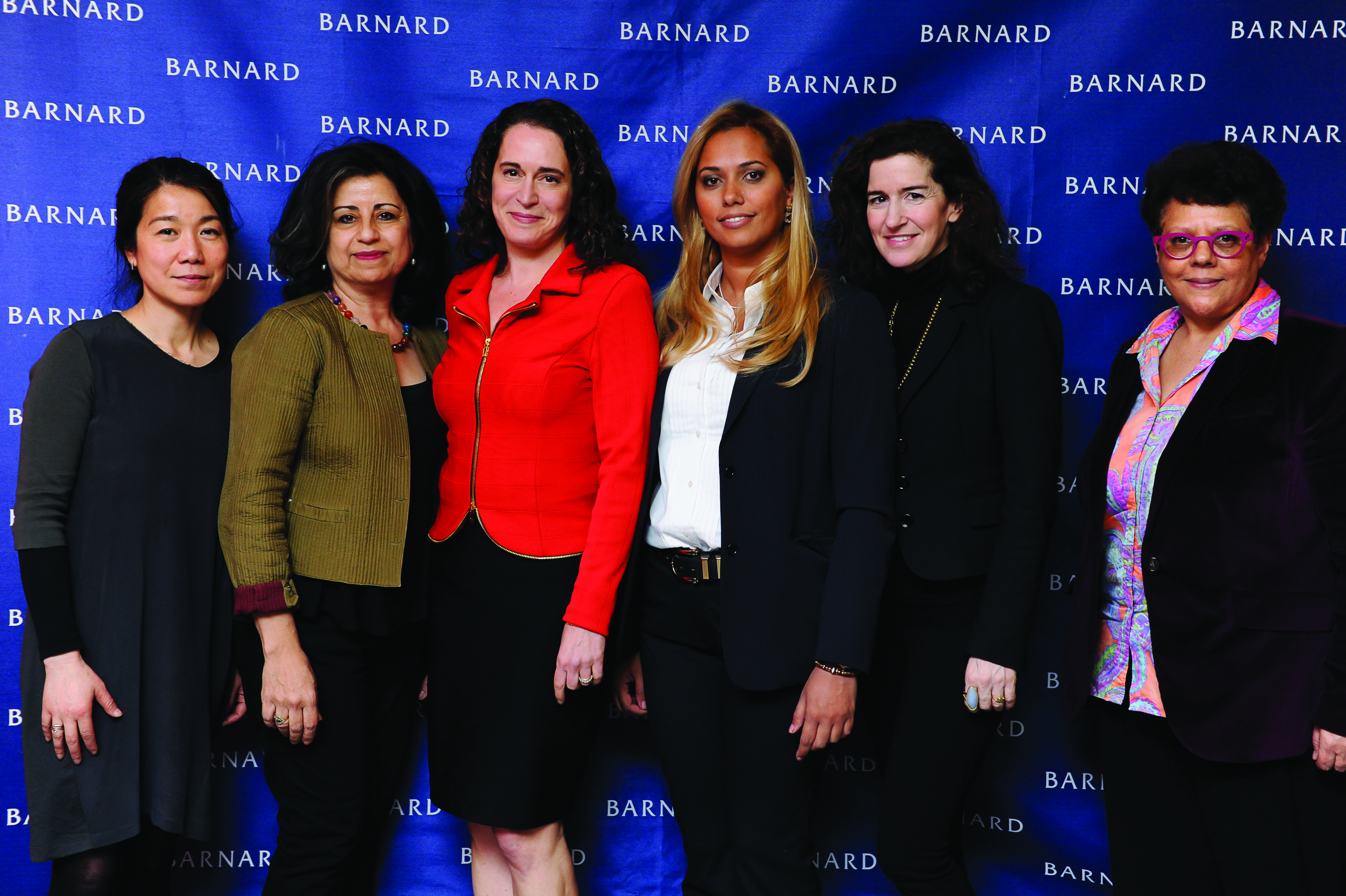 For those in creative professions— Panmela Castro, a Brazilian graffiti artist and activist; Xing Danwen, a Chinese visual artist; Jessica Greer Morris, American playwright and executive director of Girl Be Heard; and Ahdaf Soueif, an Egyptian novelist and journalist—creative work is not a frivolous or marginal endeavor, but a way to transform what people perceive, which can lead to cultural, even political change. "If we can change the life of one girl, we can change the life of girls everywhere," summed up Morris.
Amid the celebration of women's accomplishments and achievements, Debora Spar cautioned women to be equally forthright about what hasn't worked out. "Every one of us women has a responsibility to be honest about our failures," she said, to give younger women a balanced sense of how to manage their lives. "Life isn't linear. Life throws you curve balls."
President Spar with the session 4 panelists (from left): Xing Danwen, Ahdaf Soueif, Spar, Panmela Castro, Jessica Greer Morris, and Professor Yvette Christiansë, who moderated
---
United by Artistic Expression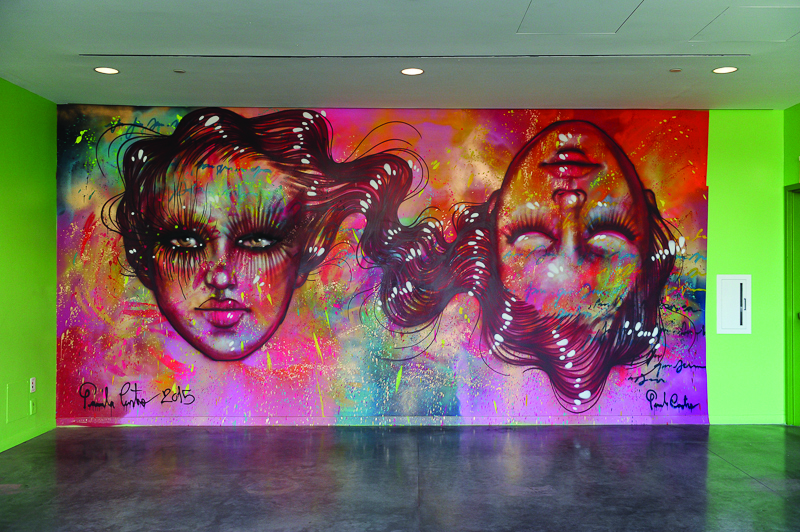 On the eve of the Global Symposium, Brazilian artist Panmela Castro, who also served as a panelist in Women Changing Brazil at the 2013 symposium in São Paulo, unveiled a mural she painted on Barnard's campus in collaboration with students. Castro, who is well known for her street art in the urban areas and favelas of Rio de Janeiro, often uses her craft to educate communities about social issues such as violence against women. She has received support from numerous philanthropies, including Diane von Furstenberg and the Diller- von Furstenberg Family Foundation.The mural, Sorority: Sisters United by Ideas, on the sixth floor of The Diana Center, features bold, brightly colored images of two female heads. The concept that inspired the work: the two women are sisters, not by birth, but by ideas, turning away from a past when women did not have rights toward a future in which women engage together for local and global emancipation.
---
For more information, check out the GLOBAL SYMPOSIUM ONLINE
barnard.edu/global/ womenchangingtheworld2015
View videos of the panel discussions, watch additional interviews with the panelists and attendees, and learn more about Student Fellows' experiences.
---
—By Merri Rosenberg '78
—Photographs by Asiya Khaki '09 and Samuel Stuart