In addition to teaching, Paul Scolieri, associate professor of dance, has spent the last decade doing research, much of which was related to the publication of Dancing the New World: Aztecs, Spaniards, and the Choreography of Conquest (University of Texas Press, 2013). The book is the first in a series of works relating to Latin American and Caribbean arts and culture funded by a grant from the Andrew H. Mellon Foundation. A fascinating read for both dance and colonial-era history scholars, the book has become part of the syllabi for undergraduate courses at Columbia, Princeton, and Smith, as well as for graduate programs, including the PhD program in critical dance studies at the University of California–Riverside.
But amateurs of these subjects will also find much to enjoy, as the professor lucidly analyzes the accounts of Aztec dance practices as detailed in colonial- era European documents that include letters, books, and other chronicles written by conquerors, clergy, explorers, and travelers. The book also provides a telling history of the transformation of the Aztec empire into a Spanish colony during the 16th century. Both Aztecs and the conquistadores acknowledge the role played by dance in the development, maintenance, and representation of imperial power. Scolieri's scholarship shows how central dance was to the religious and political experience of these early cultures, and provides a provocative look at how the Aztecs literally "danced" their own conquest at the hands of their destroyers.
Dancing the New World is key to understanding how, through dance, the Europeans and indigenous Americans misunderstood each other. An early example of this occurred when Christopher Columbus, after an arduous Atlantic crossing, first came into sight of the New World and its denizens. Trying to signal friendship, Columbus had his sailors on deck perform some of their dances, but did not convince the native people that he and his men came in peace. Arrows quickly rained down on the ships and sailors.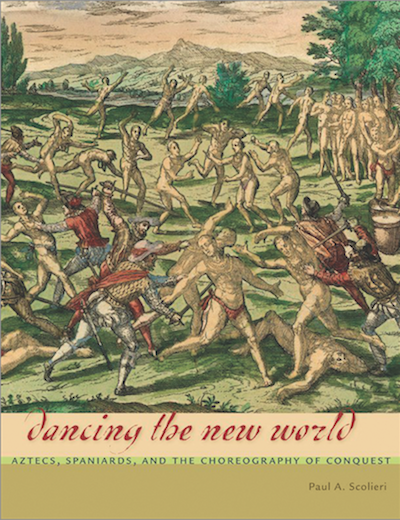 The dust jacket of Dancing the New World depicts Spanish conquistadores staging a surprise attack on unsuspecting Aztec dancers and musicians during one of their most sacred ceremonies, a defining moment in the history of the conquest. From Theodor de Bry's America (1595) 
Though Scolieri finished the book during a year-long appointment as a visiting scholar at Harvard University's David Rockefeller Center for Latin American Studies, his interest in indigenous studies began as an undergraduate at Columbia, when he took a Mesoamerican art history course given by noted scholar Esther Pasztory '65.The author of the first book on Aztec art and the first major study of Teotihuacan art, Pasztory gives insightful views of ancient cultures through art and architecture. Enthusiasm for interpreting visual sources permeates Scolieri's book as well; he scrutinized original painted codices, extant sculpture, ritual artifacts, and architecture. "The creative part was identifying these unsuspected sources for dance history," he says.
The groundbreaking study has won several awards. First came the Oscar G. Brockett Book Prize for dance research from the Congress on Research in Dance, followed by a special citation from the de la Torre Bueno Prize committee of the Society of Dance History Scholars. Dancing the NewWorld also earned honorable mention from the American Society for Theatre Research. An excerpt from the special citation of the de la Torre Bueno Prize Committee attests to the importance of the work: "Dance historians always need to grapple with the problem of limited archival sources. Scolieri manages to turn a particularly problematic research site—an archive devastated by the processes of colonization itself—to his advantage, making it an occasion for reflecting on the complexities of all attempts to describe, document, and contain dance. For this reason, his book adds significantly not only to 'New World' scholarship, but also to theoretical debates in dance history."
A New York native, Scolieri went to a high school with a strong performance arts program while training at the Martha Graham Center for Contemporary Dance, where he studied with the modern dance pioneer herself. He received a BA in English and dance at Columbia College; he continued to perform as a graduate student, earning his MA and PhD in performance studies from the Tisch School of the Arts at NewYork University. Scolieri began teaching at Barnard as an adjunct in 2000, became
a full-time member of the faculty in 2003, and a tenured associate professor in 2013. He now devotes himself to research and teaching. At the College, he is also affiliated with Barnard's Center for Critical Interdisciplinary Studies and the Department of Africana Studies, and serves as an advisor to students across Columbia University in research related to performance, Latin American and Caribbean studies, music, and women's, gender, and sexuality studies.
Scolieri's current project is a biography of Ted Shawn, the self-proclaimed "father of American Dance," which is to be published by Oxford University Press. In 1915, Shawn and his wife, legendary dancer Ruth St. Denis, founded Denishawn, the first modern dance company in this country, one that eschewed classical European ballet and popular social dances.The couple trained silent film stars such as Lillian Gish and Louise Brooks, as well as trailblazing modern dancers Martha Graham and Doris Humphrey, among others. Following his separation from St. Denis in 1931, Shawn purchased a farm in the Berkshires of Massachusetts and founded a dance retreat for men called Jacob's Pillow.The name derived from the book of Genesis; the prophet, Jacob, lays his head on a rock and dreams of a ladder that will take him to heaven.Today the Pillow is home to a world-renowned school and summer dance festival. In 2011, President Barack Obama awarded the National Medal of Arts to the Jacob's Pillow Dance Festival.
"On the eve of the dance company's 100th anniversary, I felt compelled to write about the Denishawn legacy and explore its enduring influence on American performance," says Scolieri. He explains, "Once I discovered Shawn's connections to major figures like eugenicist Havelock Ellis, sexologist Alfred Kinsey, and influential gay novelist Lucien Price, I wanted to better understand the significance of his life, dances, and writings." As such, Shawn stands at the crossroads between gay history and dance history in this country. In addition to writing about the dance pioneer, Scolieri will be speaking across the country about Shawn and his work. In March, he will deliver the keynote at the Society of Dance History Scholars conference at Johns Hopkins' Peabody Institute in Baltimore, followed by a lecture at the Library of Congress, where he currently holds a Frederick Burkhardt Fellowship from the American Council of Learned Societies.
Scolieri admits to being in the early stages of a third book that deals with a more contemporary subject matter— the impact of digital technology on the study of human movement. The project is an extension of a course he teaches on movement analysis, a system for interpreting the qualitative aspects of human motion. Related to this work, he is one of four principal investigators for a grant from the Mellon Foundation that supports a major new program, Barnard Teaches: Real Place + Digital Access, which will allow faculty to collaborate with curators, archivists, and collection specialists at New York City cultural and scientific institutions to codevelop courses offered through the College. Plans are for on-site learning at partner institutions and digital access to partners' resources, some of which are not typically available to the public.
Together with performance-based artist Adam Weinert, Scolieri conceived of the Barnard Augmented reality project for the 125th anniversary, a special virtual tour/interactive performance installation (student choreographers interpreted archival photos, creating site-specific dances) that was available to Founders Day attendees through their smartphones. "Dancing is the first and most important form of mobile technology," says Scolieri, "and dance studies must ask and answer many of the questions surfacing in the interdisciplinary field of movement studies."
From pre-Columbian art and conquisatadores to modern choreographers and computers, the professor keeps the questions coming...
—by Annette Kahn
—Photograph by The Morrisons