About 70 first-year students fanned out across the New York City-area Sunday night to enjoy intimate dinners generously hosted by alumnae. The gatherings were the latest activities for the Barnard Constellations, the residence-based social groups to which first-year students are assigned. The dinners took place at various locations—some in hosts' homes, others in restaurants.
"As soon as Constellation leaders told students they could have small dinners with alumnae, students just swarmed the sign-up list," said Dean of the College Avis Hinkson '84. Each of the nine hosts had between four and 12 students, including two resident assistants, around their tables.
Trustee Frances Sadler '72 hosted her dinner at her brother's house in Mount Vernon, roasting a pork shoulder, cauliflower, and butternut squash, and serving "stuffin' muffins," her family's Thanksgiving specialty. The conversation ranged from Hurricane Sandy (Sadler's friend who works for FEMA stopped by), to the challenges of being stronger in the sciences and taking a humanities course, and vice versa.
"It's interesting and exciting to watch students making their way at Barnard," she said. "The thing that stimulates me to be an active trustee is how really wonderful the college is right now for the students, and it energizes me to spend time with them."
Launched last year, the Constellation program creates groups from students who live in different dormitories but on the same floor. Constellation Leaders organize events, academic programs, and service projects to help the students form communities.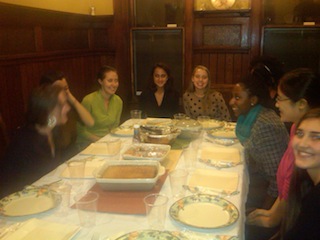 Alumnae have been assigned to Constellations based on where they lived as first years; in organizing the dinner, Dean Hinkson matched students with alumnae in their Constellations whenever possible. However, she said she purposely did not match students with alumnae of similar interests and backgrounds. "The idea is just to meet an alumna you don't know, get off campus, and have a home-cooked meal," said Dean Hinkson, who co-hosted a Constellation supper at her home with Stacey Cumberbatch '83, preparing curried couscous, roasted butternut squash with feta, collard greens, turkey meatloaf, and salmon.
"My classmate and I shared what it was like to attend Barnard without a computer or cell phone…. Being able to relax and laugh with students was a wonderful way to end the weekend," Hinkson said.
Students offered high praise for the Sunday dinners. Zinnat Ferdous '16 ate dinner at the home of trustee Ravi Singh, husband of the late trustee Elizabeth Yeh Singh '88. "He was very helpful in offering experience and advice and telling us how he ended up where he is today," she said of the former Goldman Sachs managing director. At the same dinner was Josephine McGowan '16, who called the evening "an unforgettable experience." And Harmony Richman '16 wrote Dean Hinkson a thank-you note, saying simply "I love that Barnard has events like this; the chance to attend these types of events is definitely one of the biggest reasons why I chose to attend Barnard."