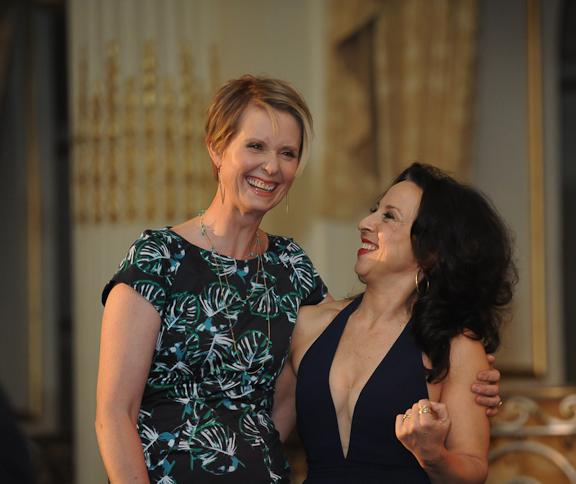 On Sunday, Cynthia Nixon '88 received the 2017 Tony Award for Best Performance by an Actress in a Featured Role in a Play for Lillian Hellman's The Little Foxes, marking her fourth nomination and second win. (Her first win, in 2006, was Best Actress in a Play for Rabbit Hole.) The play, a classic 20th century drama about a family's struggle for control of their small business, showcases Nixon and Laura Linney as they portray protagonist Regina and her sister-in-law Birdie and swap roles in alternating performances. This unusual casting decision was widely lauded; The New York Times recommended seeing the show twice rather than having to choose which actress to see in a particular role.
In her acceptance speech, Nixon called the play "eerily prescient" for its depiction of greed in modern society, and later spoke to a press pool about the importance of individual and collective resistance against greed, as well as the need for continued funding of the arts.
Cynthia Nixon '88 is best known for her role as single-working mom Miranda Hobbes on HBO's Sex and the City series (1998-2004), for which she won an Emmy in 2004. She began performing as a teen, both on stage and screen. Her feature film debut was in the teen comedy, Little Darlings in 1980. She went on to land roles in other films, including Amadeus, The Manhattan Project, Addams Family Values, Little Manhattan, Sex and the City and its sequel by the same name, The Babysitters, and Rampart. On television, she was in the miniseries Tanner '88 and later The Big C (2010-11). She made her Broadway debut in a 1980 revival of The Philadelphia Story and won a Tony for Best Actress in a Leading Role (Play) for The Rabbit Hole in 2006. She was the host of the PBS TV show Treasures of New York: Barnard College, showcasing the College's commitment to educating the next generation of women leaders.