Starting a business can be a natural outlet for talented Barnard women. (Think Martha Stewart '63, Hanky Panky's Lida Orzeck '68, and Liz Neumark '77 of Great Performances.) Some alumnae always planned to be entrepreneurs. A career setback, need for a better work-life balance, or a desire to bring an idea from concept to market can also lead to a start-up.
Entrepreneurship has also found a home on the Barnard campus. The Athena Center for Leadership Studies recently launched Entrepreneurs@Athena to address the specific needs of women entrepreneurs. There are also programs for students, including one that pairs them with established entrepreneurs as mentors. "No matter what career you pursue, even if you never become an entrepreneur, you can use these leadership muscles," says Nathalie Molina Niño, cofounder of the Athena group and a veteran of the dot-com industry.
For alumnae, there is the Barnard Entrepreneurs Network (BEnet), which had its first event in May 2013. In addition to providing opportunities for relationship building, the sessions feature an educational program focused on a specific industry or entrepreneurial challenge. BEnet's founding cochair, Christina Lewicky '87, formed the group to develop opportunities for alumnae entrepreneurs and those contemplating that career move, "to cultivate professional relationships with one another." On the following pages, see how six alumnae entrepreneurs transformed their visions into reality.
Amy Kallman Epstein '67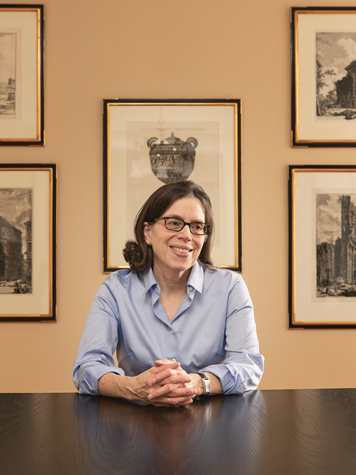 If you had a child sometime within the last 30 years, chances are good that you placed her meals on one of Epstein's educational place mats. Whether it was the alphabet or geography, the mats developed from her own needs; son Josh was a slow eater. Find a way to keep him interested, she thought. Epstein's path to launching her own business wasn't predictable. A history major with two master's—in history and architecture— from Columbia, Epstein became a senior urban planner for New York City's planning department. She developed the place mat as part of an industrial-design class at Parsons where she'd been assigned an end-of-semester product presentation that was to be something "the world was waiting for." One of the reviewers, a Bloomingdale's buyer, told her she might be interested in buying the mats, if Epstein ever decided to make them.
There were four original Read-a-Mat designs, featuring shapes, colors, numbers, and the alphabet, tucked into a tote bag. A New York children's boutique, the Hired Hand, bought them—a "game changer," says Epstein. Her award-winning products were featured in The New York Times, among other media, and were later sold around the world. With her husband's support, Epstein ran the business, The Straight Edge, from their Brooklyn brownstone before she got office space nearby. The place mats were manufactured in Long Island City. Achieving work-life balance was important to her. She says, "As a working mother, my office was three blocks away. My kids helped my staff at trade shows." Epstein expanded the line to include puzzles and books and eventually sold the company to Melissa & Doug (melissaanddoug. com), an educational children's toy company, in 2008. Widowed in 2009, Epstein started another venture, Pintree Designs (pintreedesigns.com), which sells Epstein's artisanal handpainted and pen-and-ink designs on marble tiles, glass vases, and wood boxes. Says Epstein, "Entrepreneurship is less of a driver. I have different goals than when I started The Straight Edge."
Danielle Chang '94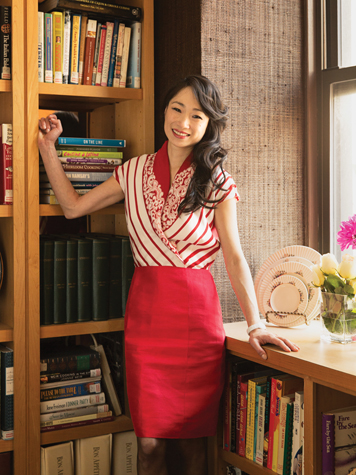 Chinese immigrants who moved to Taiwan (her birthplace) from Shanghai and then to the West Coast, would grow up to found the company, LuckyRice (luckyrice.com), that focuses on Asian culinary culture. Through food festivals in New York, Los Angeles, San Francisco, Las Vegas, and Miami, the events feature dinners, tastings, and other activities highlighting Asian cultures through the lens of food. "As an Asian American growing up, I wanted to create an Asian lifestyle brand," Chang says. "The idea had to have cultural and personal significance. Food is appetizing and appealing to all people." The significant Asian presence in America, as well as the growing popularity of Asian food, made this an attractive opportunity.
Chang drew on contacts in the hospitality industry, where she had worked, to entice major chefs to participate in her events, including non-Asian chefs like Eric Ripert and Daniel Boulud. "Even if a chef is French trained, they play with other ingredients. It's a globalized world," she says.
LuckyRice isn't her first solo venture. Chang, who had been the CEO of the fashion company Vivienne Tam, went on to become the publisher and founder of Simplycity magazine and Simplycity. com, which she had to close after 9/11. "I had to build back that confidence," she says. This time around, Chang didn't have to worry too much about financing, as LuckyRice is not a capitalintensive business. She's careful to have a company without "big overhead; we outsource what we can. We want to focus on the heart of what we do."
Working for herself suits Chang, who is the mother of two. "I liked the entrepreneurial life," she says. "I like the responsibility and get frustrated by corporate bureaucracy. I can set my own schedule." Chang majored in art history as an undergraduate, then worked as a curator, art dealer, and teacher before returning to Columbia for a master's degree in critical theory. "I didn't think of a linear career path. Being an entrepreneur builds on all those experiences," she says. "[Barnard] really taught me, and my generation, that the sky's the limit. The sense of confidence is really very empowering."
Francine Benzaken Glick '77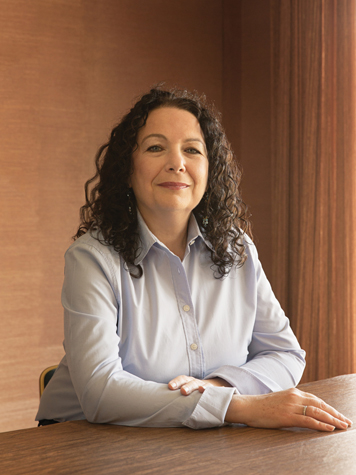 Born in Alexandria, Egypt, to a French-Jewish family, Francine Glick spent her childhood on 100th Street and Riverside Drive. At Barnard, she majored in computer science, which meant taking classes at Columbia and petitioning for a special major. That early experience helped prepare Glick for her entrepreneurial venture. "Barnard gave me an ability to do whatever I wanted to," she says.
Glick spent her early career at Bell Labs in New Jersey, working in software and product management. She later earned an MBA from New York University and went on to investment banking. It wasn't until Glick was doing the "mom-carpool thing" that the idea for Hands2GO came to her. Hand-cleaners were on the market, but one of her daughters didn't like the strong alcohol smell. Glick played around in her kitchen sink until she came up with an alternative. She located a chemist to commercialize the formula, obtained two patents, and launched her alcohol-free hand sanitizer in 2003. Currently sold at her company website, waterjourney.com, Hands2GO is Americanmade in New Jersey, Florida, Pennsylvania, and California, and is popular in offices, schools, nursing homes, and hospitals. Recently she signed a licensing agreement with the American Red Cross, which "opens all markets," says Glick. Being branded with the American Red Cross logo means the sanitizer will also be taken into disaster zones.
Her background as a computer-science major has helped Glick as an entrepreneur. "I understand the technology," she says, of the programs retailers use to order and receive products. Not everything works as smoothly. "The biggest barrier has always been raising capital, which I think is harder for women," says Glick, who's relied mostly on family and friends. But the emergence and growth of social media makes "marketing easier, because the cost of entering is much lower," according to this active alumna, who is currently the vice president of her class and candidatefor the vice presidency of Barnard's alumnae association.
Sarayu Srinivasan '91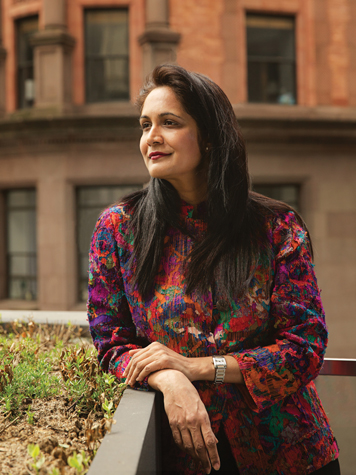 Sarayu Srinivasan has always embraced change and challenge. "I'm really a self-starter," she says. "I taught myself to swim, I taught myself to ride a bike, I hung a tire swing." That intrepid spirit explains in part why Srinivasan decided to launch Kaargo, an online consumer transport and logistics marketplace almost a year ago. "I saw something that hadn't been done, and I couldn't understand why," she says. She spent time kicking around the idea and wanting to find the right partner. A couple of years went by. Then she realized the timing was perfect. "I wanted to work for myself," she adds, "and build my own team. Our goal is to build the product and then perhaps raise more money." She knows technology and the venture capital field; recently as a director at Intel Capital, she focused on everything, from digital media and e-commerce, to analytics, and cross-border tech businesses. A former brand manager at PepsiCo, she also worked for several software and services companies.
Her willingness to seize opportunities was evident from the beginning of her career. "There were not that many women in private equity," says Srinivasan, who worked in the U.S., and overseas in developing markets.
Raised in Washington, D.C., in a family steeped in science and mathematics (her late father was an engineer and her mother, a professor, also worked on Wall Street), Srinivasan's move into finance and technology was a comfortable progression. A transfer student from Mount Holyoke, Srinivasan came to Barnard, where "the bigger world is always in your face," which helped her gain an invaluable perspective. (She remains engaged as a member of the Athena Leadership Council.) An architecture major with an English minor, she also took a certificate in medieval studies from Cambridge University. She held a research fellowship from Harvard Business School, and has a business degree as well.
As an entrepreneur, Srinivasan is mindful of "the huge responsibility I have to these investors…and to my employees. My anxiety is looking up and to the side of me, seeing people who've given up their jobs. It's humbling to have people dependent on me." Still, she says, "I feel great.
Jamie Rubin '01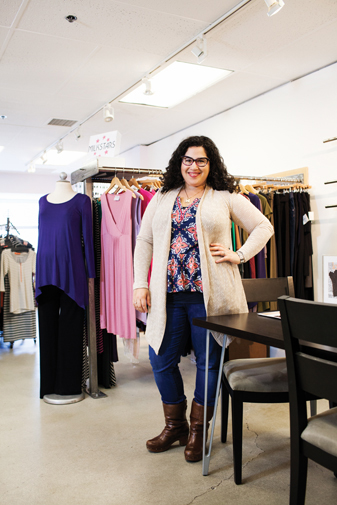 Shortly after Jamie Rubin returned to Yahoo! from her maternity leave in 2008, she was "totally shocked" to be among the 1,200 people laid off. She began planning her next step. "I knew I didn't want to go back to media. The hours are rough and I didn't want to be away from my daughter that long." So Rubin used the opportunity to pursue her vision of making and selling stylish nursing tops. The result? Milkstars (milkstars.com), which now also includes maternity wear and pajamas. "I didn't like the clothing available while I was breast-feeding," she recalls. Plus, she says, Rubin was confident she could pull off the business. "I knew the market, I knew where they would sell," she says. Working with connections and the outplacement counselor Yahoo! provided, Rubin dove into the world of trade shows and manufacturing. She was committed to having her products made in the United States. Fortunately, Los Angeles has many small factories that could produce her designs.
Using her severance from Yahoo! for the start-up funds, she did everything possible to "keep my costs low." Rubin has one full-time employee and one part-timer; the rest are contractors. Her husband, a Columbia graduate she met during her senior year, helps with the company's accounting. "The biggest obstacle was the confidence to go with what I was feeling," says Rubin. "You doubt yourself all the time. It's the 'give-up gulch.' The ones who succeed find a way out of that."
Rubin was a political science major at Barnard. While a student, she interned at MSNBC and with documentarian Ric Burns. She later took advantage of the College's "great career development office," landing a job with the NBA, and later the WNBA, after graduation. "Barnard really helped me get comfortable networking. When I worked in admissions [as an undergraduate], I saw how strong the alumnae network is."
Rubin, who has since had another child, knows she will ultimately "do something else," although she doesn't yet know what it is. She still thinks, "It's so cool that someone bought what I made."
Pooja Badlani '01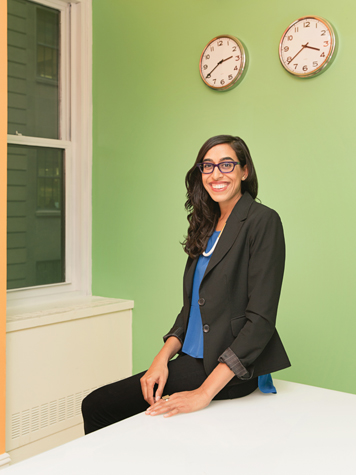 Confess it. You can't help clicking on those Internet lists revealing the 10 best hair dryers, or the 10 best printed pants you can't live without. Maybe you've landed on Rank & Style (rankandstyle.com), a website that offers those kinds of addictive lists. Pooja Badlani and her partners, who cofounded the site, which launched last April, are determined to do everything they can to make it one of the more visible and appealing sites upon which to click. The site relies "heavily on algorithms" to be unbiased, says Badlani, who is chief creative officer at Rank & Style. "Our lists are all based on consumer research data." Expert and consumer product reviews, editorial
recommendations, and best-seller lists help them arrive at their rankings. Badlani says, "We cover the fashion and beauty world, so there'll be basics, like leggings and jeans, and seasonal products like sunscreen." With her partners, she determines the editorial calendar and then "works with writers to bring the copy to life." Their model relies on getting a percentage of sales when readers buy from a company.
The digital world is a natural habitat for Badlani. At Time Inc., she was an art director for the web and mobile platforms of two lifestyle brands; she also was a senior designer at Sundance Channel, now SundanceTV.
Badlani majored in art history and visual arts, and earned a graduate degree in communications and digital design from Pratt Institute. At Barnard, she worked on the South Asian literary magazine, designed for the yearbook, and was a secretary of the Student Government Association, all of which gave her confidence to launch her own business. "Barnard taught me I could do anything, and to challenge myself."
Badlani grew up in Syosset, Long Island; both her parents are doctors. "They're so proud of me, even though they thought I was a little crazy for quitting my job with health benefits," she says. Many in her father's family in India are entrepreneurs, but she says "I never really saw myself here. It [does] makes sense. I wanted to be creatively challenged every day."
—By Merri Rosenberg '78
—Photography by Dustin Aksland; Rubin photo by Brandon Harman