Barnard's Department of Environmental Science was founded 35 years ago. Its origins, however, reach as far back as Barnard's first year, 1889, when students studied geology, geography, and mineralogy with Columbia University professors. Below we share the history of the department as it grew from one course to a department that is leading innovation in environmental research and education.
The Rise of Environmental Science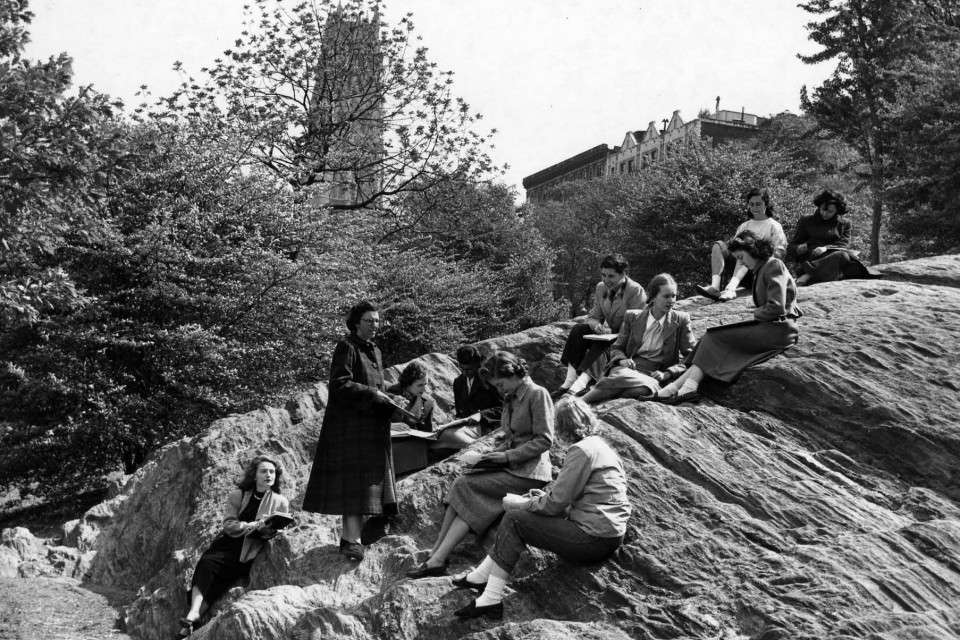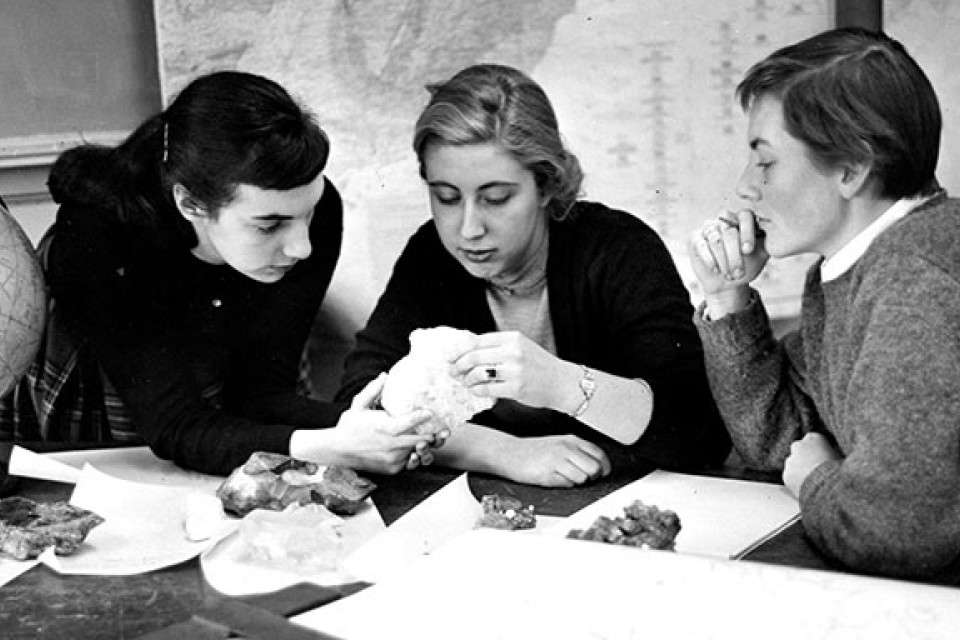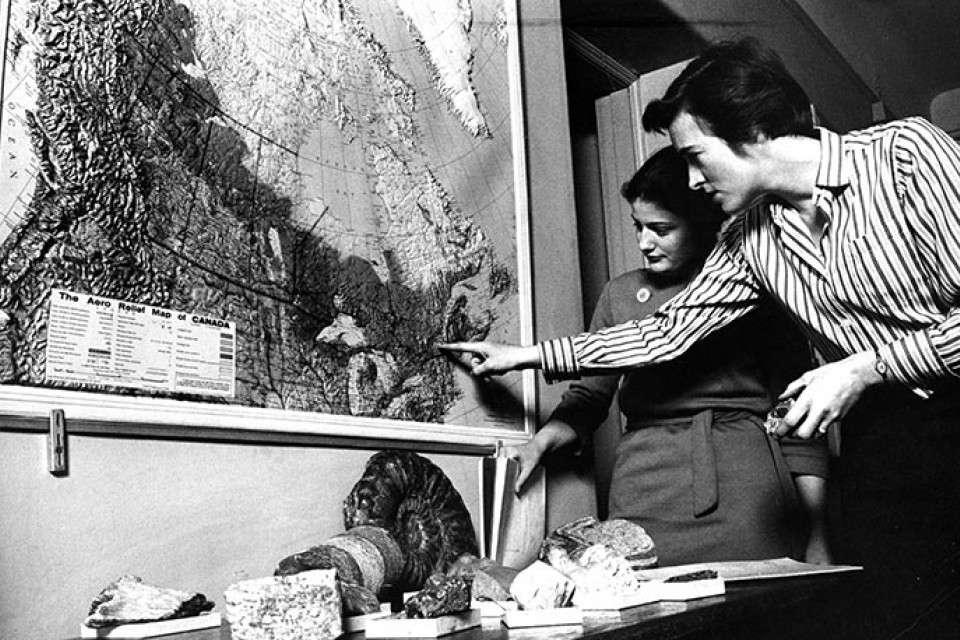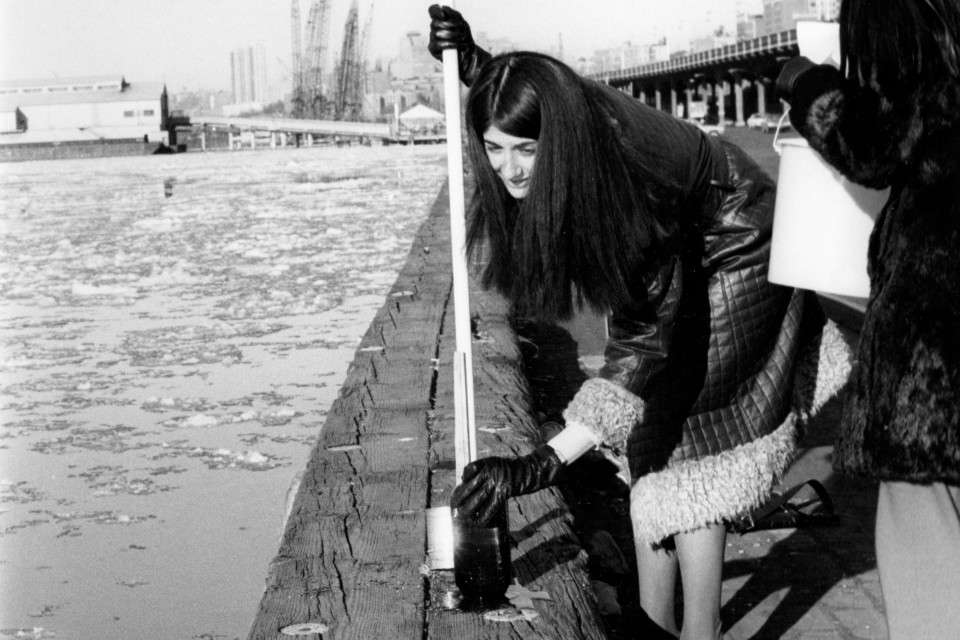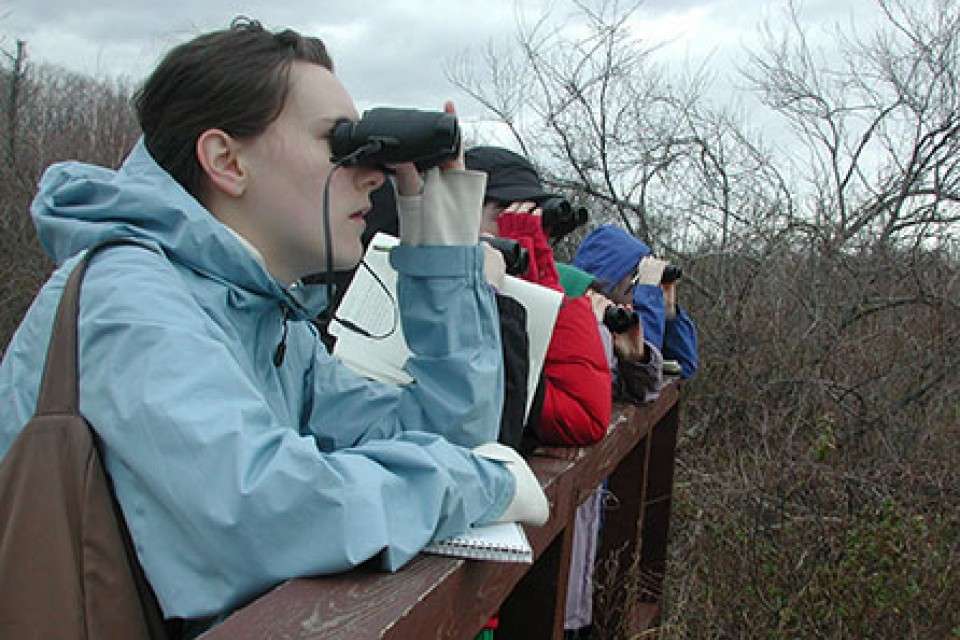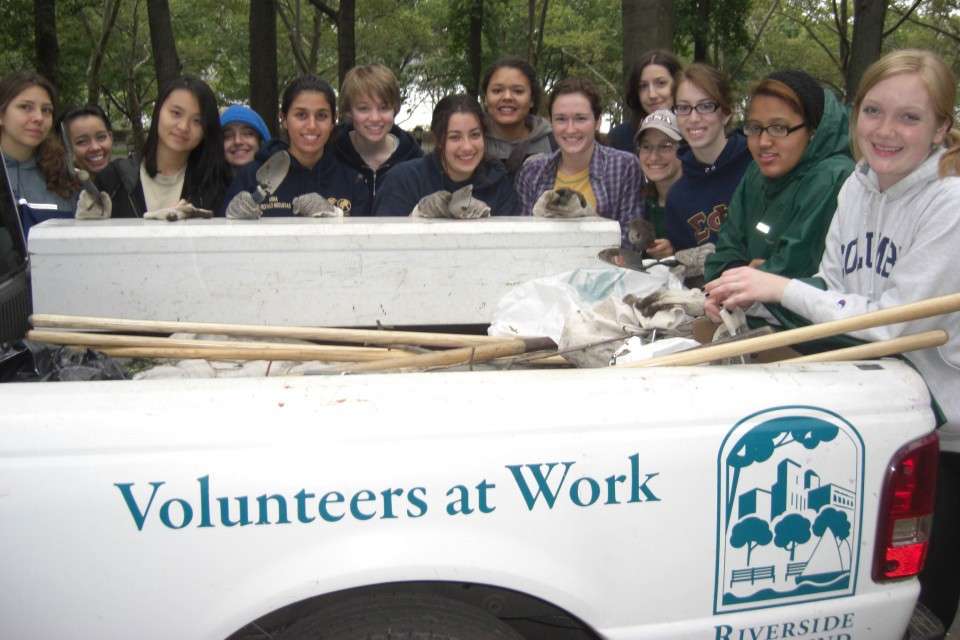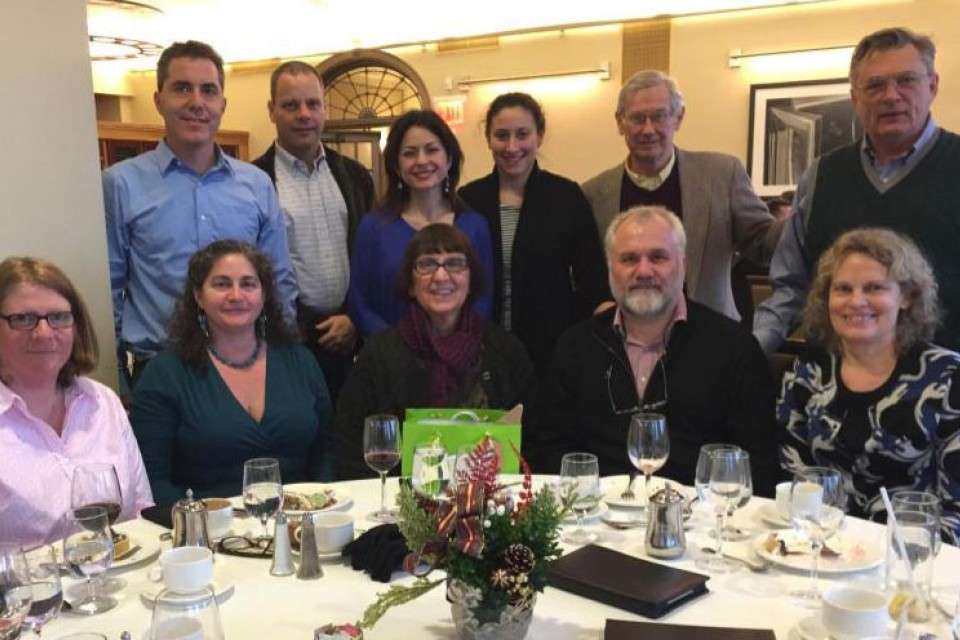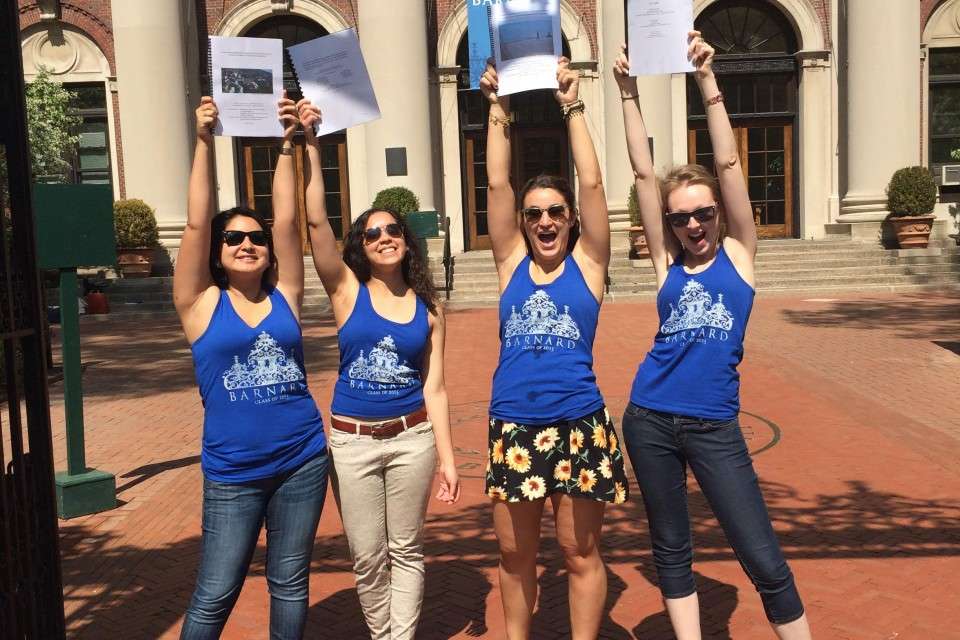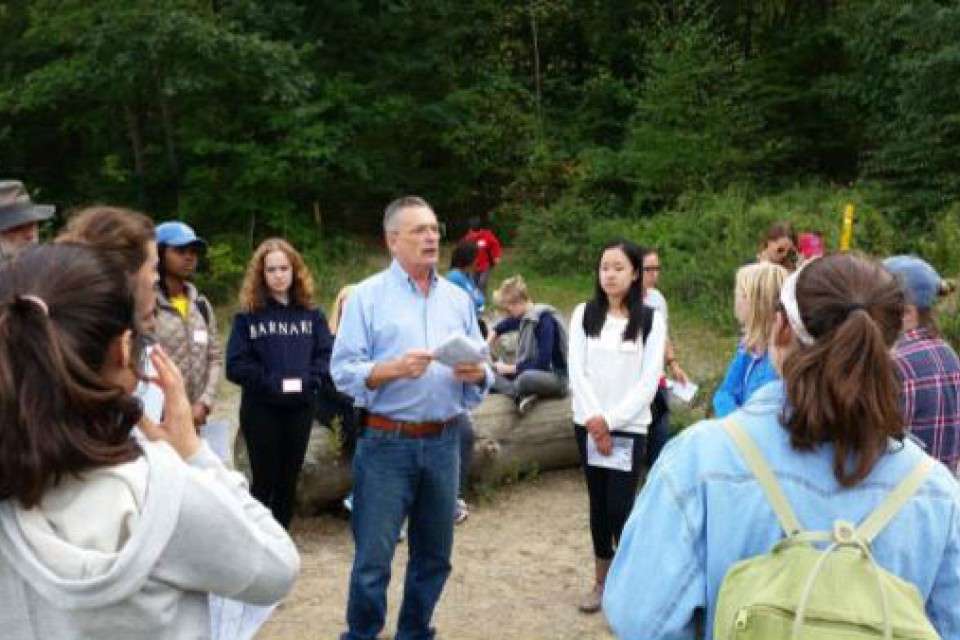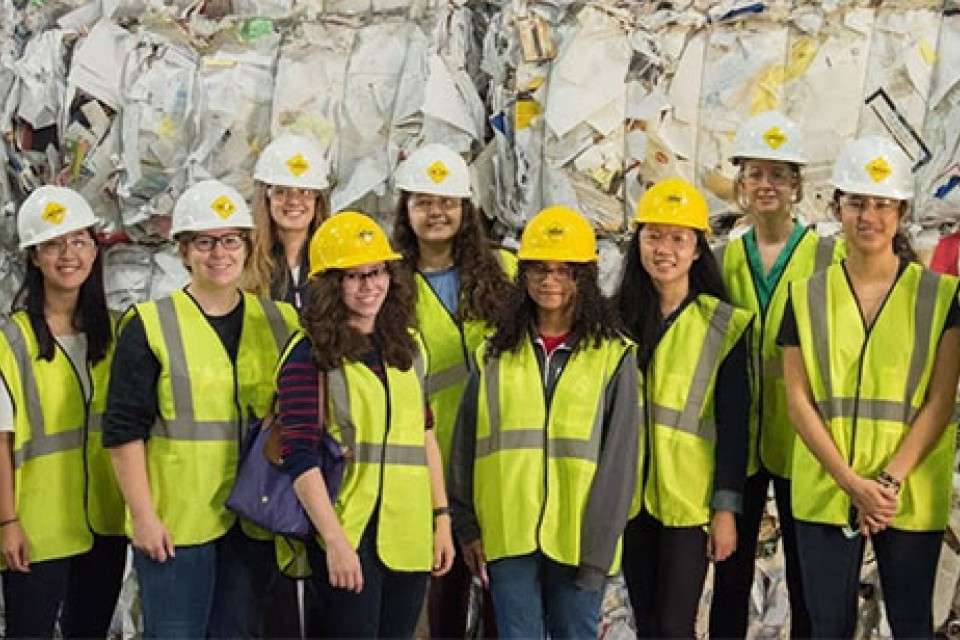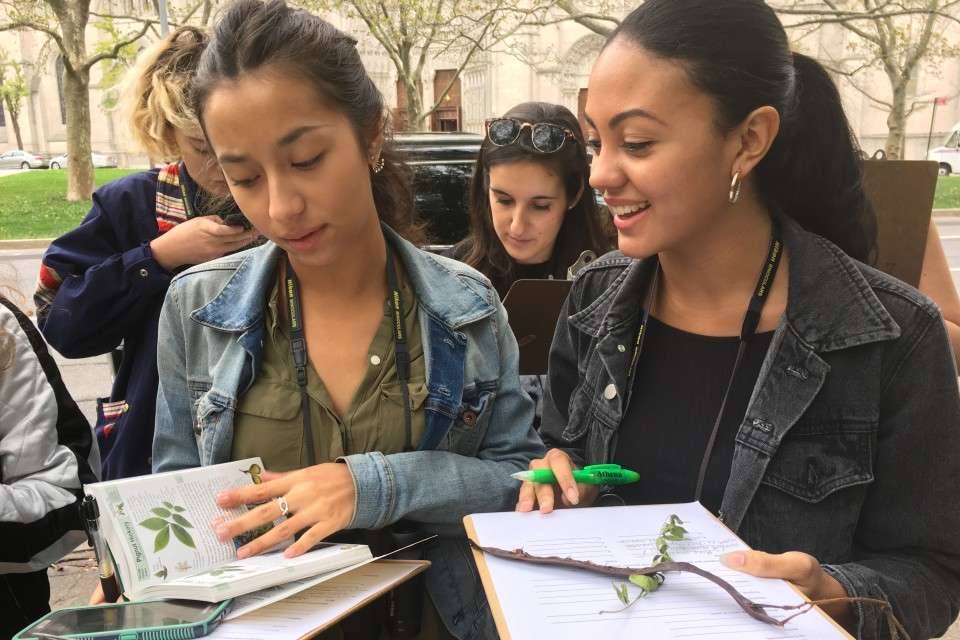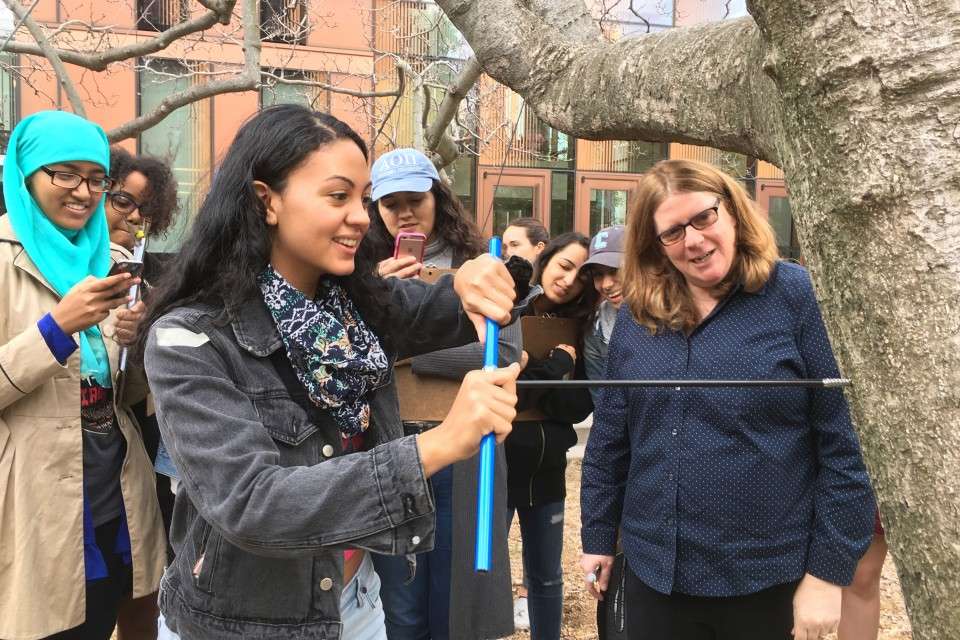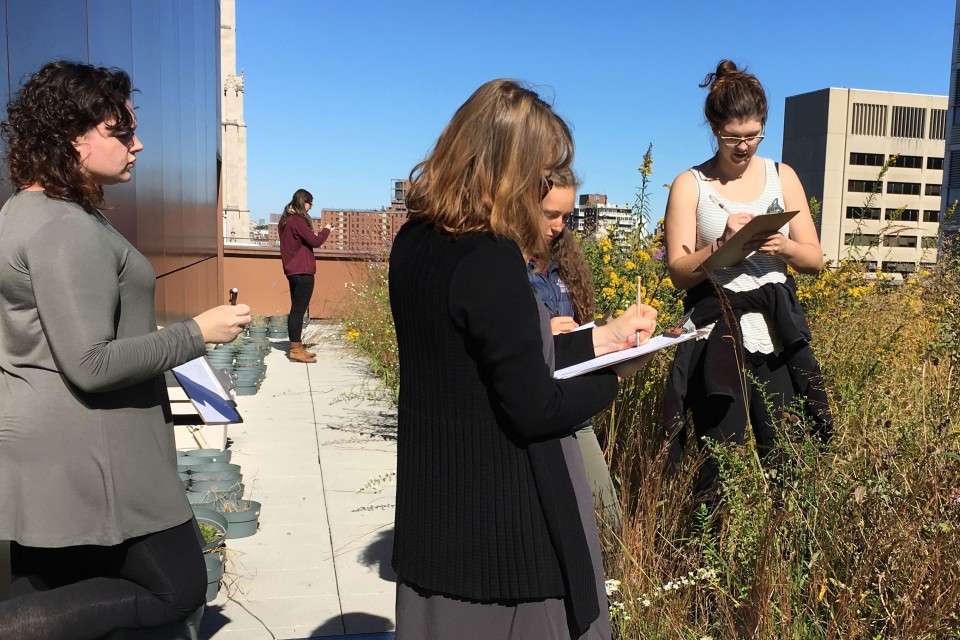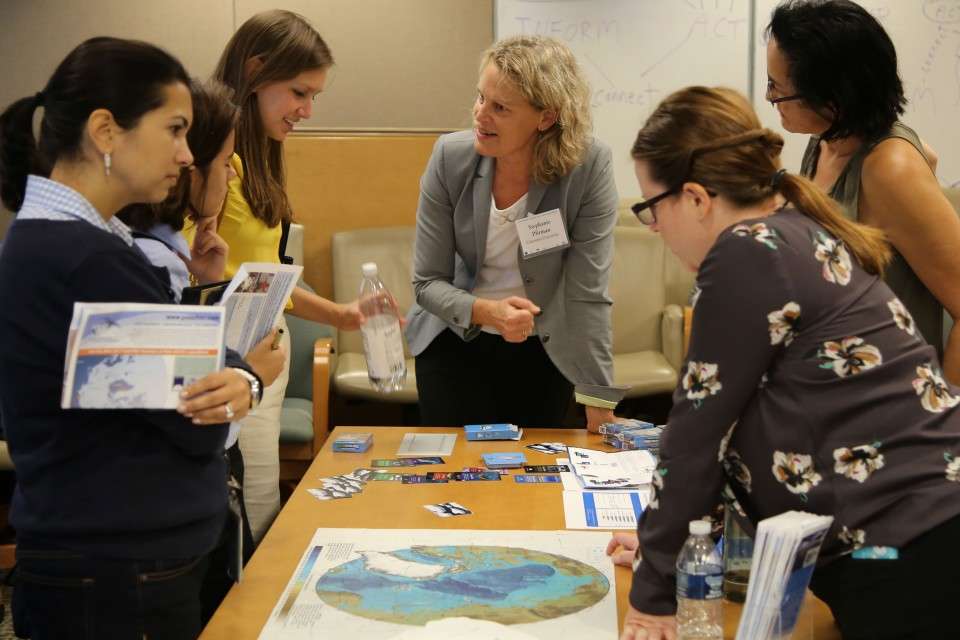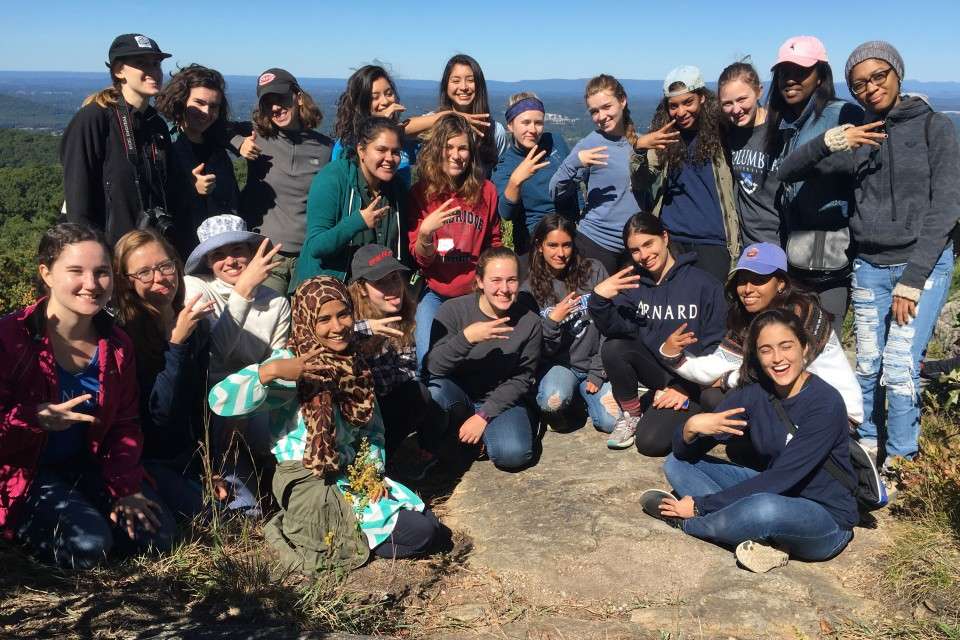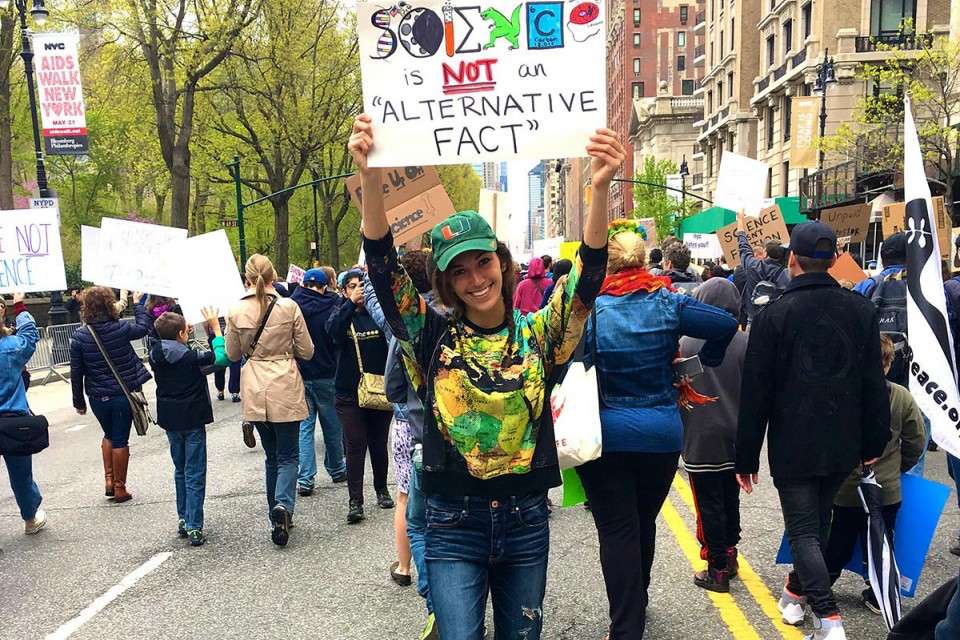 1958: Students studying in geology class
1973: Sampling water from the Hudson River as part of a Geology class
2009: Students observe wildlife as part of Prof. Maenza-Gmelch's Bird, Plant and Land-use Dynamics class at the Jamaica Bay National Wildlife Refuge in Queens.
2009: Introduction to Environmental Science Labs: service learning event in Riverside Park.
2014: Retirement lunch for Diane Dittrick, co-director of the Environmental Science Laboratory. Top Row: Brian Mailloux, Frank Nitsche, Sedelia Rodriguez, Leslie Raucher, Joe Liddicoat (retired), Peter Bower Bottom: Terryanne Maenza-Gmelch, Catherine Cook, Diane Dittrick, Martin Stute, Stephanie Pfirman.
2015: Environmental studies majors on their way to hand in their senior theses take a moment to celebrate at the Barnard Gate. (L‐R) Ximena Fonseca‐Morales, Lissa Soares, Sofia Soto Reyes, and Claudia Mack. Photo by Senior Libby Fortin
2015: Prof. Peter Bower talking to students in Black Rock Forest, sixty miles north of New York City, about the Storm King controversy, a key and early victory for the environmental movement. Activists prevented the local utility, Con Ed, from building a pumped storage hydroelectric station on the face of Storm King Mountain as well as a two-billion-gallon storage reservoir right where everyone is standing in this photo.
2015: Waste Management Class at Action Carting's recycling sorting center in the Bronx. 
2016: Students in Terryanne Maenza-Gmelch's Intro class identifying trees in Riverside Park
2016: Prof. Terryanne Maenza-Gmelch's students core the (dead) Magnolia tree as part of an environmental science lab. *No tree was harmed in the process of taking this core.
2016: Environmental science students conduct biodiversity surveys on the roof of The Diana Center.
2016: Prof. Pfirman demonstrates her EcoChains game to attendees at the White House Arctic Science Ministerial Side-Event. It brought together ministers of science and chief science advisors from twenty-four countries, as well as representatives from indigenous groups. The event was held as a follow-up to President Barack Obama's visit to Alaska spotlighting climate change.
2016: Black Rock Forest retreat for Environmental Science students.
2017: Olivia Williamson '17, Environmental Science graduate, at New York City's March for Science
---
On November 14, 2017, the Barnard community celebrated the anniversary with a day-long event that honored its environmental leadership and innovation. Keynote Speaker Annie Leonard '86, executive director of Greenpeace USA, discussed, "The State of the Environment: How to Get to a Better Future?" The day also included workshops on creative approaches to advocacy, education, outreach, research, and technology. Panel discussions, featuring faculty and students from the department, ranged from our global ecology to hydrofracking.
---
Foundation
1889: Barnard students interested in geology, geography, and mineralogy study with Columbia University professors.
1902: Barnard brings geology to its own campus with the hiring of Ida H. Ogilvie—who heads the department from 1911-1941—to teach the first course on the subject. The first summer field course is offered in 1905.
1911: The Department of Geology becomes official. In 1913, New York City is used as a classroom for the first time when "The Local Geology of New York" is taught.
1944: "Natural Resources" first appears as a course.
1953: The New York Times writes, "Nine [Barnard graduates] are employed in scientific laboratories" from a class of 234.
Department Beginnings
1961: When the shift from studying Earth's resources to studying humankind's dependence on natural resource occurs, students now major in Conservation of Natural Resources.
1968: Environmental Science is taught for the first time under the Geology, Geography, and Botany departments.
1970: The Conservation of Natural Resources major becomes Environmental Conservation and Management—one of the nation's early Environmental majors—with a focus on issues crucial to human survival.
The First Decade
1982: The Department of Geography dissolves. Environmental Science, led by adjunct assistant professor Richard Bopp, is created and offers both a major and a minor in Environmental Science. The department has no full-time faculty.
1984: The department graduates its first two students.
1987: Professor Peter Bower becomes the department's first full-time lecturer. The following year, with Bower as chair, students flock to register for the Environmental Case Studies class, which enrolls 45, compared to just 12 the year before.
The Second Decade
1991: Professor Joe Liddicoat joins the department (through 2006) to co-teach and co-direct Intro to Environmental Science Labs, and to teach in the Harlem Education Activities Fun program and the Pre-College Summer Program (Brownfield Action).
1992: Environmental Science majors and Professor Bower (now also Mayor of Teaneck, NJ), with support from President Ellen Futter and other faculty, create a tenure track line which gives the department equal standing with the other science departments.
1993: Stephanie Pfirman, Professor of Environmental Science and the Alena Wels Hirschorn '58 and Martin Hirschorn Professor of Environmental and Applied Sciences, becomes chair of the department.
1995: In collaboration with Columbia's Department of Earth and Environmental Sciences, Professor Stephanie Pfirman co-leads a National Science Foundation (NSF) grant to develop a new undergraduate instructional approach for earth and environmental science courses
1995: Martin Stute, Professor of Environmental Science, is hired. He expands the the department's laboratory analysis capacity and establishes research connections with Columbia's Lamont-Doherty Earth Observatory.
1996: Diane Dittrick joins as senior associate in environmental science to co-teach and co-direct the Intro to Environmental Science Labs. In 2008 she develops Environmental Leadership, Ethics, and Action; it's the first environmental leadership course offered in the Athena Center for Leadership Studies.
1996:  Catherine Cook '86 joined the department as Department Assistant.   
1998: With the assistance of a $1.2 million grant from the National Science Foundation and the W.M. Keck Foundation (co-led by Professor Pfirman in collaboration with Peter Balsam, Professor of Psychology and Samuel R. Milbank Chair), the department moves to the newly renovated, fourth floor of Altschul Hall.
1999: The largest cohort to date graduates: 29 students, which is 20% of all science majors.
1999: Students enrolled in Professor Peter Bower's Introduction to Environmental Science can also take his award-winning Brownfield Action course, a web-based interactive simulation in which students use maps, videos, and scientific data to conduct site assessment investigations and solve problems in environmental forensics. In 2006, he receives a $500,000 grant from the NSF for the program, which is used by ten different colleges and universities.
The Third Decade
2000: The Mellon Foundation provides its first grant to support the Department of Environmental Science curriculum. Professor Martin Stute receives the first funding from the National Institute of Environmental Health Sciences (NIEHS) to study the geochemistry of arsenic and manganese in groundwaters in South Asia and in the US. The grant has supported numerous undergraduate and graduate students in their research over the years.  
2003: Spearheaded by Professor Martin Stute, the department hosts its first Senior Thesis Poster Session in which students from Barnard and Columbia present their work to a university-wide audience. Many students conduct research in collaboration with scientists at Columbia's Lamont-Doherty Earth Observatory.
2005: With support from the Teagle Foundation and the NSF, Professors Stephanie Pfirman, Peter Bower, Martin Stute, and Tim Kenna launch Barnard on the Hudson in which students and professors collect samples from the Hudson River and make observations to be analyzed throughout the semester. [See slideshow]
2006: Mellon postdoctoral researcher Jason Smerdon, now head of the Smerdon PaleoDynamics Lab, creates the initial Barnard Sustainability Report with students Amanda Rook '08 and Alison Powell '09. The report is commissioned by professor co-chairs Stephanie Pfirman and Martin Stute.
2006: Assistant Professor Brian Mailloux and Lecturer Terryanne Maenza-Gmelch are hired. Prof. Mailloux, a geomicrobiologist, considerably expands the laboratory footprint of the department. Prof. Maenza-Gmelch, brings expertise in paleoecology and forest ecology.
2008: Professor Stephanie Pfirman is elected President of the Council of Environmental Deans and Directors, an association of more than 100 environmental academic leaders who collaborate to improve the quality and effectiveness of academic environmental programs at U.S. universities and colleges.
2008: Professor Terryanne Maenza-Gmelch teaches the first summer science program and internship for high school students at Black Rock Forest, a 4,000-acre educational and experimental forest located in Cornwall, NY. [See slideshow] In 2011, she collaborates with Columbia's Center for Teaching and Learning to create the Paleomodule for the Virtual Forest Initiative. In 2015, Maenza-Gmelch collaborates with The Laboratory of Ornithology at Cornell University to develop the "Listen to the Forest" for Black Rock Forest.
2010: Professor Stephanie Pfirman, in her joint capacity as a Columbia Earth Institute faculty member, serves as principal investigator of a seven-year Polar Learning and Responding: PoLAR Climate Change Education Partnership, for which the NSF's Climate Change Education Partnership-Phase I and II programs provide $7 million in funding over seven years.
2013: Leslie Raucher joins the department as program manager, and Sedelia Rodriguez, a geologist, joins the faculty as Lecturer.
Today
2014: In collaboration with other science departments on campus, more than 100 fully funded Barnard students participate in the Summer Research Institute (SRI) at labs on campus and around the New York City area, working with faculty mentors on a wide variety of research areas, including environmental science.
2015: Professor Stephanie Pfirman joins the Barnard Presidential Task Force to Examine Divestment "to divest from fossil fuel companies that deny climate science or otherwise seek to thwart efforts to mitigate the impact of climate change." The College becomes the first in the nation to take the unique and innovative approach of divesting from companies that dispute evidence of climate change.  
2016: Professor Martin Stute coauthors a ground-breaking study in Iceland. This is the first time harmful CO2 emissions from a power plant are captured, pumped underground, and turned into stone. The study, originally published by Science, is lauded in top media outlets The Associated Press, The New York Times, The Washington Post, and BBC News. The same year, he and Professor Brian Mailloux coauthor a paper proving that fracking can contaminate drinking water sources.
2016: As a result of Professor Terryanne Maenza-Gmelch and students identifying ecologically important places for birds, their field station (Black Rock Forest) is designated as an Audubon NY Important Bird Area.
2016: Based on their co-teaching of Environmental Law, Prof. Bower and Dana Neacsu, Reference Librarian and Lecturer at the Columbia Law School, are contracted by Vandeplas Publishing for a book entitled Introduction to U.S. Law, Policy and Research – An Environmental Perspective.
2017: Barnard Marched for Science with multiple departments across campus, staff, and students to pressure policymakers to include scientific evidence in their decision processes.
2017: Professor Stephanie Pfirman, in collaboration with Teachers College Professor Joey Lee, wins a 2017 Parents' Choice Award for the card game "EcoChains: Arctic Crisis" developed under the PoLAR Partnership.
2017: Lecturer Sedelia Rodriguez, researcher Eva Baransky '16, and a team of scientists coauthor a study proving that the Great Permian Extinction, which occurred about 250 million years ago and led to catastrophic environmental changes, was caused by enormous volcanic eruptions in what is now modern-day Siberia.
The Hits: Several Notable Environmental Science Alumnae
Sally M. Benson '77 studied geology, an ancestor of the Department of Environmental Science. Today, she is a professor of energy resources engineering at Stanford University and director of the Global Climate and Energy Project and the Precourt Institute for Energy, the hub of energy research and education at the university. An internationally recognized groundwater hydrologist and reservoir engineer, Benson is widely regarded as a leading authority on carbon capture and storage, energy systems for a low-carbon future, and emerging energy technologies. She has served as a convening lead author of the Global Energy Assessment, a multinational project that was the first fully integrated assessment that analyzed energy challenges, opportunities and strategies for developing, industrialized and emerging economies.
Annie Leonard '86, executive director of Greenpeace USA, is a graduate of the environmental science department. She is the founder of The Story of Stuff Project, a worldwide movement of more than a million environmental activists who work to educate others on how our production and consumption patterns affect people and impact the planet. The Project was born from a 20-minute online animated movie, narrated by Leonard, about the way we make, use, and throw away all the stuff in our lives; the film has received about 40 million views. She has created a dozen short films shining light on environmental issues.
Rhea Suh '92 majored in environmental science and is now president of the Natural Resources Defense Council (NRDC). Following the receipt of a masters in educational policy and administration, she served as Assistant Secretary at the U.S. Department of Interior, managing national parks, wildlife refuges, public lands and offshore resources along the Outer Continental Shelf. As head of NRDC, Suh leads nearly 500 scientists, attorneys, and policy experts and works with more than two million members and activists to create solutions and enforce laws that preserve clean air and water, open spaces, public lands, and healthy communities.
Tsechu Dolma '14, a double major in Asian and Middle Eastern Cultures and Environmental Policy, is now at Columbia University's School of International and Public Affairs program (SIPA) and cofounder of the Mountain Resiliency Project. The nonprofit works directly with farmers to help develop sustainable livelihoods by building climate change-resilient communities for social and economic justice. She has received numerous honors and fellowships for her work including a Brower Youth Award for "creating a model for sustainable food security in Upper Mustang, Nepal" and a 2016 Impact Grant, and was named one of Forbes's 2017 "30 Under 30" for her entrepreneurship.
*Special thank you to: The Departments of Archives & Special Collections, Environmental Science, and Institutional Research and Assessment.