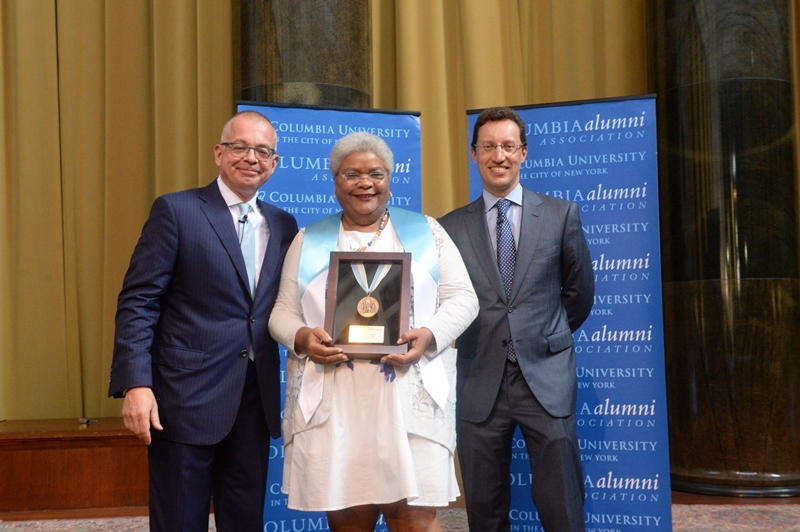 Frances Sadler '72 has been named one of 10 alumni honored with a 2017 Columbia Alumni Medal, which is being presented at the University Commencement on May 17. The medal is the highest honor given by the Columbia Alumni Association in recognition of distinguished service of 10 or more years to the University.
Sadler, a first-generation college student, came to Barnard in the fall of 1968 at the height of the civil rights movement. "I threw myself into the dynamics of the campus," she says, hosting women of color in a friend's double bedroom on the sixth floor of Brooks Hall. From these informal gatherings, Sadler co-founded the Barnard Organization of Soul Sisters, which continues to thrive on campus.
Sadler served as president of the Alumnae Association of Barnard College (AABC) from 2008 - 2011. Her involvement with the AABC began when she volunteered to help a student with research for her senior thesis. The student needed to interview other alumnae, so Sadler reached out to her friends to come to Reunion and lend a hand. She found out that, like her, many had never returned to Barnard. Others had attended Reunion only once, finding themselves one of a handful of alumnae of color in attendance. Frances made call after call, promising that they could all be together like the old days. From that initial gathering, the Alumnae of Color Dinner at Barnard Reunion grew into a successful annual event, and alumnae of color have returned to the campus to participate in and support every facet of Barnard life. Sadler became active in her class, serving as the Networking Chair and current Class Fund Chair, and in AABC, where she was elected to chair the Nominating Committee and to the AABC Board. 
In 2012, Sadler was elected to the Barnard College Board of Trustees, where she had been serving as part of her role as president of the AABC since 2008. As a Board member she has been active on many committees and task forces. She also raised funds to establish the Zora Neale Hurston '28 Scholarship for a Black student. Sadler served on the Steering Committee of a successful BC-CC JAM and Reunion in 2016 to bring disaffected alumni of color to active participation in the Columbia University Alumni Association. She is the first Barnard alumna to be honored by the Black Alumni Council of Columbia University (BAC) with the Black Alumni Heritage Award.
---
Sadler discusses a chance encounter with a Barnard alumna while working on a post-9/11 project in this video,
and she appears in this Reunion 2017 video in which she shares her love of the College. 
---
Sadler credits Barnard with providing her with "a rich learning environment, full of lectures and panels and discussions on all sorts of things that not only fascinate me, but also make me an informed and interesting person. It has given me my lifelong friends, whom I would not have met had I not attended Barnard. It has given me an array of multi-generational relationships with women from all over the world that feed my intellect and my heart."
Sadler has served as chair of the Committee on Campus Life, which helped create Barnard's transgender admissions policy, and as a member of the College's President's Task Force on Diversity and Inclusion, which in February released recommendations that include plans to hire 10 new faculty members from underrepresented groups. Sadler is also a member of the Presidential Search Committee.
Sadler began her career as a teacher in the New York City public school system. She went on to a career in health care administration and currently works with the 1199 SEIU Home Care Industry Education Fund to provide education and training for home care workers. As a leading woman of color in alumnae affairs on campus, Sadler hopes she has provided an opportunity for students of color to see themselves in leadership roles. Says Sadler, "Being a medalist is acknowledgment that doing ordinary things like showing up for things that you believe in does make a difference."