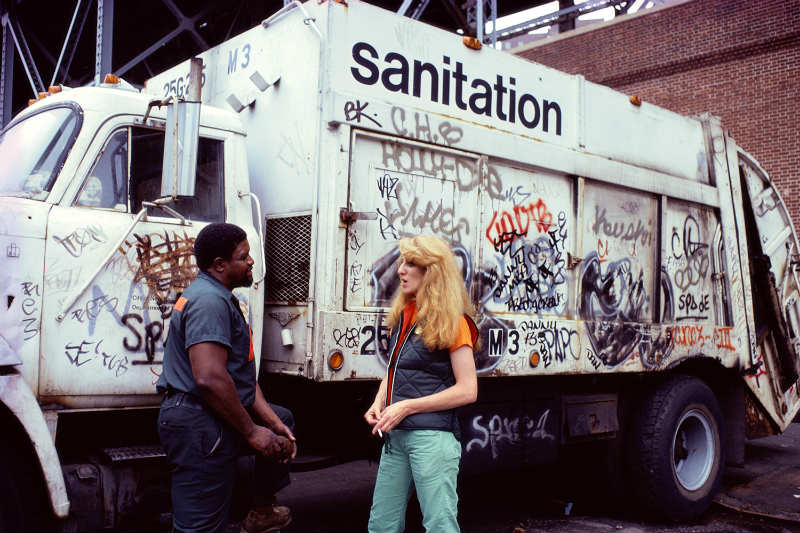 A mirror-covered garbage truck.  Photographs of an artist on her hands and knees washing steps to a museum.  Photographs of office maintenance workers.
These are some of the works by artist Mierle Laderman Ukeles '61 in her astonishing and groundbreaking career elevating so-called menial labor—now on view at the Queens Museum in a retrospective show, "Mierle Laderman Ukeles: Maintenance Art."
As Ukeles pointed out in her "Manifesto for Maintenance Art 1969!," "The sourball of every revolution: after the revolution, who's going to pick up the garbage on Monday morning?"  Ukeles made it her business to find out the answer; she has been the unsalaried artist-in-residence of the New York Department of Sanitation for four decades.  By showcasing service labor, Ukeles questions and overturns gender and class hierarchies and practically forces us to confront what it means to be disposable—as an object and as a human being.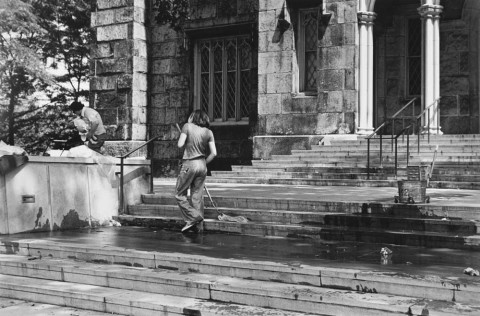 Holland Cotter of The New York Times calls Ukeles "a social revolutionary who understands the power of service," and Randy Kennedy of The New York Times comments that this "show has been a long time coming." Samantha Schmidt of The New York Times notes that her residence at a municipality, unprecedented at the beginning of her tenure in 1976, has inspired several similar programs throughout New York City.
The Queens Museum exhibit is now open through February 19, 2017.  Ukeles' work was featured on campus in Lucid Gestures, an exhibit of alumnae artists in honor of Barnard's 125th anniversary.