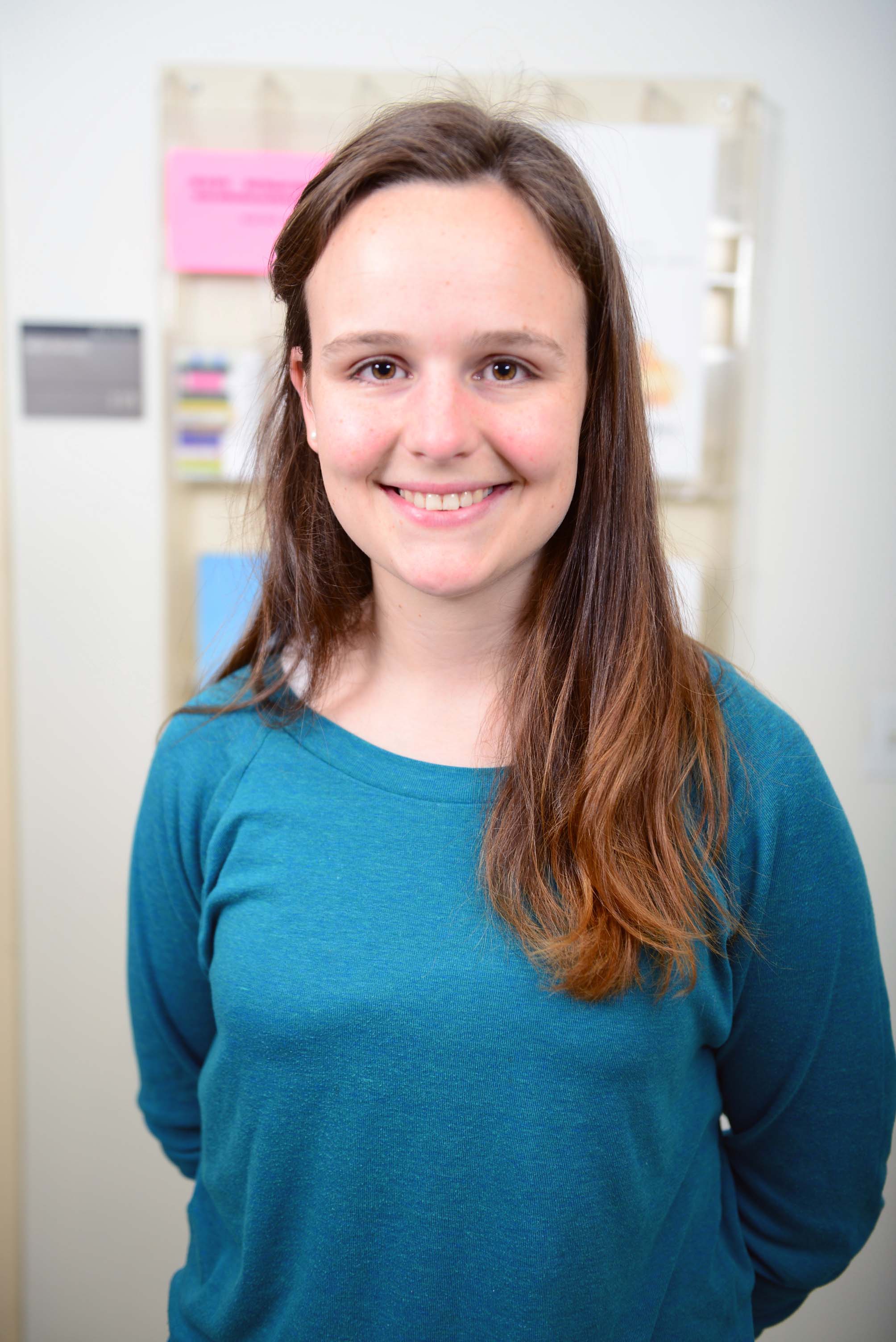 "I love being a peer educator. It is really important to engage Barnard students in discussions and to provide resources regarding health and wellness on campus. I most enjoy working one-on-one with my fellow students during Well-Woman office hours and during my running group, Running with Rosie. I am sure that my work as a Peer Educator at Barnard will help me become a better doctor some day." —Rosie Bleck '15
Even on the darkest winter afternoon or during the most stressful stretch of the semester, there's one place Barnard students can rely upon for a warm welcome, a massage chair, free chocolate, and a listening ear—room 119, Reid Hall.
Here, in what is known as the Well-Woman office, visitors can grab a cup of herbal tea, plunge into soft couches, and chat with Jessica Cannon '03, the program director for health promotion and education, or seek the counsel of one of 20 students who are the office's volunteer staff. Called peer educators, these students are trained to speak and facilitate workshops on topics with which many college students struggle, including sex, sleep, and stress. While students are in college, they have more freedom to experiment, but it is also an important time to establish healthy habits. It's a time to think about issues of "sleep and diet and relaxation, and find the techniques that work best for you," says Cannon.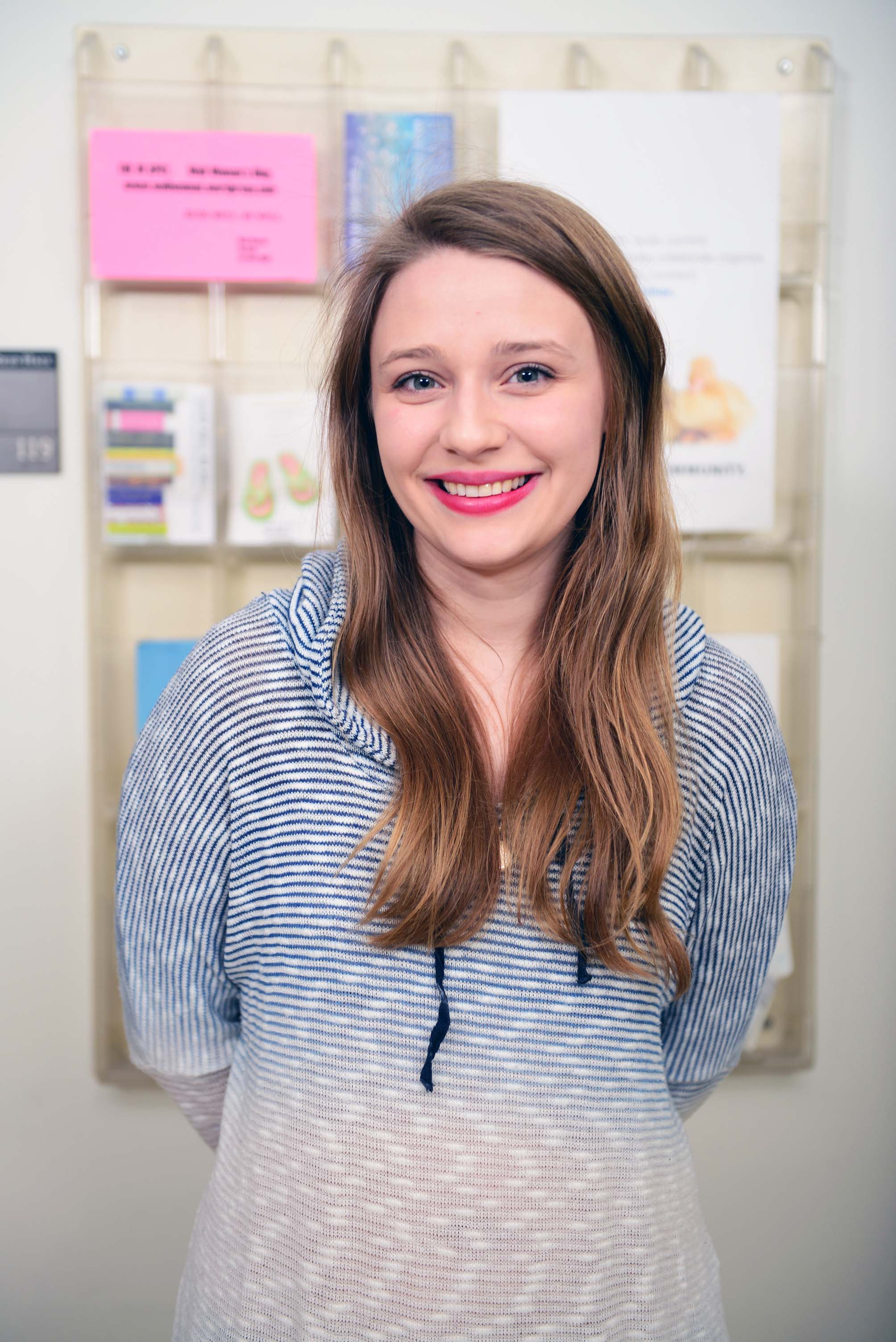 "I was especially happy with how meaningful it felt to give back to the Barnard community with peer education. Barnard students are similar in a lot of ways – we all tend to be intelligent and hardworking – and it's important for us to remember that not everyone has had the same opportunities to learn about their health and wellness prior to arriving on campus." —Rachel Rosen '14
Many colleges employ peer counselors at student health services. But for an elite and intense urban school like Barnard, where the attractions of New York City often beckon, and where, as at other colleges, some students can feel a sense of isolation, the Well-Woman program creates a safe and friendly community within the larger university.
Positions in this volunteer corps are highly sought after, and as a group, the peer educators sustain the Well-Woman program. Celebrating its 20th anniversary last year, Well-Woman is "administratively supported, but students do so much of the work," says Cannon, who served as a peer educator during her own college years, and who has worked in the office since graduation.
Peer educator Rachel Karpf '15 suffered through depression during her first year of college, and last fall helped organize the first mental-health awareness program at the Columbia/Barnard Hillel. Of Well-Woman Karpf says, "Jessica exudes so much empathy and knowledge, I just want to follow her around and learn. The office itself is easily my happy place on campus…so many good vibes."
More than 200 peer educators have passed through the program, many going on to careers in public or mental health or to become doctors, midwives, or nurses, according to Cannon. During the 2012-13 academic year, the office recorded more than 1,600 visits during office hours; more than 3,000 program attendees, including participation in the weekly knitting, yoga, and running groups; 13,000 blog hits; and 1,136 members on the Healthy Monday listserv, which offers weekly tips on topics such as exercise, sleep, and nutrition.
Peer educators bring diverse strengths to the job. Evangeline Delgado '15, for example, an English major, who is also vice president of the Latter-day Saint Student Association, enjoys helping first years adjust to the dietary and budget challenges of college life, but because of her faith, does not counsel students about contraception. "If someone comes to me with a question about contraception, I say, 'That's great, let me send you to health services or Jessica.'"
Madelyn Popkin '14, president of the Student Government Association, and a leader of the queer community on campus, says her most fulfilling experiences occur "when a student comes in kind of freaking out about sexual issues or identity, and I tell them it's okay, and connect them with resources."
Peer educators also help fellow students by sharing their own practices. Mary Margaret Barr '14, who has worked as a peer educator for three years and is majoring in neuroscience, acquires a sense of inner peace when she knits. She leads a club here, often with bluegrass music humming in the background. Political science major Rosie Bleck '15, planning on medical school, has started the group Running with Rosie. Bleck used to run cross country in high school, and missed the camaraderie. Plus, she finds the activity calming, especially when you adhere to a conversational pace.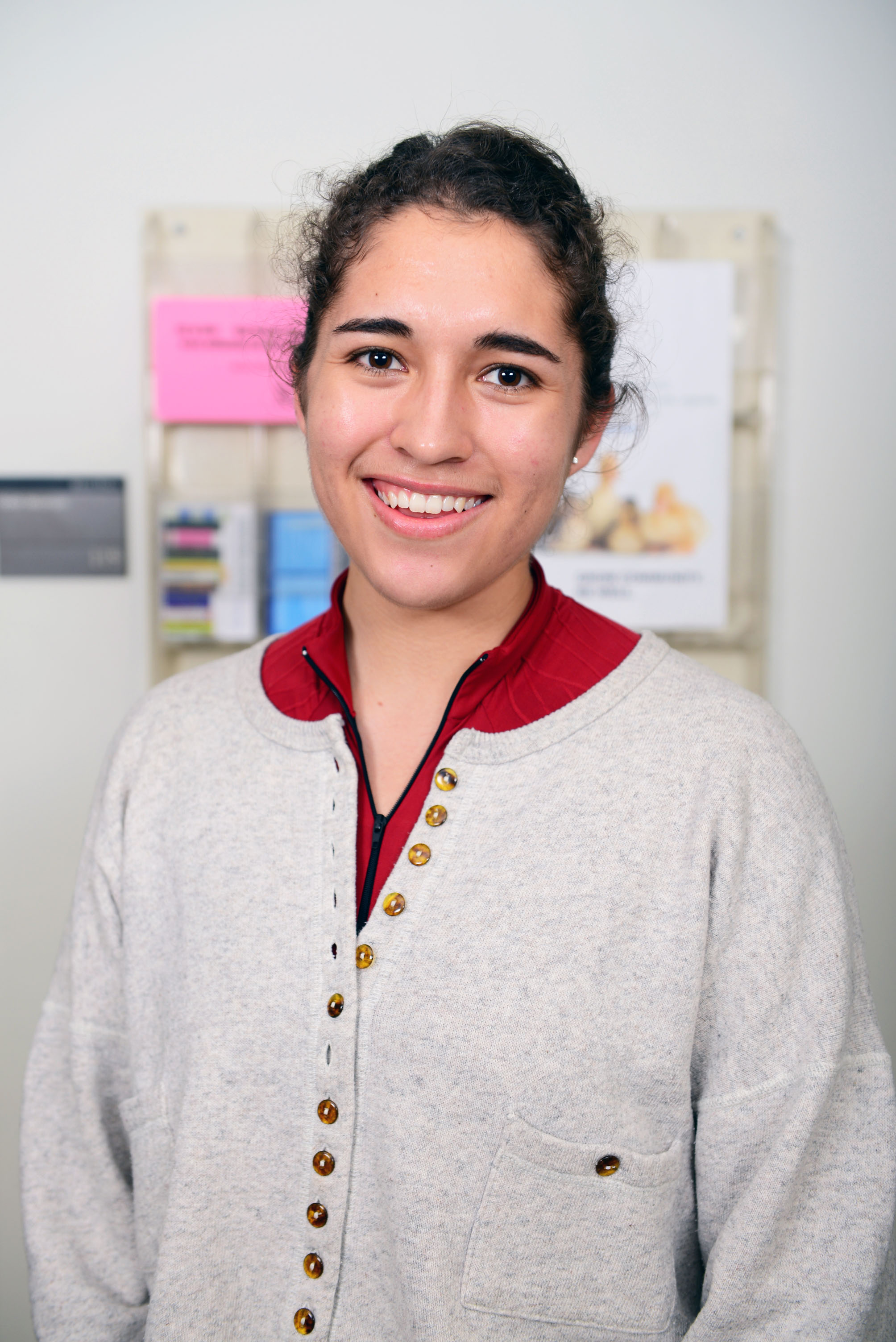 "I remember as a first-year student having all sorts of questions about identity, feminism, choosing my major, etc. and the Well-Woman office and peer educators supported my questions. I am really grateful to be a similar resource for other students. I would love to take the structure and mission of Barnard's Well-Woman office to high schools in order to help develop a greater sense of preparedness and healthy independence that is so important when entering college." —Evangeline Delgado '15
Peer educators at Barnard undergo a week of training before school starts in September, and also commit to weekly meetings with Cannon every Monday, as well as to holding their own office hours. They sign up to staff the center for one or two evenings each month, which on busy nights can mean assisting as many as 10 walk-in students. Peer educators also help run various programs throughout the year, not only facilitating smaller workshops but also organizing game nights, arts nights, and campus-wide study breaks such as a cupcake-decorating event in December and a milk tasting in May, at which students sample everything from cow's milk to hemp milk.
But many peer educators love the environment so much they stop by whenever they can. On a dreary afternoon in late March, the office provides a cheery respite. Shelves are stocked with board games, a brilliantly colored quilt drapes over the couch, the periwinkle walls are adorned with stories of girls' experiences of their first periods, and Barr is plunging into her chemistry notes, a smile on her face.
In her years as a peer educator, Barr has gathered some tools to lead a more balanced life. "Now I know that I need to space out my studying and do some during the daytime," she says. "I also make sure I talk to least 10 people a day and I see enough trees," because she misses the greenery of Alabama, where she grew up. Rachel Katz '15, another peer educator in the office, has an idea that could help: What about buying plants for her dorm? Replies a grinning Barr, "I used to have a flower. It lasted a whole month. I have a black thumb."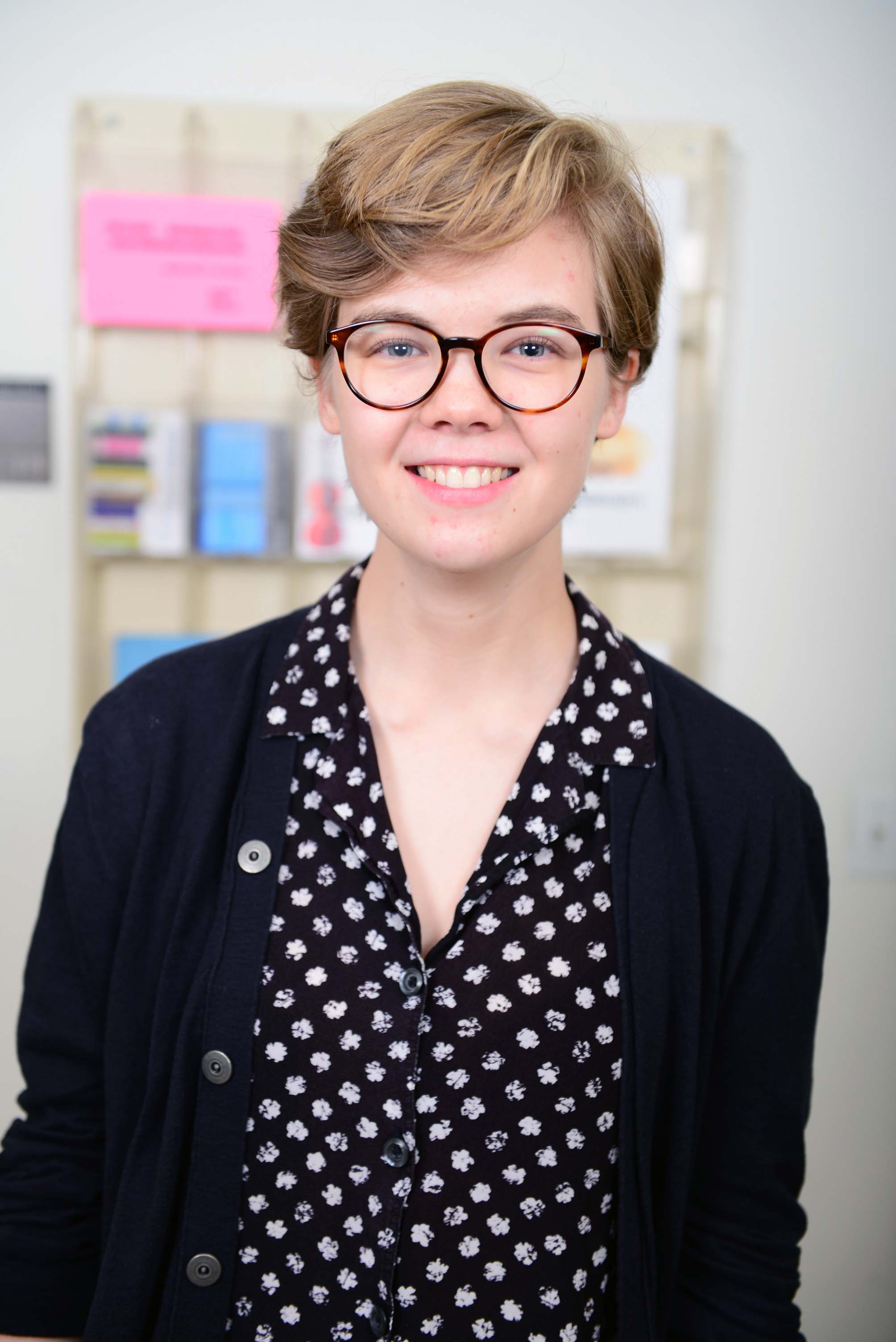 "What I love best about being a peer educator with Well-Woman is the come-as-you-are atmosphere that is so unique to the space. We want to meet everyone who comes into the space where they are, and to open up difficult dialogues, and to provide counsel and comfort and a good time." —Caroline Lange '15
The pair exchanges thoughts about self-care and sleep routines, with Katz remarking that she aims for eight or nine hours every night. A women's gender and sexuality studies major, Katz adds that she's one of several peer educators who enjoys sharing information about sexual health, whether it's debunking myths ("Can I get pregnant in a hot tub?" is a common one) or calming the nerves of a student who has become sexually active for the first time.
Like Barr, Katz feels at home in the Well-Woman office. "I thumb through the magazines. I talk to Jessica. I use the markers, like, every day," she says, indicating the art supplies on a nearby table. She laughs. "There's glitter, too."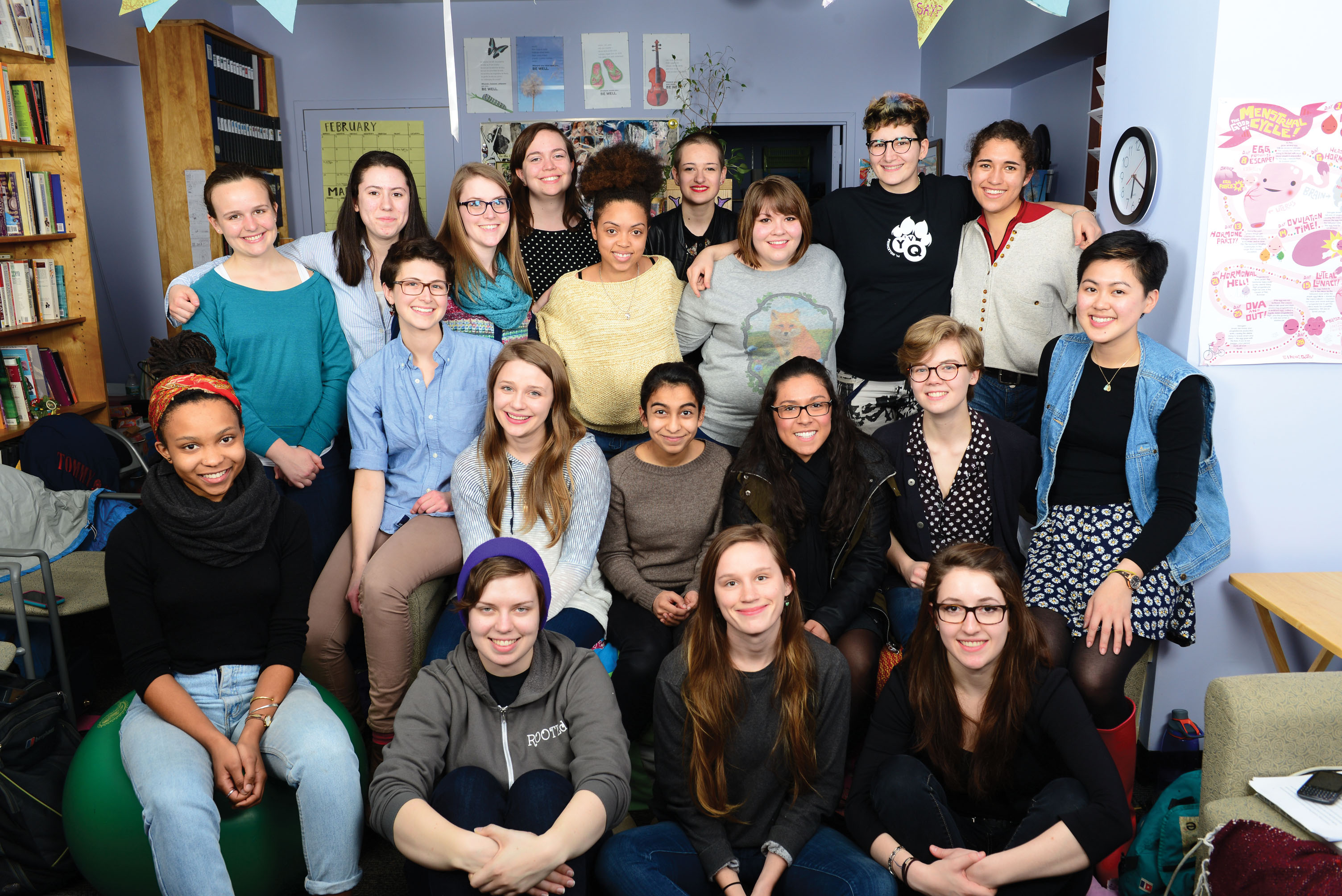 —By Elicia Brown '90
—Photographs by Christine Navin