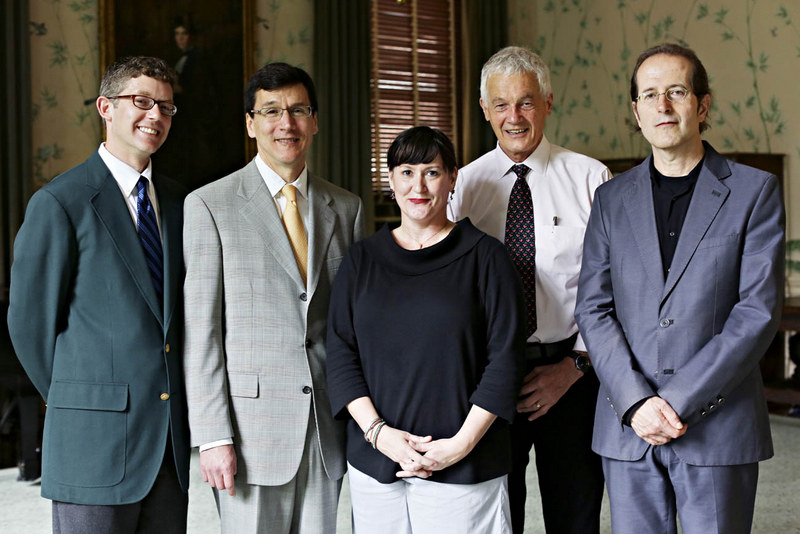 Award recipients, from left to right: Profs. John S. Magyar, Christian Rojas, Elizabeth Esch, Jack Hawley, and Alex Alberro.

Each year, awards are presented to standout members of Barnard's faculty in recognition of their commitment to teaching. These annual awards include the Gladys Brooks Teaching Award, the Teaching Excellence Award, and Tow Award for Innovative and Outstanding Pedagogy, and the student-nominated Emily Gregory Award.  Congratulations to this year's recipients:
The following descriptions are excerpted from nomination letters supplied by the faculty members' colleagues unless otherwise noted.

Alex Alberro, Virginia Wright Chair of Art History
Tow Award for Innovative and Outstanding Pedagogy
Prof. Alberro is a prolific scholar who has produced "a veritable cascade of books and articles" in his five years at Barnard. He has published anthologies of essays and contributed to leading journals of modern and contemporary art, and has also played active roles in international conferences and served as an invited speaker at major national institutions. In addition to these exceptional academic accomplishments, Prof. Alberro is also a devoted and dynamic teacher. His colleagues describe him as "one of the, or perhaps the most popular" teacher in the art history department. From first year to graduate level seminars, his course evaluations laud "the clarity and ambition of his pedagogy and the care given to individuals."
This award recognizes an exemplary member of the Barnard Faculty who combines scholarship and pedagogy in creative ways, maximizing the impacts of both. More information.

Elizabeth Esch, Assistant Professor of History and American Studies
Gladys Brooks Teaching Award
Colleagues in both Barnard's history department and American studies program describe Prof. Esch as "provocative, earnest, thoughtful, and opinionated." She is "known for creating an intellectually charged yet open and encouraging environment," and in course evaluations, students routinely acknowledge her passion, brilliance, and personal warmth. Considered a good listener and a "first rate intellectual guide," she has become a sought-after academic adviser. Since 2007, when she began teaching her signature course, "The United States and the World," enrollment has skyrocketed.
This award, established at Barnard in 1989 by the Gladys Brooks Foundation, is given annually to recognize considerable individual achievements of tenure-track/tenure-eligible assistant professors at Barnard. More information.

John Stratton Hawley, Professor of Religion
Teaching Excellence Award
Prof. Hawley is known among his colleagues for his "characteristic high energy, deep devotion, and complete investment in the success of his students." Students describe him as "ridiculously knowledgeable," and teaching assistants consider him an extraordinary mentor and "a testimony to the value of the undergraduate classroom." His commitment to teaching is apparent in his efforts to continue his own learning—beyond his extensive experience as a textual scholar, in recent years he sought training in the methods of fieldwork in order to create courses focused on lived religion in the New York City area. He has been a leader in the religion department's movement toward use of technology and web tools, and in his course evaluations, "the superlatives fill pages."
This award is designed to recognize any full-time faculty member who has made a difference in the teaching climate of the college. More information.

John S. Magyar, Assistant Professor of Chemistry
Gladys Brooks Teaching Award
According to Prof. Magyar's colleagues, "John's dedication to teaching and learning in chemistry, both in the classroom and the research laboratory, truly shines." Celebrated for his versatility, he teaches the department's gateway General Chemistry I course, a first-year seminar on energy and climate, and advanced-level courses for chemistry majors, just to name a few. In the energy and climate course, which he designed, Prof. Magyar made use of New York City's unique resources, taking students sailing on a tall ship in the Hudson River and on field trips to the American Museum of Natural History. With "his enthusiasm for science and his lively teaching style," Prof. Magyar is popular among students, who are quick to take advantage of his extra efforts to enhance their academic experience: While teaching general chemistry in the fall, weekly attendance at his non-required problem-solving sessions was around 75 students, and he also led a weekly journal club for his students in inorganic chemistry.
This award, established at Barnard in 1989 by the Gladys Brooks Foundation, is bestowed annually to recognize considerable individual achievements of tenure-track/tenure-eligible assistant professors at Barnard. More information.

Christian Rojas, Professor of Chemistry
Emily Gregory Award
"It wasn't just his assurances, "these problems are going to be a lot of fun," or his extreme patience, it was his consistent devotion to his students. Day in and day out, Professor Rojas gave us all of his energy.…After experiencing Professor Rojas's class, I felt strong and excited to confront my next challenge. Professor Rojas inspired me, as a junior, with a surge of courage that I still feel today as a graduating senior.…I am privileged to have benefited from his professorship and from his deep and unwavering devotion to organic chemistry and to every one of us who sat in his lecture hall."
These lines are excerpted from English major and senior Maya Petashnick's essay nominating Prof. Rojas for the Emily Gregory Award, presented each year on behalf of the student body to memorialize the first woman to be named full professor at Columbia. Prof. Rojas was selected by the McAc Network Committee as this year's recipient based on Maya's testimonial highlighting his dedication and contagious enthusiasm not only for chemistry, but for learning across disciplines.
This student-nominated and student-chosen award honors an outstanding faculty member for excellence in teaching and for devotion and service to the students of Barnard College. More information.