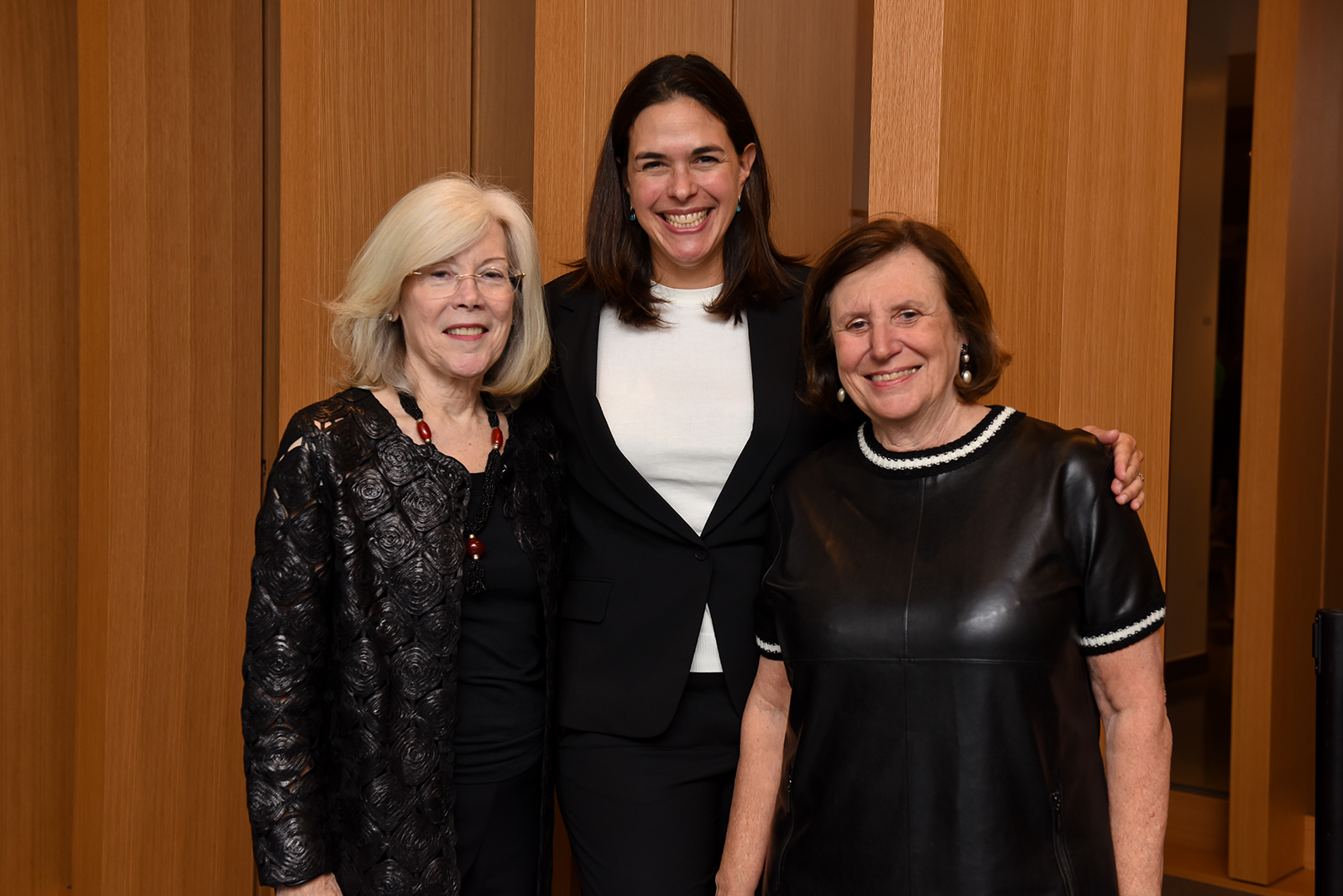 Barnard's fifth president, Ellen V. Futter '71, is being honored for her extraordinary record of leadership and service to the College with the establishment of The Ellen V. Futter '71 Field — to be known colloquially as "Futter Field." Futter Field is the open green space situated in the center of campus directly in front of The Milstein Center.
Trustee Nancy Garvey '71 initiated the campaign for the Ellen V. Futter '71 Leadership Fund with a pledge of $1.5 million to establish and permanently endow the fund, which will be used to support the College's highest priorities. Together, Futter Field and the Futter Leadership Fund will celebrate Ellen's lifelong dedication to Barnard and continue her monumental influence on the entire College community.
Futter's legacy at Barnard — as a student, alumna, trustee, and president — was solidified in May 1981, when she was inaugurated as the ninth leader and fifth president of the College, making her the youngest person ever, at age 31, to assume the presidency of a major American college. For the next 13 years, and through the tumultuous 1980s, Futter led the College with a bold, determined vision. She preserved Barnard's independence from Columbia when President Michael Sovern announced Columbia College would begin admitting women in 1983; helped institute a maternity- and parental-leave policy in 1985 for faculty; and in 1986 embarked on the construction of Sulzberger Hall (originally named Centennial Hall). Futter also launched a sweeping curricular review that led to the creation of the First-Year Seminar Program and greater attention to quantitative reasoning. Futter is currently president of the American Museum of Natural History.
Futter is also being honored and inducted into the 2018 Columbia University Athletics Hall of Fame, marking the 35th anniversary of the Columbia-Barnard Athletics Consortium, for her instrumental work in the consortium's creation. The establishment of the consortium elevated Barnard athletes to the Division I athletic conference, making Barnard the only women's college in the country competing at that level.
She is joined by former Columbia women's basketball player Charlene Schuessler Fideler '90, who is the program's all-time leader in assists, third all-time leader in steals, and one of only eleven 1,000-point scorers in its history.
Also being inducted into the Hall of Fame this year is the 1985-86 Columbia women's basketball team. With Barnard team members including Ellen Sexton Boade '86, Nina Christopher '89, Deborah Persico Lynch '88, Ulana Lysniak '87 — herself a 2006 Hall of Fame inductee — and Wendy Rosov '86, as well as coach Nancy Kalafus and assistant coaches Barbara Albom and Allison Jones, the 1985-86 Columbia women's basketball team stands as the most successful in program history and the first to earn a bid to an NCAA Tournament.
Barnard reinforces its commitment to supporting student athletes and celebrates these extraordinary community members with a special event hosted by President Beilock on October 18. Futter and other fellow members of this year's Hall of Fame class, current and former trustees, representatives from Columbia Athletics, and current and former Barnard student athletes will be in attendance. Immediately following, the inductees will be honored in a ceremony at Columbia.
Futter Field, already a central part of campus that finds itself occupied with students and events, reflects the innovative learning that takes place every day in The Milstein Center, and will be officially dedicated at a future date. 
---
To lend your support to Futter Field or the Ellen V. Futter '71 Leadership Fund, please make a gift at barnard.edu/gift or contact Caroyn Okin at cokin@Barnard.edu.