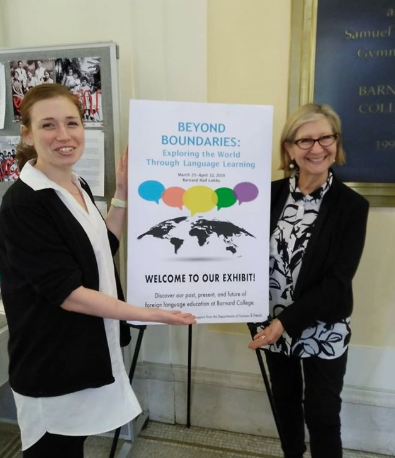 When former First Lady Eleanor Roosevelt passed through Barnard Hall's iconic columns on March 6, 1951, she was the U.S. Ambassador to the United Nations and on her way to talk to 1,000 students about, "What Can We Do for Peace?" Sixty-eight years later, Barnard Hall played host to a new kind of visitor asking the same essential question. From March 25 to April 12, 2019, an interactive digital exhibit, "Beyond Boundaries: Exploring the World Through Language Learning," was on display in Barnard Hall's lobby and sought to bridge the gap between translation and cultural input, engage students and faculty to share how their own language journeys have shaped the way they see the world, broaden the viewer's worldview to include other perspectives through multiple lenses, and measure users' ability to communicate and interact within communities at home and around the globe. 
Inspired by the American Council on the Teaching of Foreign Languages' Standards for Foreign Language Learning in the 21st Century, the exhibit consisted of five stations  — Communities, Connections, Communication, Comparisons, and Cultures — that explored how foreign language acquisition helps to develop empathetic global citizens, how faculty use technology, contemporary topics, and new pedagogical methods, and how language acquisition has influenced faculty across disciplines and in their research. Designed and curated by Sondra Phifer, faculty assistant for the departments of French, German, Comparative Literature, and Translation Studies, the exhibit explored the history of language learning, from its early forms to recent pedagogical and research initiatives, including the role of Barnard's faculty and students in the 21st century. 
The "Beyond Boundaries" team consisted of Tina Gao '21, Maha Khan '21, Jessica Liu '21, Noelle Penas '21, and Karen Yoon '21. The exhibit's production involved many departments and programs from across Barnard's community, and, in the spirit of the global citizenship it represented, was made possible with support from German, French, Spanish and Latin American Studies; Comparative Literature and Translation Studies; Asian and Middle Eastern Cultures; Philosophy; History (Abosede George); Anthropology (E. Mara Green); Music (Gail Archer); Religion (Elizabeth Castelli); Barnard Global; Barnard Archives and Special Collections; IMATS; and Events Management (Elizabeth Tam).
"For this project, I wanted our students to know that what they are learning at Barnard will help them later in life," said Phifer. "Classes and topics that may seem irrelevant now will greatly benefit them in life, sometimes when they least expect it." 
---
Watch a video for the "Communities" station: