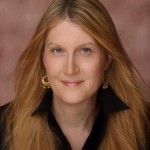 Barnard today announced that celebrated writer and activist Jennifer Finney Boylan will join the College's English faculty as the inaugural Anna Quindlen Writer-in-Residence. In this newly created position honoring one of Barnard's most esteemed and dedicated alumnae, Boylan will teach two creative writing courses each year, while also engaging with Barnard students and faculty in various capacities that will support and enhance the College's legacy of cultivating talented young writers.
"Jenny's writing addresses some of the most pressing issues of our time, and working with her will be an extraordinary opportunity for our students and faculty," said Barnard President Debora Spar. "Welcoming her to Barnard, while simultaneously honoring Anna Quindlen's invaluable contributions to the craft of writing, marks a truly exciting moment for the College."
Boylan joins Barnard from Colby College's Department of English where she taught for more than 25 years, serving as department co-chair and director of Colby's creative writing program. A novelist, memoirist, and short story writer, she has authored 13 books including her 2013 memoir, Stuck in the Middle with You. She is also a contributing opinion writer for The New York Times' op-ed page. A nationally known advocate for civil rights, she serves as the national co-chair of the Board of Directors of GLAAD, Inc.
"We change the world through the stories we tell," said Boylan. "This new appointment will allow me to help Barnard students change the culture through the telling of their own stories; it also honors the magnificent life and work of a great Barnard alumna, Anna Quindlen, who has served as an inspiration to a generation of women writers—including me."
"Barnard enriched my life when I was a student, and now the college has done it again with this unexpected honor. And it's made even sweeter by the fact that it brings Jenny Boylan, a wonderful teacher, social critic and writer, to my alma mater," said Pulitzer Prize-winning journalist and best-selling novelist Anna Quindlen '74, who served on Barnard's Board of Trustees for more than two decades, including seven years as Board Chair from 2003-2010. As noted in The New York Times, Quindlen is part of a strong Barnard legacy of accomplished alumnae writers who nurture the next generation of student writers. Her involvement has benefited Barnard's writing programs in countless ways, including the endowment of the Anna Quindlen Writing Fellowship, awarded annually to one student tutor in the Barnard Writing Fellow program.
"The English Department is overjoyed to be welcoming Jennifer Finney Boylan to Barnard," said Prof. Peter Platt, chair of Barnard's English department. "A terrific writer, a compelling speaker, and a gifted teacher, she will be an asset to both our students and the department.  Her many books—in particular her narratives about gender and parenting—and her engaging op-ed pieces provide her with a profile that can only prove advantageous to the College."
About Jennifer Finney Boylan
Boylan is the author of thirteen books, including the bestseller She's Not There: a Life in Two Genders, and more recently Stuck in the Middle With You, both published by Random House. A novelist, memoirist, and short story writer, she is also a nationally known advocate for civil rights, and serves as the national co-chair of the Board of Directors of GLAAD, Inc. Boylan has appeared on the Oprah Winfrey Show, Live with Larry King, the Today Show, the Barbara Walters Special, NPR's Marketplace and Talk of the Nation; she has also been the subject of documentaries on CBS News' 48 Hours and The History Channel. She is a Contributing Opinion Writer for the op/ed page of the New York Times, and also serves on the Board of Trustees of the Kinsey Institute for Research on Sex, Gender, and Reproduction. She has spoken across the country about LGBT issues at venues including Harvard, Yale, Dartmouth, Amherst, Wesleyan, Duke, and the National Press Club. Before coming to Barnard, Boylan served on the faculty of the Department of English at Colby College, where she was co-chair of the department and director of creative writing. She has been married for twenty-five years to her wife Deirdre, and is the mother of two sons, Zach, a sophomore at Vassar, and Sean, a senior at Kent's Hill School in Maine.
Photo Credit: Jim Bowdoin